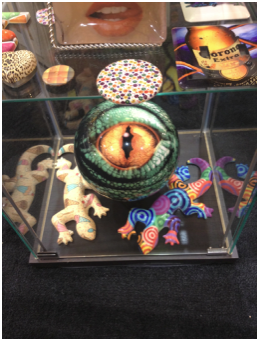 SGIA was flooded with small ink, roller, blade, and other screen consumable suppliers: How do so many analog screen suppliers hang on? The simple reason: screen output remains cheap-and turnaround is fast enough. Yet digital printing continues its steady march of expanding its footprint in the screen industry, focused on the higher value applications. One of the core reasons digital printing's footprint in the screen industry continues to expand is the product line expansion of UV-curable ink jet printers. There were few digital printer manufacturers whom did not have UV-curable ink jet printers in their booth.
Because SGIA attendees expect to be able to print on any substrate, SGIA is a tradeshow were creativity is valued. The eye printed on a bowling ball in the Mimaki booth is one such example. There were many other examples printed with UV-curable ink jet technology, many showing examples with raised ink profiles. The addition of clear ink as an additional color is enabling many offerings to create simulations of wood grain patterns, embossed looks, and glossy or matte surfaces depending on the time delay before curing.
While the creative applications stole the show's attention, the majority of applications remain signage related. In fact, underneath all the excitement of decorative applications the printing of signage on vinyl, films, and rigid substrates continues to account for 99%+ of the output volumes. One major vendor of both eco-solvent and UV-curable printers noted that their ratio of sales remain 10:1 in favor of eco-solvent despite their growing UV-curable product line. The core reason is hardware acquisition pricing. While UV-curable printer pricing has dropped significantly (30%+ price decreases compared to 2-years ago are not uncommon), the least expensive units tend to be at least twice as expensive as the most expensive equivalent throughput performance eco-solvent printer.
Notably one technology was absent: LCD flat screen display technology. In the past and at other tradeshows there have been flat panel display providers promoting their technology as an alternative to printed signage. Except for exhibitors themselves leveraging LCD flat panels for video demonstrations, there were few non-print signage alternatives that stood out with the exception of an Agfa booth rear projector LCD focused onto a glass cutout resembling the image of a female model whose video image and audio was motion activated by startled passerby's.
On the hardware side, most of the new product introduction focus was on improvements on productivity. Productivity is the result of a combination of several functions: pre-press, ripping the file, printing, and finishing. Most installations have fixed processes in place; to gain additional productivity for burst volume jobs users historically added additional shifts.

For many of those users who have maximized capacity, the option is to buy more productive new printers (at great cost) or to make other portions of their workflow more effective. If the actual printing process accounts for 50% of the time to print, it may be less expensive to maximize the efficiency of the other parts of the print process. This was the focus of EFI/Vutek and HP with their new UV-curable production printers.
LED curing also continued to gain momentum. EFI/Vutek push the performance limits of LED curing with the introduction of its first LED-curing printer, the GS3250. Roland, Mimaki, and Digital Color Technology pushed the low pricing end of LED-curing devices.
The show overall was lightly attended, most noticed by the wide-open aisles and low-noise compared to typical tradeshows. The upside of low attendance was that those who did attend appeared to be more serious buyers. Many of the exhibitors polled stated they had met or exceeded their on show-floor sales expectations. It begs the question of whether the North American market can sustain three large format tradeshows annually. SGIA, ISA, and perhaps new entrant FESPA are at risk of becoming smaller regional tradeshows.
SGIA carries on, despite additional tradeshow competition causing attendees to make decisions on where to spend their travel budget. It has been suggested that SGIA perhaps should combine with GraphExpo, which would no doubt please many of the digital printer exhibitors who product line overlap in both document and wide format printing.
But yet sales made at the show were sufficient for most vendors to note it had been worthwhile exhibiting. It may well turn out that SGIA, ISA, and FESPA become more regionally oriented than national. Ultimately it probably matters little to attendees which show they attend (outside of habit and loyalty), as long as they can touch, feel, and compare new printing systems and innovations.
Perhaps the inherent value of tradeshows is more about cost-effectively meeting a lot of manufacturers, friends, and competitors in a single location than anything else.