Introduction
Good business practices steer a firm to success. These practices must be fueled with the right underlying technology investments. While many Graph Expo attendees had the opportunity to check out speeds, feeds, and features on the newest offset presses or digital print devices, software solutions were at top-of-mind for the droves of printers participating in the show. At Graph Expo 2011, the primary buzz on the show floor concerned cross-media and effective techniques for its implementation.
Putting it in Perspective
InfoTrends completed a study entitled The Evolution of the Cross-Media and Marketing Service Provider. This document clearly identified the importance of cross-media services to the future of the graphic arts market. Offering these services has now become a market reality. Of the 285 print service provider respondents, nearly 87% are either offering cross-media marketing services today or have plans to start offering them in the next 24 months.
Figure 1: Do you offer cross-media marketing services?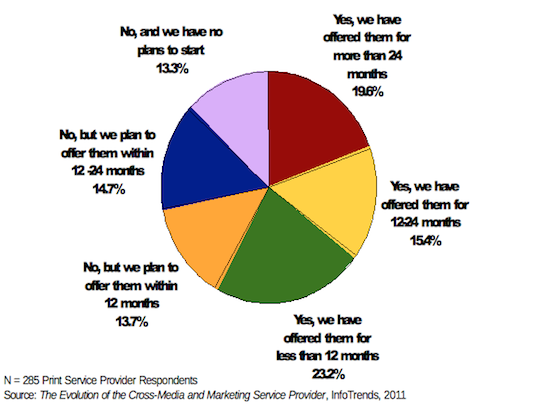 Partnering with Vendors for Business Evolution
Early adopters of variable data and cross-media solutions typically developed "home-grown" systems internally because the available solutions were limited in terms of capabilities and the ability to adapt to the PSP's needs. This has since changed. InfoTrends' survey results indicate that when investing in software for managing marketing campaigns, print service providers cited a preference for purchasing the software license(s) from a vendor.
Figure 2: How does your company prefer to invest in software for managing marketing campaigns across multiple media types?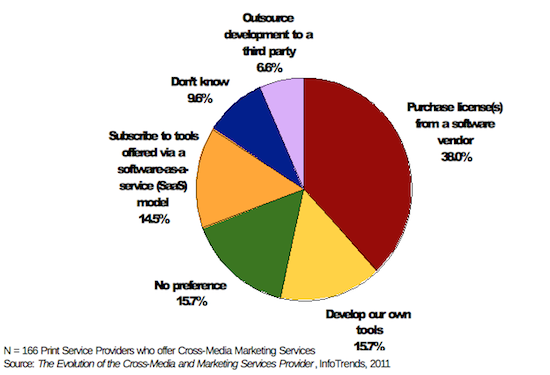 A number of service providers have come to the realization that today's tools meet or exceed their needs in terms of functionality. There is also a clearer understanding of the costs associated with developing and maintaining a home-grown solution. Great Lakes Integrated (Cleveland, OH) and SugarBush Media (Auburn Hills, MI) are two examples of firms who initially built solutions, but ultimately reached the conclusion that the best way to keep pace with technology was to invest in tools that could evolve with their businesses.

Great Lakes Integrated Invests in a Solid Technology Engine
Great Lakes Integrated (GLI) has been on a steady growth trajectory for nearly two decades, and the company is now expanding into cross-media marketing services. The 80-year-old company's ongoing investment in complex value-added services (e.g., variable data printing, mailing, fulfillment, Web storefronts, digital asset management) made the move into cross-media the next logical step.
At Graph Expo 2011, the primary buzz on the show floor concerned cross-media and effective techniques for its implementation.
A staple of the firm's success was an investment in a solid technology foundation. GLI's cross-media marketing services are powered by suite of Web-based products branded as AKSESS. The company's AKSESS solution supports real-time reporting functions, campaign management tools, digital asset management, inventory management, and ordering and tracking.

AKSESS was initially created 13 years ago to assist a major client, which was struggling in managing its digital assets. There weren't many online digital asset management (DAM) solutions available at that time, so GLI hired programmers and developers to build its own system. After the DAM solution was in place, the company turned to addressing client requests to manage its inventories of printed materials online. GLI also built a Web-to-print solution. As the company moved more into cross-media marketing services, it opted to invest in Pageflex's Storefront Web-to-print solution rather than continuing to invest in its home-grown system.

According to Robert Kozel, GLI's Chief Technology Officer, "Investing in Pageflex has enabled us to gain a foothold into a whole lot of areas that represented roadblocks in the past."

"Our solution did not have anywhere near the level of flexibility and customization that Storefront offers," Kozel continues. "Our customers are demanding simple as well as highly complex Web ordering portals, and Storefront allows us to deploy both."

GLI also uses Pageflex Server extensively to generate customer campaigns that use e-mail and personalized URLs. Pageflex Server is a server-based variable data composition platform that enables GLI to develop on top of the platform to extend its functionality and meet its specific needs.

"Pageflex Campaign Manager [a cross-media solution] didn't exist when we started offering cross-media marketing services, but we owned Pageflex Server," Kozel recalls.

Kozel describes the decision to invest in Pageflex rather than continuing to support its home-grown system as a no-brainer. "The Pageflex solution was so far ahead of ours that catching up would be a daunting task, and the company also offers a high level of support behind the scenes," Kozel explains.

SugarBush Media Focuses on Marketing, Leaves the Programming to Someone Else
Two decades ago, Mark Parent founded a quick print shop called SugarBush Printing. The company established relationships with local advertising agencies. As its business and print capabilities grew, the company eventually evolved into a commercial printer. Soon, however, the company's agency business started to decline-traditional ad spending was falling and smaller agencies were either being acquired by larger firms or going out of business. Parent recognized that it was time to change course. He revamped his business plan to offer "value-added" marketing services, and SugarBush Media currently supports cross-media marketing services such as Web-to-print, personalized URLs (pURLs), mailing, fulfillment, database management, and 1:1 marketing. Today, 5% of the firm's work involves printing, while the balance is spread over cross-media marketing services.
Great Lakes Integrated and SugarBush Media initially built their own solutions, but ultimately decided that the best way to keep pace with technology was to invest in tools that could evolve with their businesses.
SugarBush has carved a solution niche in offering services that enable marketers to improve, standardize, and automate their processes. SugarBush's Marketing OnDemand solution includes marketing asset management, online job submissions, marketing on demand systems, marketing dashboards, campaign management automation, e-mail marketing software, and lead nurturing software.

SugarBush Media turned to Pageflex to power the technology component of its Marketing OnDemand offering. The company invested in Pageflex's Storefront and Campaign Manager solutions to create, manage, and track its multi-channel marketing campaigns.

According to Parent, the Pageflex products enable his firm to focus on its core competency-marketing. Parent notes that having in-house programmers is still important for customization, but the Pageflex solutions mean a much lower investment in IT staffing.

"In the early days of our move into marketing services, we had a home-grown system with a rudimentary marketing on-demand system. We chose not to continue supporting our own systems because we thought it was better to focus on marketing rather than writing code," Parent recalls.
The Bottom Line
GLI and SugarBush Media invested in robust technology platforms to power their cross-media marketing services. Both firms realized that it was time to focus on their core competencies rather than spending time watering their home-grown systems. They looked for the right tools to fuel their success. From MindfireInc. to XMPie, EasyPurl, and InterlinkOne… the good news is that companies have an alternative. For firms hoping to follow a similar course, Graph Expo proved to be an excellent venue for investigating cross-media software solutions. Cross-media is the new reality… and it's time to get in the game!