About Thinking Creatively
Thinking Creatively is about taking a step back... when you want or need to think strategically and creatively about your business... or about your customer's business... or about a solution to a challenging business problem. The goal is to be one part inspiration and one part motivation. We hope to provide - over time - thought-provoking advice, tools, ideas and company profiles that help get you to your next breakthrough. Your feedback and interaction is invited, welcomed and encouraged.
Thinking Creatively is made possible by the support of GMC Software Technology. Normally such features are for "Premium Members" only. However, because the topic is so timely and essential to all executives in the industry we asked GMC Software Technology to provide support for this series. Their support allows us to to present these articles free for all WhatTheyThink.com members.
If it sounds too good to be true…well you can forget that old expression. The statement in the headline above is true. The work described was done, the money paid. In just the last 30 days, I've helped clients get all these projects done and more…for less than $1,000. And I'm going to tell you how.

Welcome to the world I call "Pro-Sourcing". Where you have a project to complete and you need a professional with the skills to get it done, you can now make it happen…

Easily.

Inexpensively.

Domestically.

Or globally.

And without adding to staff.

Whether your need involves a marketing project…an accounting project…an IT project or an administrative project, or all of the above, Pro-Sourcing is a powerful and expense-saving approach to get work done in today's challenging economic climate.

What is Pro-Sourcing?

It is the act of putting your project out for hire – and tapping the hundreds of thousands of independent, professional contractors who have signed up to offer their services -- through online talent banks like elance.com, guru.com, crossloop.com or odesk.com.

In the past month, I have helped a client get their website redesigned for $400. I have helped another client get a new and highly professional PowerPoint template redesigned for $300 (using two designers who created ten different designs to choose from). And, I helped a client create a powerful new sales tool – in Excel -- that can project results of marketing programs they are trying to sell to Fortune 500 clients, for $150.
"The online marketplaces for talent have built complete ecosystems that guide you every step of the way."
What's more, these online marketplaces are complete ecosystems that guide you every step of the way…with tools for conducting the work, including easy payment mechanisms that ensure you are satisfied – and the work is complete – before you pay.

What has led to such an amazing opportunity?

According to the Bureau of Labor Statistics, 68% of hiring in 2010 was contract-based. According to the current issue of Businessweek, independent workers now make up 31% of the nation's workforce (over 40 million are self employed in the U.S). The BLS predicts that this will rise to 40% by 2019.

Most think that this outsourcing activity – and the low hourly rates that make it affordable -- is tied to sending work oversees, to places like India.

Think again.

While the online marketplaces brim full with contractors from over 130 countries, according to the statistics coming from elance.com, quite a bit of this work is staying here in U.S. While you can find hourly rates oversees as low as $8/hour to $12, to $25 an hour (for work costing 3-4 times that here), it is not unusual to find U.S. contractors showing rates of $15, $25, or $40/hour, for skilled technical, writing or marketing help. The great thing is, you have your choice.

Here is a chart from odesk.com that reports the average hourly rate, by country, for graphic design work:

Here is a map from elance.com that shows the top ten states where their U.S.-based workers are coming from: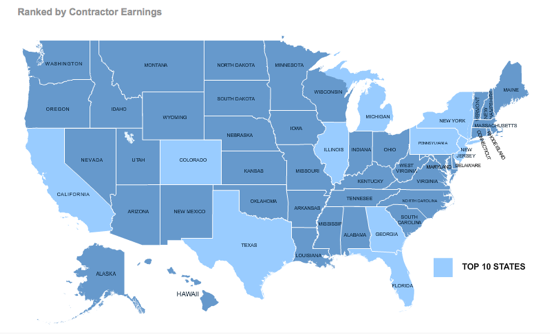 What work should you think about Pro-Sourcing?

So, armed with the statistics and the companies who run these marketplaces, what kind of work should you plan on Pro-Sourcing?

Here are just a few ideas of projects you can put out for hire, all for well under $1,000:
Start up a new service…and create the materials to promote it
Create a blog or newsletter to send to current and prospective customers
Redesign and update your website
Refresh your logo, proposal documents, signage, and marketing materials
Hire someone to be your "social media ghost writer"…to keep up on your Facebook/Twitter/LinkedIn posts and accounts
Run sales analyses to determine the sweet spots in your business and marketplace.
Research new markets, competitors or prospective customers.
What is amazing is that so many projects can be done for $150, $200 or $300. All you need to do is put your specs together, post your project and wait for proposals to arrive.

In my own Pro-Sourcing work, my projects have covered a wide spectrum, all completed for less than $1,000.
I've had software specifications written for a new service to be sold over the internet (contractor was from Argentina).
I have had my own company's website redesigned (due to launch within the next week); vendor is from India.
I have had a marketing planning tool created for a client, using a resource in North Carolina and Pakistan.
I have had an Excel database tool created by a resource in Missouri.
I have had viruses removed by a PC expert in California.
I've consulted with an intellectual property attorney in Silicon Valley on the pros and cons of patenting a new online service.
The options are vast. The opportunity to get important work completed efficiently is there. The only question that remains is this: Are you taking full advantage of the Pro-Sourcing trend?

In part two of this article, I'll review a handful of techniques I've used to find the best contractors, doing great work, at amazingly affordable prices.