In Part 2 of our pre-drupa series, our coverage of drupa Week in Düsseldorf, Germany, continues, including the following companies:
Kodak Polychrome Graphics
dotrix
FujiFilm
Kodak Polychrome Graphics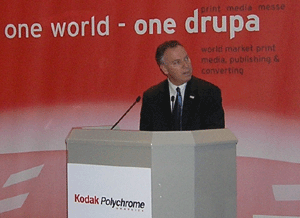 In a surprise announcement, KPG announced its intent to acquire RealTimeImage's graphic arts business. KPG already incorporates RTI solutions in its Matchprint Virtual Proofing System. This acquisition will allow RealTimeImage to focus its efforts on its medical imaging business. RTI's Yehuda Messinger, Executive VP of Graphic Arts, and RTI's Graphic Arts employees, including sales and technical support staff, will become part of KPG and will continue to support all of RTI's many customers and partners as well as its core product set, including:
RealTimeProof ASP
RealTimeProof Express
RealTimeProof Private Label
RealTimeProof Partner
RealTimeProof Classic
Products will continue to be offered under the RealTime brand. Jeff Jacobson, KPG's CEO, indicated he expected the deal to close by the end of February and declined to provide financial details (both companies are privately held). RealTimeImage will gain significant benefit from KPG's financial and business infrastructure and we expect to see even more aggressive offerings from the combined companies.
KPG also announced a new corporate message around which it align its organization as well as its drupa efforts: Ideas Creating Opportunities. According to Jacobson, customers often do not understand the breadth of KPG's offerings. The company intends to work backwards from the market to provide a deep, all-encompassing partnership between KPG and its customers by staying close to customers, understanding their challenges, anticipating their needs and delivering solutions, thus demonstrating that KPG is a very different company from even two years ago. Jacobson indicated that KPG has made significant R&D investments in all areas of its business, including $300 million in CTP alone. As a private company, he declined to provide a percentage of overall revenues devoted to R&D. He also stated that some 25% of KPG's 4,000 employees have direct customer contact.
Additional drupa announcements for KPG, who will be located in Hall 5, include:
Thermal Direct, a non-process plate for CTP, rated for 75,000 impressions, although in testing the plate has performed at 100,000 impressions. KPG also indicated that the plate is being tested on direct imaging (DI) presses, but declined to acknowledge from which press manufacturer(s). The pre-sensitized aluminum plate is minimally sensitive to light and may be handled in daylight environments for up to one hour, or yellow light environments for up to four hours.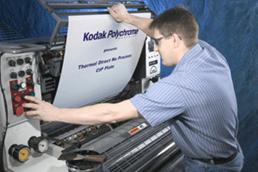 Matchprint Virtual Press Side, an extension of KPG's Matchprint Virtual Proofing System, will bring accurate, SWOP certified monitor proofing to the pressroom. It is a mobile solution that will be able to move from press to press.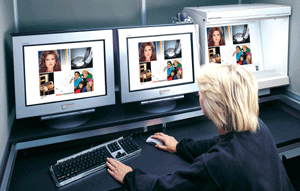 Color Fidelity System, a solution that will enable customers to easily automate critical color management operations from capture to output, also providing a consistent method for the proofing and communication of both RGB and CMYK files.
An entry-level CTP system, yet unnamed, designed for small to medium printers, fully integrated and ready for production. This system will be available in the Asia Pacific, Latin American, U.S. and Canadian markets. It will be a thermal solution based on the Screen PT-R4100, and will also include a server and an inkjet proofing device The entire system, according to Jacobson, will be offered below the sum cost of the components. Although pricing has not been formally established, it is estimated to be in the $80,000 range.
Jacobson also restated KPG's commitment to thermal versus other types of imaging systems, although he indicated KPG is monitoring the other technologies, and stated that it would not be unreasonable to assume that KPG might have a violet plate offering within the next couple of years.
dotrix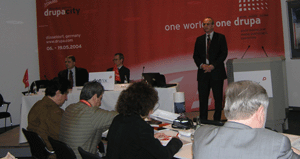 Having recently been acquired by Agfa and now part of Agfa Graphic Systems, dotrix, headquartered in Ghent, Belgium, shared its drupa strategy with the 100 media representatives gathered in Düsseldorf the week of January 26th. Rob Haak, Dotrix CEO, was joined by Etienne Van Damme, Agfa's Manager for Business Development and Stijn Simoens, dotrix Director of Marketing.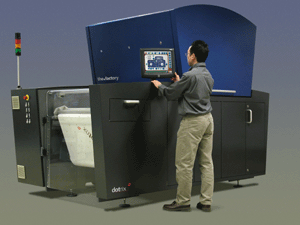 Haak described dotrix as a pioneer in single-pass inkjet implementations. The company, which will be operated as a wholly-owned subsidiary of Agfa, has 75 employees, a full half of whom are in research and development. The company has expertise in systems for printing security documents, including currency, and decorative printing, and has 200+ customers in that space. Its industrial inkjet product, the.factory (the dot factory) has a few installs and is designed to print on a wide range of substrates, including folding cartons, PVC, vinyl, aluminum, wallpaper and more, using noncontact drop-on-demand technology. dotrix showed a prototype of the.factory at drupa 2000, installed its first pilot site for decorative printing in early 2002, and launched the product commercially at IPEX 2002. dotrix is also providing the technology to OEM Mark Andy integrated with its DT2200 solution. The company's primary target markets include:
Packaging & Label Printing
Point of Purchase Printing
Decorative Printing
Security Printing
Other markets through OEM partners
dotrix uses the acronym SPICE to describe its technology: Single Pass Inkjet Colour Engine. It's the.factory product, which utilizes SPICE, comes in two widths, 35 cm and 63 cm per color (13.8 and 24.8 inches, respectively). Depositing ink at a rate of 600 million drops per second, the 63 cm 4-color the.factory generates an amazing 907 square meters (9,800 square feet) per hour of high quality output.
the.factory is designed to handle test marketing run lengths as short as 1 or up to 1,000 with an extremely short delivery time. As in other areas of the printing market, packaging run lengths are declining, and dotrix maintains that 30,000 units is a typical packaging run length in today's environment, a quantity that the.factory can produce in one hour. The company views the product as bridging the gap between digital and conventional printing, and as complementary torather than competitive withtraditional products, extending the range a service provider can offer. dotrix sees its primary competition as the HP Indigo WS4000, the Xeikon DCP500 and the Superjet class of wide format devices.
dotrix reported that three the.factory units have been placed in the packaging industry, an additional unit is producing point of purchase and display applications, and another unit has been placed in the decorative printing market, primarily for sample making. Four dotrix-enabled Mark Andy units have been placed as well, bringing the installed base to nine.
Clearly, the acquisition of dotrix by Agfa will provide the company much needed working capital and improve its cash flow position. Additionally, dotrix will benefit from Agfa's distribution channels. In his remarks, Agfa's Van Damme stated, Unloading Chromapress was not a reflection of a lack of belief in digital printing, but a painful decision that had to be made. dotrix heralds Agfa's reentry into digital production printing, and I believe it is a better entry than we had before. It also strengthens Agfa's offering in the packaging market. I am convinced that dotrix is going to SPICE up Agfa's life.
At drupa, dotrix will be showing a complete converting line that combines the.factory with a Jumbo unwinder and sheet cutter. Additionally, the company will feature a special implementation of Agfa's ApogeeX workflow tuned to packaging workflow, and is in the process of developing JDF compatibility for its products. The base the.factory sells for €1,150,000 in its 4-color, 63 cm format, and €935,000 in its 35 cm format.
Fujifilm

Fujifilm was represented by Nobuyuki Hayashi, Director, Executive Vice President and member of the board of FujiFilm Co. Ltd.; Naohiro Fujitani, Deputy General Manager, Graphic Systems Division; and Nobuaki Inoue, Deputy General Manager of Fuji's Graphic Systems Division. Key strategies for the Graphic Systems Division include strengthening of its distribution channels and enhancement of its worldwide marketing efforts, as well as further investment in CTP manufacturing facilities worldwide. The company is adding product lines and/or facilities in China, Greenville SC and the Netherlands. The major focus of its R&D initiatives is color management solutions and CTP, with an intent to strengthen its technology offerings for both commercial and newspaper applications as well as the development of a standard processless plate for the next generation of CTP platemakers.
Fujifilm's tagline for drupa is Imaging Advantage with Fufifilm, aligned with the company's mission to provide customer advantage through its portfolio of products and services. The company will occupy more than 1,100 square meters in Hall 5 at drupa, with several zones:
4- and 8-page Commercial Print, featuring JDF-based workflow and a new B2 size violet platesetter that will be launched at the show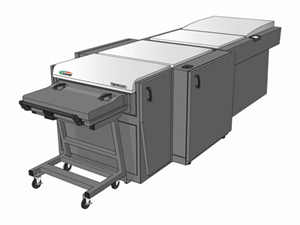 The design agency, showing flatbed scanners, digital cameras, etc.
CTP, featuring both violet and thermal CTP plates and enhancements to 4-and 8-page platesetters, as well as a technology presentation of Fujifilm's processless plate. The company indicated it plans to offer processless plates in both 4-page and 8-page formats. They will be imaged via thermal laser and use a polymerizationnot ablativetechnology. These plates are targeted for use with existing thermal platesetters, although specific brands were not specified. The company had no comment about when the processless plates would be commercialized and indicated that while its processless plates will initially be thermal, in the future they may use some unspecified technology in lieu of thermal.
Color management, which will include a print-on-demand system with an an inline bookletmaker from Horizon International, running under the Fujifilm color management system and featuring a new print-on-demand RIP optimized for the Xerox DocuColor family (excluding the iGen3) that offers PPML, auto imposition, spot color simulation, preflighting and print-ready PDF export. The POD RIP will initially be available only in Japan and will enable, among other things, management of two DocuColors in a tandem configuration from a single front-end server that can also direct print streams to CTP and will include color matching software that will deliver optimized color quality for DocuColor printers as well as Fujifilm's Grey Calibration, a quality stabilization tool.
Fujifilm's color management offerings are designed to be device independent, which Fujifilm categorizes as a must-have in today's digital workflow environment. The company will also be showing a new Fujifilm Celebra workflow that includes an Adobe RIP, Enfocus advanced certified PDF support and improved PDF imposition capabilities, also showcasing an RGB workflow that eases the transition of digital photographs through the production process, a common theme from a number of vendors during drupa Week.
When questioned about the state of its scanner business, Fujifilm indicated that reasonable quantities were still shipping, although the business experienced 25-30% declines over the last two years, largely due to the increasing prevalence of digital cameras. Fujifilm plans to continue to produce scanners for several years to come, and indicated scanners will have a prominent position at its drupa stand. Fujifilm is still investing in its scanner business, continuing to reduce the cost, evolve its color scanning technology within the software, and pointed out that it makes sense for them to stay in the business as other suppliers are discontinuing their scanner product lines as long as there is still a demand.
Coverage Continues
Our coverage of drupa Week will continue, so watch this space!
Messe Düsseldorf photos reprinted with permission from Messe Düsseldorf GmbH. Copyright Messe Düsseldorf GmbH.