With 100 days remaining before the start of drupa 2004 - scheduled for May 6th through the 19th - Messe Dusseldorf, the host of drupa, in partnership with AD Communications, launched its drupa Year activities this week in Düsseldorf, Germany, with a media event attended by 100 representatives from 40 countries.
This is the 13th drupa, with the first one having been held more than 50 years ago in 1951. Werner Dornscheidt, Chairman of the Management Board and President and CEO of Messe Düsseldorf GmbH, said that this drupa was a wake-up call for the industry and likened the event to the Olympic Games, in that it is a regularly recurring exhibition of the best of the world's suppliers of machines, materials, software and services for the graphic arts industry, with a key difference being that unlike the Olympics, drupa never changes its venue. For those of you who have never been to drupa (and I am included in this category!), it takes up 17 halls, and it is as big as they say  I have included an aerial photograph of the fairgrounds to give you some perspective.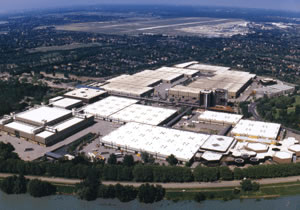 drupa 2000 was bolstered by a still-booming economy and what presenters referred to as IT hype; it had a record number of visitors - 428,000 - though previous years have seen visitor numbers in the 360,000 range. drupa 2004 is expected to see some 370,000 visitors with perhaps fewer from Germany and Central Europe than in the past and a rise in visitors from other areas, particularly Asia. Dornscheidt indicated that all 17 exhibition halls are fully booked, with 200 firms still on a waiting list. Some 1,800 exhibitors from around the world will be in attendance at this year's fair, compared to 1,943 exhibitors from 50 countries in 2000. Dornscheidt highlighted drupa 2004's vast offering of products and services as living workflow, saying, If you can't find it at drupa, you won't find it anywhere.
drupa President Albrecht Bolza-Schünemann also compared drupa to the Olympics, stating that the Olympic motto faster, higher, farther could read prettier, faster, more reliable to accurately describe this Olympics of print which represents a symbiosis of brainware and hardware, or IT, workflow and machinery. The balance of the trade fair has shifted over the years from being primarily a German trade fair to being a truly international event. In its first year, there were 527 exhibitors from ten countries; 486 of those exhibitors were from Germany. Contrast that with 2000, where there were 1,943 visitors from 50 countries, with nearly two-thirds of those coming from outside Germany. The 2000 trade fair occupied 158,875 square meters of space, or some 17 million square feet.
Dornscheidt also indicated that for the first time in over 50 years, drupa is reaching out to new target groups in terms of exhibition attendees, expanding beyond print buyers to print media deciders - agency and marketing executives who have a strong influence over the purchase of print. Also available are a Web site for up-to-the minute information (www.drupacity.de) and new this year is an arrangement whereby exhibition tickets can be used for unlimited free bus and rail travel during the trade fare.
Dornscheidt also indicated that improvements are being made to the fairgrounds, expected to be completed in time for drupa 2008, including construction of a new Hall 8, refurbishment of existing halls, a new arena, and a new transportation system.
The Exhibitors Speak Out
Over the course of the week, attendees at Media Week heard from 15 exhibitors who discussed their plans and strategies for the giant trade fair. In this first of a multi-part series, WhatTheyThink will summarize the information each presented to help our readers better prepare for drupa, whether they are able to attend in person or will be watching from afar. Exhibitors that will be covered in this series include:
Heidelberg
dotrix
Fujifilm
Kodak Polychrome Graphics
Print City
Mitsubishi Heavy Industries
Quadtech, Inc.
Inca Digital
Artwork Systems
Baldwin
Canon
x-rite
EFI
Xerox
Heidelberg
First up was Heidelberg 's Bernard Schreier, CEO, who focused his remarks on Heidelberg's efforts to help its customers identify the best solutions for their particular businesses. The company will occupy 7,800 square meters of space (84,000 square feet) in its usual location, occupying the entirety of Halls 1 and 2. The image below depicts the Heidelberg Hall layout.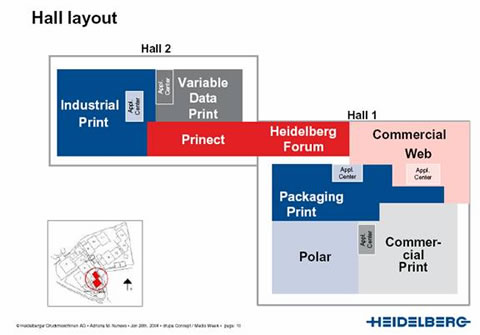 In previous years, Heidelberg has provided the press with a look behind the curtain in terms of new announcements that can be expected at drupa. This year though, Heidelberg is deferring those announcements to a press conference that will be held on May 5th, the day before drupa opens.
The central location in the Heidelberg stand of Prinect, the Heidelberg workflow control system, and the Heidelberg Forum, send an important message. Schreier said, There is a lot of talk about increasing productivity and reliability in production. We will be demonstrating how this talk can be translated into action. We are convinced that the theme of workflow' and the ability to trace and monitor the individual steps in the production process is becoming increasingly important for our customers. The Prinect area will also feature new remote service offerings which Schreier indicates are increasingly important, saying, Being able to provide quick and efficient service to customers worldwide is the measure of all things for Heidelberg. That's why at drupa you will see a new, even quicker approach to consistent web-based remote service from Heidelberg.
Schreier also stated that while there will be a Web printing presence, it will not represent the newspaper business - a business that he has made clear is on the block - but rather will feature a magazine printing application. Schreier declined to specify the brand that would be carried by the web press, saying, It is still under discussion. In terms of the digital business, which is also on the block, Schreier did indicate that the Variable Data Print segment will have both NexPress 2100 and Digimaster devices, demonstrating what he categorized as printing using movable data. Last November, Schreier stated that Heidelberg would be pursuing new agreements for entry-level digital products. When queried about whether those products would be in the Heidelberg stand at drupa, Schreier said, That will probably be one of the last lifts of the curtain' on May 5th, acknowledging that the product range Heidelberg has today is not sufficient for tomorrow.
Packaging represents another area of increased focus for Heidelberg and will use 700 square meters (7,500 square feet) of space in the Hall.
Adriana Nuneva, Heidelberg's Senior Vice President of Global Marketing, previewed the new Heidelberg ad campaign launched January 26th , whose motto is Created with Passion. Made for Success. The campaign consists of 22 different ads reflecting real Heidelberg employees and customers. One of the ads is depicted here (with the motto in German).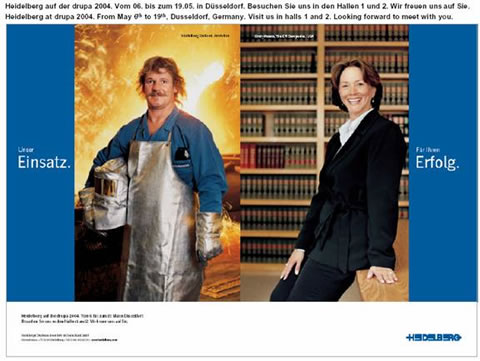 Schreier concluded his remarks by saying, Since drupa 2000, we have tried to show that it is not just people buying new presses that makes them rich. It involves the efficiency of the entire print process. It requires workflow to integrate Heidelberg and other equipment, making processes within a print shop more reliable. This is why we entered the prepress business, because integration between prepress and press will be the next important stage in our industry. [Our job is] not only selling more equipment into print shops, but having the skills to consult with our customers  so they can create new business models to survive. This is the primary reason for the solution centers in drupa - to make them confident that there is a future for their businesses.
Additional Heidelberg details can be found at www.drupa.heidelberg.com.
More to Come
WhatTheyThink will be bringing more updates direct from Düsseldorf over the next several days.
Messe Düsseldorf photos reprinted with permission from Messe Düsseldorf GmbH. Copyright Messe Düsseldorf GmbH.