"Print is not dying now - it doesn't even have a fever." Thus did Joe Prestino, chairman and principal organizer of the Printing Week Dinner in New York City, gainsay pessimism about the industry as he convened the 60th-anniversary edition of the festivity on Jan. 13 at its traditional location, La Maganette Restaurant in midtown Manhattan.
The event - which also commemorated the 298th anniversary of the birth of printing's patron saint, Benjamin Franklin - is an annual celebration by The Club of Printing House Craftsmen of New York and the National Association for Printing Leadership (NAPL). The New York Club is one of 80 Craftsmen clubs in nine countries that observe Printing Week during the week of Franklin's birthday (Jan. 17).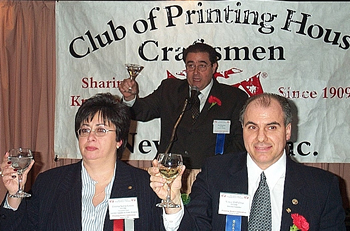 Joe Prestino (at microphone), co-chair of the 2004 Printing Week Dinner Committee, leads a toast to Printing Week and Benjamin Franklin's birthday with the help of Emma Serra Green, president of the Club of Printing House Craftsmen of New York, and Vincent DiPalma, Dinner Committee co-chair.
Joining the New York Club and NAPL in saluting the industry were members of 13 other industry organizations representing every facet of the print and graphics trade in the metro area. The groups marked the occasion by presenting Joseph A. Fielder Fellowship Awards to their outstanding members.
The evening also was the setting for the presentation of the 16th annual Florence B. and Leo H. Joachim Award to one of the metro area's most energetic and respected trainer-educators, Annette Wolf Bensen. The Joachim Award, conferred by vote of the Printing Week Dinner's participating groups, is regarded as the summit of peer acclaim among graphics professionals in the metro area. A training consultant who serves chairperson of an advisory commission on graphics education to the New York City public school system, Ms. Bensen had the special pleasure of accepting the award in the presence of many people who began or advanced their careers in graphic communications in one of her classrooms.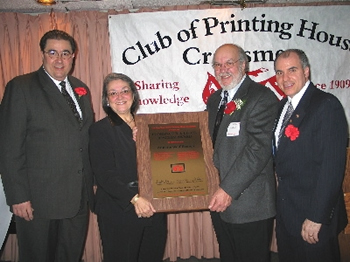 Dinner Committee co-chairs Joe Prestino (left) and Vincent DiPalma (right) congratulate Annette Wolf Bensen upon her receipt of the 16th annual Florence B. and Leo H. Joachim Award. Also with the recipient is her husband, Gene Bensen.
Emma Serra Green, president of the New York Club, opened the proceedings by invoking Printing Week's theme: "Print: Affecting Everyone, Everywhere, Every Day." The formalities included readings of Printing Week proclamations from the offices of New York City Mayor Michael R. Bloomberg and New York State Gov. George E. Pataki by, respectively, Vicki Keenan, vice president-public affairs, Association of Graphic Communications; and Eric Olsen, governor of the Second District of the International Association of Printing House Craftsmen (IAPHC).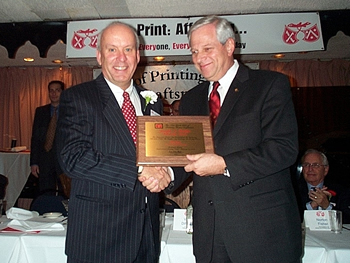 Bill Martin (Seybert Nicholas Printing Group), left, receives a Fielder Fellowship Award from the Association of Graphic Communications with Ken Englander (Central Lewmar Fine Papers) acting as presenter. Central Lewmar is this year's corporate sponsor of the Fielder Awards.
Time Comes To "Feel Good"

Prestino, the deputy governor of IAPHC's Second District, told the guests why he thought that this year's observance should mark a return to optimism throughout the industry.
"I have stood before you for five Printing Week celebrations," said Prestino, who has been the chief guardian of the tradition in New York City since the death of its longtime promoter, Joseph A. Fielder. "This is the first time that I feel good about what's going on in our industry."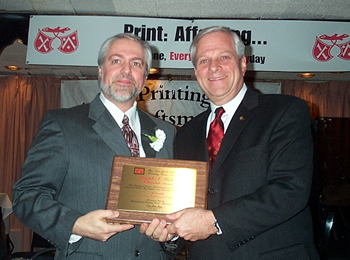 With the help of Ken Englander (Central Lewmar Fine Papers), right, New Jersey Club of Printing House Craftsmen conferred its Fielder Fellowship Award on Al Zowada (Sandy Alexander Inc.), left. The New Jersey Club was one of 13 groups that saluted their outstanding members in this way.
"Yes, quite a few shops have gone by the wayside," Prestino said. "Through bankruptcies, mergers, and acquisitions, there has certainly been a lot of fallout in the industry. We've all heard the naysayers with their calls of 'Print is dead,' 'Print is dying,' and 'The computer and the Internet are killing printing."
Noting that these same comments have been heard again and again since the invention of wireless radio at the end of the 19th century, Prestino declared, "Print didn't die then, and it's not dying now. It doesn't even have a fever. It's changing. It's evolving. It has probably changed more in the last 15 years than it has in the last 150 years. "
Prestino also urged the broad adoption of inkjet, toner, and other imaging methods that he said "some of the purists in the room" might not include in their definitions of printing: "We have to be forward thinkers, applying these new technologies and processes for our clients' ever-changing needs."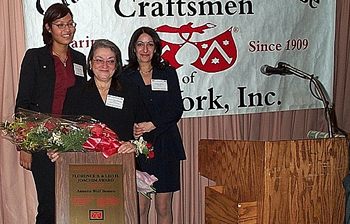 Joachim Award recipient Annette Wolf Bensen is seen here with two of many former students who were on hand to congratulate her at the Printing Week Dinner: Yadira Umana (Milocraft), left, and Nadine Ghosn (The New York Times). Both studied print production with Bensen at New York City College of Technology.
Green saluted the memory of Joe Fielder in her introduction of the Fellowship Award winners, recalling the honor's namesake as "one of this industry's shining stars, a friend to almost everyone in this room, and a mentor to many." She noted that each recipient was someone who "has contributed in the furthering of education in the graphic arts," a lifelong cause of Fielder's.
Cross-Section of Clubs

Central Lewmar Fine Papers, sponsor of the Fellowship Awards, joined the clubs in praising the recipients for their exceptional service. Ken Englander, Central Lewmar's senior vice president-corporate marketing, distributed the plaques and congratulated the honorees.
They included Jay Monaco (Advertising Production Club of New York); Irene Tichenor (American Printing History Association of New York); Bill Martin (Association of Graphic Communications [AGC]); Arthur Silverstein (Binders and Finishers Association); Harvey Markovitz (Direct Marketing Club of New York); Anthony Colasacco (Mailing & Fulfillment Service Association of New York); Dale Pritchett (Metro New York Printing Ink Association); Betty Verbert (Mid-Hudson Graphic Arts Association); Stan Rose (The Navigators); Al Zowada (New Jersey Club of Printing House Craftsmen); Emma Serra Green (New York Club of Printing House Craftsmen); Michael Esposito (Partnership in Print Production); Chris Pasin (Printer's Supply Salesmen's Guild of New York); and Lawrence Newfield (Printing Teachers Guild of New York).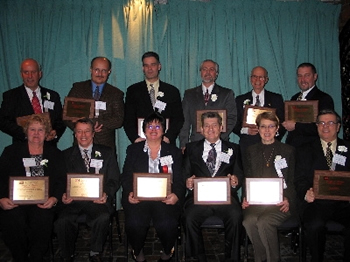 Recipients of the 2004 Fielder Fellowship Awards gather for a group portrait. Standing from left: Bill Martin, Chris Pasin, Michael Esposito, Al Zowada, Arthur Silverstein, and Jay Monaco. Seated from left: Betty Verbert, Anthony Colasacco, Emma Serra Green, Lawrence Newfield, Irene Tichenor, and Harvey Markovits. Recipients not in photo: Dale Pritchett, Stan Rose. (See story for the honorees' club affiliations.)
Susie Greenwood, president of AGC, introduced the Joachim Award recipient as a "Renaissance woman" who was also "one of the industry's best trainers in graphic arts and prepress." She noted that Annette Wolf Bensen's education credentials include numerous courses taught for AGC, New York City College of Technology, Baruch College, and other institutions.
Bensen is widely recognized as a promoter of graphics education. As chair of the Graphic Arts Education Advisory Commission, she coordinates the industry's efforts to develop curricula and improve the quality of instruction at New York City public schools with graphic studies programs. For this work, she has been recognized with every major service award presented by groups and clubs in the metro area.
Even "Small Doses" Help

The Joachim Award has been conferred annually since 1988 in honor of Florence and Leo Joachim, trade newspaper publishers whose careers of service to the industry spanned more than 60 years. Its presentation to Bensen was sponsored by KBA North America, which was represented at the dinner by Michael Mugavero, vice president-sales and product management for the Eastern region of KBA's sheetfed division.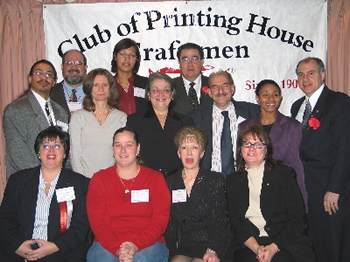 All of the work that goes into planning and executing the Printing Week Dinner—from sending the invitations and coordinating the awards to making table assignments and taking tickets at the door—is a labor of love performed by volunteers. Here some members of Dinner Committee strike a relaxed and happy pose at the conclusion of festivities: seated from left, Emma Serra Green, Dawn Bowers, June Prestino, and Helen Marsh; standing from left, Jose Figueroa, Lloyd Carr, Ann Rotella, Yadira Umana, Annette Wolf Bensen, Joe Prestino, Stu Menkes, Simone Hall, and Vince DiPalma.
Bensen accepted the honor with many personal tributes to colleagues and friends. She urged everyone to repay what the industry had given them with volunteer work on behalf of graphics education, even if only in "small doses."
"Try mentoring a high school student or teaching a class for a semester," Bensen said. "Join an AGC committee. Use all of your opportunities to nurture and encourage those entering our industry."
The values and traditions embodied by Printing Week should unite the industry in "a true circle of give and take" in support of education, she said.