In our final coverage of pre-drupa announcements, today's WhatTheyThink Special Report by contributing columnist Cary Sherburne covers the following companies/initiatives:
Screen ( USA )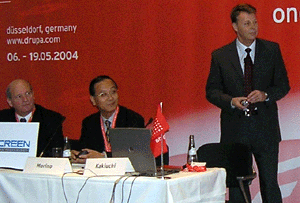 According to Screen's Phil Eaves, European Marketing Manager for Screen Media Technology, Screen will be launching a new generation of its digital offset press, three new CTP systems and multiple JDF-enabled workflow modules within its Trueflownet environment at drupa 2004, where the company will have an 11,800 square foot stand in Hall 5. This is the largest demonstration area the company has ever occupied at this event. Screen's stand will include five pods, presentation areas dedicated to workflow demonstrating the Trueflownet products. One pod will be dedicated to Adobe. In the center of the stand is a 40-seat forum that will feature educational presentations on a host of JDF topics. Screen will also participate in the CIP4 JDF Café (JDF Parc) in Hall 4. Eaves indicated that while Screen is active in CIP4 and JDF, the company has no intention of joining Creo's NGP initiative, believing it is confusing the industry and that it is more effective to focus efforts through the official standards organization, although he admits that the existence of the NGP initiative may have spurred CIP4 to faster action in its standards development efforts.
Screen platesetters will be operational in more than 10 partner stands, with companies such as Kodak Polychrome Graphics, Lastra, Hamada and Ryobi incorporating Screen PlateRite platesetters into their exhibitions. Continuing its tradition of entertainment extravaganzas at drupa, the Screen stand will have three shows per day with the Golden Boys, an acrobatic performance team currently part of the Cirque de Soleil act in Las Vegas .
RandotX Screeing Library . With this FM screening solution, Screen has added additional screening to help printers balance quality with print latitude, depending on the level of environmental control the printer has over the printing process.
TrueflowRite . This is an entry level JDF workflow whose target market is the first time CTP buyer. With the same GUI as the TrueFlow 3, there is a natural upgrade path as the user gains more experience and builds volume.
PlateRite Micra 30. This product is positioned in the B3 marketplace, and is designed to drive quality standards higher. It is based on violet polymer technologies and is compatible with the widening range of plates available in the market.
Platerite 16000. This is a completely new entry to the large format market. Its maximum plate size supports 16-page presses, but can also produce plates for 4- and 8-page presses. Its target market is new press buyers that need a higher level of automation, as well as users of older devices that are slow and lack automation. Because of the range of plate sizes it supports, it offers users a logical upgrade path. With a minimum plate size of 25.6 inches x 21.6 inches and a maximum plate size of 57.9 inches x 45.9 inches, the PlateRite Ultima 16000 can accommodate four-page plates all the way up to the largest 16-page plates. The PlateRite Ultima 16000 can image 23 plates* an hour when outputting 57 x 45-inch plates at 2,400 dpi.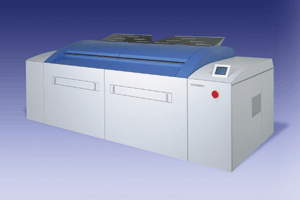 Ultima 32000Z : This is a thermal device with twin imaging heads and twin plate feed for B1 plate production. Screen will introduce a new model in the PlateRite Ultima computer-to-plate (CTP) series. The standard PlateRite Ultima 32000Z can output up to 46 40.5 x 31.5-inch plates per hour (depending upon the sensitivity of the plate media) at 2,400 dpi.
These CTP offerings bring Screen's portfolio from 2-page all the way through large format 32-page CTP platemakers. The company indicates that Screen platemakers will be compatible with processless CTP from KPG as well as other processless plates that come to market.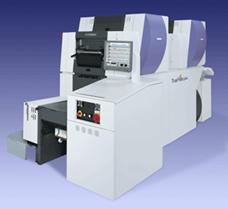 TruePress 344 . This next-generation digital offset press will have its world debut at drupa as a replacement product for the company's existing TruePress 544. This new-generation, JDF-compliant A3+ press features TrueFit Advance which scans the printed imagenot the data strip or color baron every sixth sheet, analyzing the image in a close loop process to automatically color calibrate and adjust the ink and/or water. The TruePress 344 has automated job changeover and will use new thermal processless plate technology using a multi-array laser diode thermal head, developed specifically for this press, but which will be applicable to other presses for on-press imaging.
The TruePress 344 images 4 plates at 2400 dpi in five minutes and has no processing requirements. With its ultrafast job changeover, a 500-sheet job can be produced in 15 minutes. An IR dryer or water based coater will be available as options. The company will begin shipping the product in November 2004.
Screen will also be showing upgrades to its four e-commerce modules, RiteOnline, a web browser based online print order module; RiteApprove, a remote proofing service; RitePortal for online PDF creation and delivery; and RiteTransfer , a communication portal to provide easy and efficient file transfer from the Trueflow system.
PrintCity
John Dangelmaier, President, PrintCity, described the initiative as a long-term strategic alliance representing 56 companies with 160,000 employees and combined turnover of €30 billion. These companies represent the publishing, packaging and commercial print segments, and cover the entire graphic parts value chain. The structure of PrintCity, which uses cross-functional activity groups consisting of eight activity groups and three process groups, is depicted below.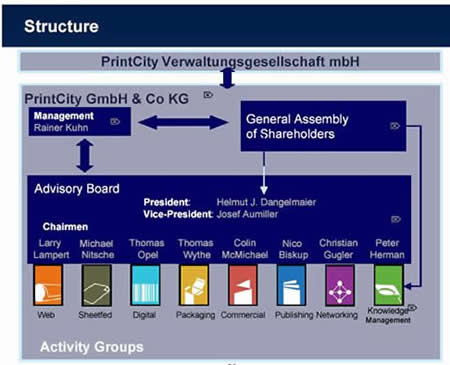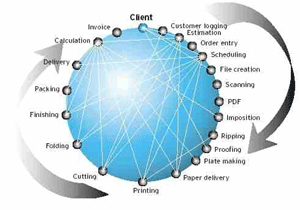 This structure allows PrintCity to address the entire graphic arts value chain through a closed-loop process based on CIP4 and other industrial standards. According to PrintCity, A workflow starts and ends with the client. These processes are executed as a closed loop, which includes the sequential physical production, accompanied by data workflows that can be non-sequential and parallel.
One output of this process, which PrintCity announced at MediaWeek, is the Sheetfed Activity Group's Best Practice Guide for Optimised Sheetfed UV Printing & Coating. This publication is designed to spread generic process knowledge to optimize industry quality and productivity. The publication will be available May 5, 2004 .
PrintCity will be located in Hall 6 and will occupy 16,000 square meters (172,000 square feet), a full 10% of the space available at drupa 2004. PrintCity's drupa 2004 exhibition will feature five print factories in a live JDF environment with a goal of showing customers how to improve their profitability, productivity and efficiency. Each of the five PrintCity factories will include networking and MIS; color management, pre-press, printing and finishing, and each will demonstrate live end-to-end production of real print applications, with more than 40 different applications being produced in the exhibit.
drupa Media Week Concludes
The visit to Düsseldorf provided a snapshot of what to expect at drupa 2004. While vendor participants include a mere one percent of the total number of exhibitors who will be present at drupa, it was a good selection of key vendors to the industry. There is no question that most exhibitors will be focusing more on workflow and JDF than ever before, and many are using this opportunity to launch new products, new corporate messaging, new logos and more.
WhatTheyThink will be providing ongoing pre-drupa coverage, with several other media events taking place over the next few weeks, and, of course, we will be at drupa in force to bring you frequent, up-to-the-minute reports, virtually live from the show floor. We hope we will see you at drupa, but if you are not able to attend, we will be your eyes and ears. If you have specific questions about any of the vendors covered in this series, or about the event itself, please drop me an e-mail. There was obviously much more detail covered than we are able to report about here.
Here's to an exciting drupa Year!