Continuing our coverage of drupa Media Week being conducted in Düsseldorf, Germany, the week of January 26th, 2004, drupa plans and other announcements from the following companies are covered.
Canon Europa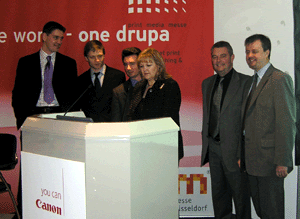 Canon continues to show good revenue growth and the company continues to invest heavily in R&D (7.9% of revenues). Canon continues to be a worldwide leader in patent filings, with 1,893 patents filed in 2003.
Petteri Koli, Head of Professional Solutions for Canon Europa, outlined Canon's business strategy for the professional printing market. Canon defines the professional printing segment as including Corporate/In-Plant, Print for Pay and Commercial Printing. Canon discussed its key objectives in its renewed focus on this market:
Establishing Canon as a recognized player in the professional digital printing market
Offering dedicated professional solutions through marketing, sales and support efforts across Europe.
Strengthening the customer value proposition for each market based on customer business needs rather than a product focus.
Executing a professional printing training program across Europe, establishing specialists to support sales into the professional printing market. These specialists carry the title of Professional Solution Business Consultant, and a number of them are in place across Europe. These specialists are a blend of existing Canon employees and outside hires from the printing industry. Sales compensation plans have also been adjusted (but not yet implemented) to drive desired sales behaviors, including stronger emphasis on customer satisfaction and volume growth.
All of this effort is directed at better understandingand meetingcustomer needs in these market segments. Canon calls this Canon Business Intelligence, or CBi.
Tonis Haamer, Solution Business Development Manager for Canon Europa, presented the company's drupa highlights, including:
Canon will be using the theme you can Canon at drupa to reflect its enhanced customer focus. Its stand will have three zones: Intelligent Production Printing, Intelligent Publishing, and Commercial Imaging and Graphics. The stand will also feature a presentation area and a partner area. Throughout, the focus will be on flexible, end-to-end solutions.
At the briefing, Canon announced a pan-European agreement with GretagMacbeth for color management solutions, augmenting the solutions already offered via its partnership with EFI and Canon-developed color management solutions
Canon expects to make additional product announcements in the months leading up to drupa, and those products will be featured in its stand.
Canon declined to comment on what, if any, impact Heidelberg's stated intent to divest itself of its digital business will have on Canon's OEM arrangement for the Digimaster 9110 (imageRUNNER 110), although the company did say it is currently in the process of renegotiating its contracts with NexPress. Nor would the company comment on rumors that Canon was in the running to acquire the NexPress business from Heidelberg.
X-Rite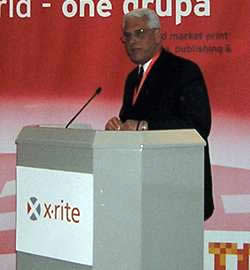 Michael Ferrara, CEO, presented an overview of X-Rite with a theme of X-Rite is Back. Having struggled financially of late, the company now has in excess of $100 million in annual revenues and 650 employees worldwide, and does business in over 80 countries. Graphic arts customers represent 43% of the company's revenues and 38% of revenues are derived from new products. The company has a target of generating 50% of revenues from new products within the next 24 months. X-Rite is debt-free and has enjoyed over 20% growth in the last five consecutive quarters (30% growth in the graphic arts business). Like several other companies at drupa Media Week, X-Rite launched its new branding initiative at the event.
James Weaver, Vice President of Marketing and Product Development, pointed out that X-Rite is migrating its business from primarily hardware (measurement tools) to more emphasis on software solutions focused on ensuring color efficiency throughout the graphic arts workflow. The company announced seven new products and major partner relationships at the briefing, under the trademarked umbrella Streamlined Color Management. These are highlighted below, with more detail to follow in the months leading up to drupa:
X-Y AutoScan Spectrophotometer which the company categorizes as affordable, all-in-one color measurement solution for prepress
Monaco OPTIX XR, a flat panel display that can be used for remote proofing and will sell for $249. It is supported by both KPG and ICS for their monitor proofing solutions.
A one-button profiling solution that can measure a full test form in three minutes
A digital proofing universal color solution being developed with a customer, with more information to follow prior to drupa
MonacoQCcolor, a web-based color management solution
An integrated calibration solution being developed with a leading on-demand printing manufacturer, the DTP32 Series II, a fast system to calibrate on-demand devices
Integrated on press QA and CM solution
The image below depicts the workflow associated with MonacoQCcolor.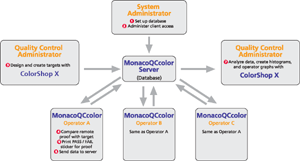 The company is also actively working on solutions that will facilitate RGB workflows, based on the increasing prevalence of RGB images from digital cameras being introduced into the graphic arts workflow.
EFI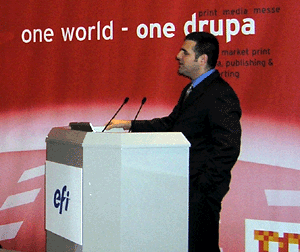 Guy Gecht, EFI's Chairman and CEO, kicked off the EFI presentation by contrasting EFI's presence at drupa 2000 with todaythe highest color print speed EFI's Fiery server supported then was 40 ppm, and now it is 50 times faster at 2000 ppm. In 2000, nearly 100% of revenues were generated by OEM partners. In 2004, the company has combined OEM relationships with strong channel partnerships for a broader distribution channel. The company has doubled its number of employees as well, from 700 in 2000 to 1,400 currently. The company's revenue quarter-over-quarter grew 19%, according to its most recent earnings release, and EFI is in a strong cash position with a market cap of some $1.5 billion and $700 million in cash.
For 2004, EFI plans to aggressively expand product reach for the Printcafe products to other parts of the world, especially Europe; and across its product line, develop products that deliver efficiencies that make printers profitableimproving productivity forand the range of services that can be offered bythe print service provider.

Gecht unveiled EFI's new branding initiative during the briefing, which was very well received by attendees. In fact, the company name has been changed from Electronics for Imaging to EFI, with the tagline essential to print. EFI is rolling out a global product strategy, including the phasing out of the Printcafe name. For more detail on this major announcement, read last week's article by senior WhatTheyThink editor Gail Nickel-Kailing. The objective is to build a brand that is recognized worldwide as essential to print and position EFI products as both best in class and integrated, end-to-end solutions. The new name is more relevant to EFI as it exists today and positions its portfolio in a more integrated and understandable fashion.
Highlights of EFI's drupa presence fall in four categories: Servers, Print MIS, Proofing and Production Workflow, including:
Fiery server for the 2000 ppm Kodak Versamark
Connected workflows with Heidelberg, Screen USA and other partners, as well as a new version of EFI OneFlow and connectivity for the next generation MicroPress (formerly from T/R Systems) to Fiery.
New versions of EFI color proofing solutions with Best technology
EFI Hagen and EFI PrintSmith MIS systems localized and connected to EFI's digital workflow
JDF connected workflows that include Fiery, Hagen, EFI proofing, OneFlow, Balance, Internet solutions and digital and offset presses. EFI will also have a strong presence in the CIP4 stand (JDF Parc).
The central theme for EFI at drupa will be It's all about connectivity  interoperability, ease of use and features to provide customers with new profit opportunities. More announcements from EFI will continue to roll out as drupa approaches, including both products and partnerships.
Coverage Continues
Our coverage of drupa Week will continue, so watch this space!