Graphics of the Americas wouldn't be the same without its Gala Awards Night, when luminaries of U.S. and Latin American printing are honored for their contributions to the industry and to Printing Industries of Florida (PAF). The annual soirée is a black-tie-optional affair and one finds themselves rubbing shoulders with many of the people whose continued efforts drive the industry forwards. It is not a night to miss.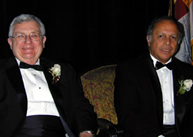 This year the celebration honored Jerry Williamson, III, CEO of Williamson Printing in Dallas, Texas and Ernesto Salviat Wetzig of Salviat Impresores, SA, both of whom have impressive personal and professional backgrounds within the printing industry and in outside endeavors. Mr. Williamson and Sr. Salviat Wetzig have consistently demonstrated the vision, creativity and leadership in their lifetime achievements and humanitarian contributions in advancing and developing the graphic arts industries.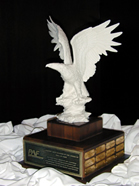 Michael Streibig, President of PAF welcomed guests to the event, then turned the dual podiums over to Masters of Ceremonies Michael Makin, CEO of Printing Industries of America and Jose Luis Zamora Contreras, CEO of Procel. The MCs took turns recounting the work of the honorees in English and Spanish and went on present the awards.
Mr. Williamson's and Sr. Salviat Wetzig's names will now go onto the Graphic Arts Leaders of the Americas Award-- a base of mahogany topped by an eagle whose wings are spread--and which resides in PAF headquarters. In his comments, Mr. Streibig said he sees the award everyday, and that it is a constant inspiration to always try to do more, and do better; traits that are at the core of all award recipients.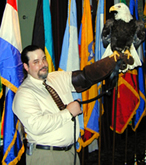 Also in attendance was Booker T, the honorary host of the event. Booker T is a large, live American Eagle, who kept an eye on the ceremonies from his perch on the arm of his handler.
In the Latin style, the awards and toasts began around 9 PM and went on for some time. So we didn't begin eating until nearly 10:30. much as if we were in Rio, Buenos Aires or Santiago. I'll tell you, here's nothing like shifting to a Latin eating schedule to give the world a different spin for all us Americans. It all made for a fine evening under the Miami sky.
But back on the show floor the next day, there was still plenty going on.
CTP a Good Fit in Latin America
"There's a growing market for CTP in Latin America," explained Marc Johnson of Presstek. "It has appeal because there are a lot of old presses down there, and CTP gives them a new lease on life."
Economic conditions are a seemingly perpetual challenge throughout Latin America, making acquisition of a new press difficult. But a Johnson says a printer can get excellent results out of old iron by using Presstek's CTP technology. He said there was some interest in the chemical-free attributes of CTP, although this varies by country. More often, it is the ability to handle shorter runs that has the greater appeal.
"Shorter runs--as low as 100 to 200 copies--are not uncommon," noted Johnson. "While that would seem to favor toner-based products, CTP is a better fit for much of Latin America because it is a layer on top of existing technology rather than an additional technology."
A Print Shop in a Booth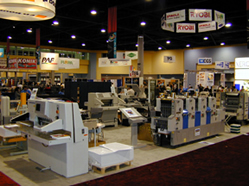 Johnson was pleased with the people he was seeing at GOA, noting plenty of good traffic and people asking serious questions. His Anthem platesetter was on a main aisle at the end of a booth belonging to Spinola Printers Supply. Representing vendors such as Presstek, Ryobi, Challenge Machinery, C.P. Bourg and more, company president Marc Spinola set up the booth to not only show off a broad range of wares but how they could comprise a workflow most printers would immediately understand. Some larger vendors should take notes.
The Wide Side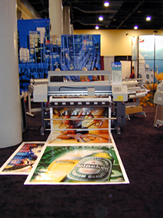 Just like last year, there was no shortage of wide format printers at GOA. These machines are the engines of choice for all types of signage throughout Latin America and all the major equipment vendors seemed to have their latest models on display. The most visible was Digital Graphic Systems whose booth was a giant wall of ovesized displays, fronted by a steady stream of images coming out the array of printers at the front. Big images draw a crowd and the versatility of modern wide format printers is quite impressive.
Océ North America used GOA to roll out its latest model, the Arizona 60 UV, which prints on both roll-fed stocks and on rigid media up to 3/8" thick. It can print rigid sheets up to 8 feet long and features integrated roller tables that fold out of the way or be removed when running roll-fed stock. According to Océ, its UV-curable inks dry quickly and can be readily used outdoors. The inks are available in 6 colors, the standard CMYK, plus light magenta and light cyan, to provide a broader color gamut.
Digital = Growth
As I've noted in previous installments, convergence was a theme of GOA 04. It's not unique to the United States or Europe, Asia or the Pacific Rim, or Latin America. The fact that virtually all documents are created digitally and can be used in many different ways ensures that convergence will continue to be a force in the printing industry for some years to come. The challenge for all printers is to find ways to leverage what they do and use digital technologies to make their businesses run faster, smarter and more profitably, and add value to everything they do for their customers. Whether it is CTP, wide format printing, book publishing, or digital color printing with variable data, digital technologies are the future. I think of what Howard Holley, vice president for the Production Solutions Group in Xerox's Developing Market Operations said in a press conference during the show. "Growth happens when digital happens." And the evidence was here at Graphics of the Americas.
And that's a wrap for GOA 04. With all that's starting to happen under the tropical sun, next year ought to be even better.