"Fearless creativity in the pressroom has to be nurtured for the longterm. When you stop creating and taking risks, you lose your edge." So said Hans Ulland, co-founder and VP of sales for Air Motion Systems, in his opening remarks welcoming nearly 70 printers and a dozen or so vendors and sponsors to the fourth annual Print UV Conference, held March 6–8 at the Wynn Resort in Las Vegas. The event featured two days of high-end discussion, information-sharing, and problem-solving—as well as a not inconsiderable amount of networking. "Print UV is a high-end networking event disguised as a conference," said Ulland.
"When you stop creating and taking risks, you lose your edge." —Hans Ulland, Air Motion Systems
UV printing is perhaps one of the oldest new technologies in the industry. Printing with ultraviolet-curable inks is not anything new, but advances in the capabilities of UV printing have created a host of new and "wow-inducing" applications, such as the ability to print on a wider variety of substrates than conventional offset inks (such as plastics), as well as create a spectacular variety of special effects. UV printing is not without its challenges, and there is always something new to learn. Conference attendees who have been doing UV printing for 20 years admit that they're still picking up new skills and tips, and a plethora of panel discussions and open Q&A forums allowed printers and vendors to share ideas and solve problems, as well as inform new initiates into the UV printing market. "[At last year's conference], we solved an on-press problem that was taking place back east," said Ulland. The problem had been presented by an attendee, brainstormed in one of the sessions, and the solution telephoned back to the pressroom.
Each year's conference is themed a little differently—last year's was all about sales and marketing—and this year's event focused on production processes, with sessions that discussed new technologies such as HUV, "Cast and Cure," and LED printing; how to print on specialty substrates; how to achieve super high-gloss; how to get the best results from coatings; and how to properly maintain press rollers and blankets to get the best quality.
Pazazz Adds Pizzazz
"We have to stand together. Why don't we band together? We're all UV people; we should have a pact." —Warren Werbitt, Pazazz Printing
After Ulland's opening remarks, special guest Warren Werbitt, "founder and fisherman" of Montreal's Pazazz Printing (and star of a viral YouTube video), delivered a keynote address in which he candidly talked about the rise and fall (and re-rise) of his company, about its collapse as the economy went south at the exact moment he had purchased an expensive new UV press and a new facility. "You learn who your friends are," he said. "All my competitors wrote me off as out of business." Instead, he said, "We got a fresh start. We got the sherpas together and we're on our way back up." One of the ways of doing that was with UV printing applications, which Pazazz is pursuing with a renewed vigor and enthusiasm—and growing success. But Werbitt is quick to add that a successful printer today has to be, to some extent, collaborative with other printers. "We have to stand together. Why don't we band together? We're all UV people; we should have a pact." "It's a very humbling experience to go through what I went through," he said.
The Print UV Conference featured a panel discussion on specialty substrates. (Left to right) FLEXcon's Dennis Brunnett, Victory Printing's Alex Velasco, MicroGREEN's Chris Jacobs, FLEXcon's Jodi Sawyer, Annan & Bird's David Bird, and FLEXcon's John White.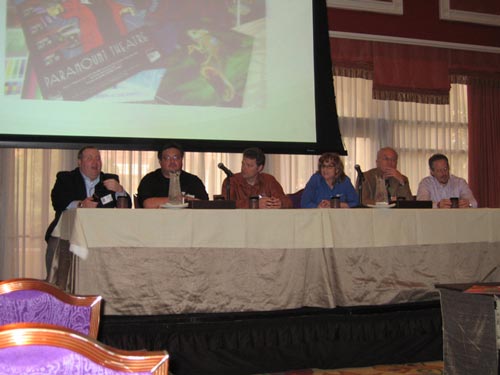 Tech Talk
There were three sessions that focused on new and upcoming UV printing technologies. Monday's Tech Talk session featured Douglas Schardt, "product chauffeur" for Komori America, talking about HUV, or "high-efficiency" UV printing equipment. Introduced in Japan two years ago, HUV is now starting to hit the North American market. HUV involves a new type of ink that responds—or dries upon exposure to—a more limited range of light, and fewer bulbs, than conventional UV. HUV offers the benefits of UV inks while eliminating some of the drawbacks, such as the generation of heat and ozone and high energy consumption. Still, Schardt was quick to point out that HUV has its drawbacks. "It's not a mature technology," he said, and the inks have a very short shelf life ("somewhere in the neighborhood of six months").
Tuesday's Tech Talk was all about LED printing, co-presented by Stephen Metcalf, president of Air Motion Systems, and Jonathan Graunke, VP of energy-curable technology for INX International. LED printing uses as its light source—as the name indicates—light-emitting diodes rather than conventional UV bulbs. LED ink cures upon exposure to a different wavelength than conventional UV. Like visible-light LEDs, LED UV lamps emit very little heat, run much longer, and require much less power—up to 80% less energy. LED UV also eliminates the need to exhaust heat and ozone.
At present, Graunke said, LED UV ink is about 20% more expensive than conventional UV ink, "but that will come down because of economies of scale."
As with HUV, LED UV is still a very new technology, and as it develops, many of its drawbacks will be ironed out (at present, coatings present a problem, as they dry at a different wavelength than LED UV inks), and it will be capable of being integrated into "more exotic processes," said Metcalf. He added that there are hybrid UV/LED UV installations that allow printers to get the best of both worlds.
A third Tech Talk session focused on "Cast and Cure" UV printing technology, presented by Breit Technologies' Tim Cain. In a nutshell, Cast and Cure (C2), developed by Breit Technologies, is a holographic image transfer process that can impart stunning 3D effects to printed materials. A microembossing process applied to coatings manipulates the top layer of the coat to add a variety of gloss, matte, and holographic finishes. One of the chief advantages of C2, said Cain, is that the process has no impact on the print or package's recyclability, since it's not adding anything to the surface, it's just manipulating the coating. It's not an inexpensive process, at present, but the effects it can produce are outstanding and perfect for the decorative print market.
Close Shaves
"We're trying to use [UV printing] to create that 'wow' factor." —David Bird, Annan & Bird Lithographers
The killer app for UV printing is specialty substrates, and one session—presented by David Bird of Annan & Bird Lithographers and John White and Dennis Brunnett of FLEXcon—offered a case study of the production of Gillette's Fusion ProGlide razor, a product launch that was accompanied by an elaborate in-store display. The display was produced by Annan & Bird using a custom-designed specialty substrate produced by FLEXcon. The project included 26,000 displays, 149,000 linear feet of substrate, and 35,400 sheets in custom sizes. The key to successfully pulling off a project of this magnitude was extensive R&D—testing each specialty material on press (a KBA Rapida 205) before final production. "One little mistake on a job of this magnitude can kill you," said Bird.
Procter & Gamble also had fairly stringent requirements about color consistency. As for how well the project worked out, "A record-breaking 2.5 million razors were sold in the first 10 weeks," said Brunnett.
Bird says of Annan & Bird's UV printing capabilities, "We're trying to use it to create that 'wow' factor." As for taking on the Gillette project, despite the fact that the company had never produced a project of that magnitude before, Bird says printers have to "reinvent or die."
FLEXcon's Dennis Brunnett (left) and David Bird display a press sheet from the Gillette Fusion ProGlide in-store display. It was printed by Annan & Bird on customized substrates created by FLEXcon.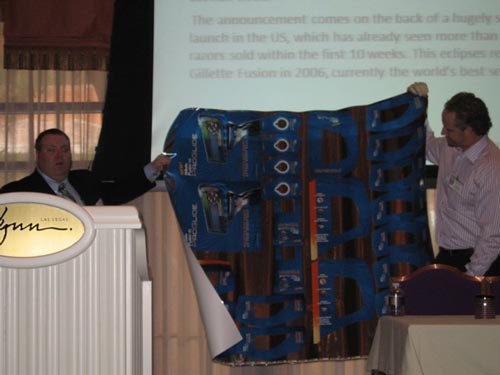 New Substrate
Speaking of specialty substrates, perhaps the most talked about new product discussed and shown off at the Print UV Conference was a new type of substrate—a plastic, essentially—developed by MicroGREEN called InCycle. The phrase "environmentally friendly plastic" may be a bit of an oxymoron, but the process involves taking virgin or, better yet, recycled plastic (such as PET water bottles), extruding it, inserting bubbles into it, and turning it into a very lightweight, easily printed substrate. (It boasts a dyne level of 42–46.) The material itself is completely recyclable without any deinking issues; one of MicroGREEN's goal was to create a "closed loop" substrate manufacturing system.
The presentation was given by Chris Jacobs, MicroGREEN's director of marketing and product development, and Jacobs was quick to admit that they are not printers, and they have been working with several printers around North America to experiment with the material. The presentation was co-presented by Alex Velasco of Victory Printing, one such "test lab." "When this material came to us, the first thing we tried was to make it fail," he said. "Any 'green' product has had me worried in the past." And yet, it performed extremely well on the company's S20 Inca. Its light weight also helps save on shipping costs, and so far it seems resistant to shipping damage. Since it is, essentially, plastic with bubbles blown in it, there is the possibility that it can distort when moving through printing units, and stamping and hot-melt adhesives do give it some trouble.
But the print samples that were on hand displayed excellent print quality. MicroGREEN is still developing the InCycle products, and is seeking partners to help continue to test its printability.
"Dream Teams of Knowledge"
The real emphasis of the two days of the Print UV Conference were the panel discussions and interactive Q&A sessions that shared tips and techniques for printing on specialty substrates, working with coatings, achieving high gloss, and more. The conversations could get highly detailed (I found myself having to Google terms occasionally to follow along with the discussion), but every attendee I spoke with got something helpful and actionable out of most sessions. "I'm here for the first time and frankly I didn't know what to expect, but I'm very impressed," said Jim Tepel of Tepel Brothers Printing. "I gained a lot of knowledge, learned a lot of interesting facts. I have a whole list to take back. We're going to improve a lot of our processes. I've made a lot of new friends, and we'll definitely be back in 2012."
The Fifth Annual Print UV Conference will be held March 11–13, 2012, at the Encore Hotel in Las Vegas.