Printers and other graphic communication professionals from around the U.S. and Latin America converged on Orlando, Florida's Orange County Convention Center this week for the inaugural FESPA Americas 2011 show, colocated with the 36th annual Graphics of the Americas. Special exhibits and presentations covered the waterfront of business and technology trends for sign, textile, and other wide-format printers.
The highlights of the FESPA Americas show included the Screen Masters Workshop "boot camp," the Wide Format Print Shop Live! hands-on technology workshop, and the Vehicle Wrap Masters challenge (which drew large crowds and was run as a sort of "Iron Chef" of vehicle wrapping). Thursday and Friday also featured the Global Business Forum, chaired by JR Kraft, owner of BuildaSign.com, a one-and-a-half-day event that covered a wide range of business, sales, and marketing topics for wide-format print owners and managers. Thursday's sessions focused on customer engagement and retention, as well as the integration of print with digital media, and included some breakout "Masterclass" workshops on M&As, lean print optimization, and sales and marketing.
Figure 1: A highlight of FESPA Americas 2011 was the Vehicle Wrap Masters automobile decorating challenge.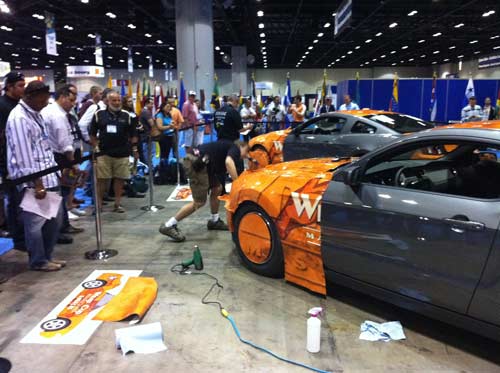 Friday's Global Business Forum was called "Green Day" and included a suite of presentations on the subject of sustainability in the printing industry, culminating in a panel discussion and Q&A session.
"Over the past two years, sustainability has become a trend. It's here to stay. It's in our industry." —Paul Lilienthal, president, Pictura Graphics and director, Sustainable Green Printing Partnership
Green Day kicked off with Paul Lilienfeld, president of Pictura Graphics and director of the Sustainable Green Printing (SGP) Partnership, providing an overview of what sustainability is—and what it isn't. "'Green' and 'sustainable' are not synonymous," he began. "'Green' is simply 'environmentally friendly,' but 'sustainability' includes financial and economic issues, as well as the complexity of the supply chain." Being just green is the easiest strategy—the low-hanging fruit—but an overall sustainability strategy "has to be much broader than just encompassing some green activities," said Lilienthal.
He pointed out that while there had been a brief flirtation with "green" a couple of years ago, the economic collapse short-circuited that discussion—until now. "Over the past two years, sustainability has become a trend," said Lilienthal. "It's here to stay. It's in our industry."
He then introduced the morning's keynote speaker, Martin Wragg, global material quality manager for Nike, whose talk, "The Future 'Considered,'" was subtitled "A Sustainable Product Journey" and detailed Nike's efforts develop more sustainable design, manufacturing, and recycling processes, from 1990's early Reuse a Shoe initiative in which discarded sneakers were ground down to create running tracks, to using organic cotton in its apparel, to running its Belgian distribution facility on wind power, to recycling plastic water bottles to make polyester soccer jerseys for the 2010 World Cup teams. (It takes eight bottles to make one jersey; in all, 13 million bottles were used, diverting them from landfills.)
Wragg identified four areas in which Nike was interested in reducing its environmental footprint: waste (that is, reduce it by making their manufacturing more efficient; they are currently 80% efficient and are shooting for 85% by 2015); energy (finding more sustainable ways of generating it); toxics (pursuing healthier chemistry, such as PVC-free inks and the reduction of volatiles); and water (try to use less of it; it currently takes 700 gallons to produce one T-shirt).
"I challenge that everything that is electronically distributed is environmentally friendly." —Frank Tueckmantel, VP of corporate marketing, EFI
They are seeking to improve in these areas by utilizing a "Considered Index," a tool that Nike uses to assign points—positive and negative—to processes that have an impact on those four areas, and the points are totted up to yield a good, better, and best score, which is then used to guide further improvements.
Ultimately, Wragg said, Nike is striving for a "closed loop" manufacturing process. That is, take a discarded product and recreate it as a new one without any external inputs. "We're not there yet," Wragg admitted.
Of particular interest to the crowd of printers—mostly sign and wide-format printers—was Nike's recruiting of ink manufacturers and suppliers to address the unique challenges Nike was having in reducing toxic materials in printing inks, while at the same time finding an ink that could print on polyester (most screen inks are formulated for cotton). Other challenges abound, but Wragg was quick to stress that Nike is serious in its commitment to sustainability, and has entered into a new era of transparency so that its processes are open to the public, via nikebiz.com. Still, Wragg concluded, "We can't do it alone. We need the help of our printers, ink manufacturers, and others."
Green Day continued with Mike Horsten, owner of Netherlands-based ZEMT Consulting, who opened with Greenpeace's provocative "Angry Kid" video before launching into an energetic and entertaining explanation of sustainability vs. greenwashing, the latter of which, Horsten said, "is the most dangerous thing for your business." Horsten also reiterated Paul Lilienthal's opening remarks about sustainability being about more than just being green, defining three broad areas of sustainability: environment, people, and economics, all of which overlap to some extent.
He also dispelled a common myth, "Going green is profitable if you want to do it." He advised printers to take only the steps they are able to take—just take steps. "Even the smallest green part is better than nothing." He also advised the crowd to use certifications as a guide to suppliers, but to beware of faux certifications, citing some groups—like the Dutch Green Parts—that basically certified themselves.
"In the U.S., if you don't comply [with environmental regulations] you get punished, usually you have to pay a fine. In Europe, if you do comply, you get a benefit or an incentive. It's a lot better to praise than to punish." —Mike Horsten, owner, ZEMT Consulting
This segued into a presentation by Stephen Goddard, head of sustainability for HP, who gave an overview of graphic arts certifications. What makes a good certification? The conferring organization needs to be reputable, the certification process needs to be rigorous, it needs to be relevant to the market or industry it's intended for, and it needs to be widely recognized and acknowledged.
Goddard identified a variety of certifications across the print production process and supply chain, but admitted that there are some gaps, such as in printing equipment (which is at times covered in the U.S. by the EnergyStar certification) and especially inks, which have no true certifying organizations.
Goddard said there are several reasons why certifications matter. The first is, "There is so much greenwashing," he said. The second is that it's good for a company businesswise to have the discipline it takes to achieve and maintain a certification. It's also good for selling, especially as InfoTrends data that Goddard had presented showed a rise in the demand on the part of print buyers for sustainable print.
Goddard discussed several standards, which segued into a discussion of the Sustainable Green Printing Partnership, led by Paul Lilienthal, who detailed the process of becoming SGP certified, the history of the organization, and his own printing company's experiences in becoming certified.
Figure 2: The FESPA Global Business Forum's Green Day panel discussion included (left to right) HP's Stephen Goddard, Nike's Martin Wragg, and EFI's Frank Tueckmantel.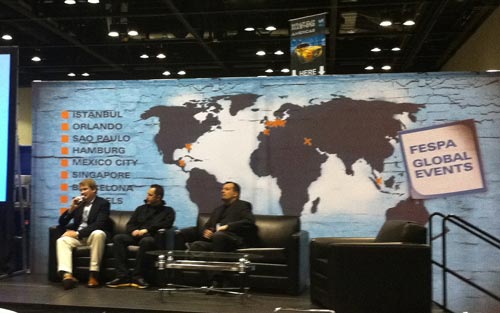 Friday's Global Business Forum concluded with a panel discussion moderated by Lilienthal and including the four speakers, plus Frank Tueckmantel, VP of corporate marketing for EFI, who issued the ultimatum, dear to this writer's heart: "We [that is, print] are compared with electronic media as less green. I challenge that everything that is electronically distributed is environmentally friendly."
One topic that came up was the difference between the U.S. and Europe vis-à-vis greenness, which Mike Horsten answered succinctly: "In the U.S., if you don't comply [with environmental regulations] you get punished, usually you have to pay a fine. In Europe, if you do comply, you get a benefit or an incentive. It's a lot better to praise than to punish."