Hunkeler/Partners Leverage Venue to Tout Latest Innovations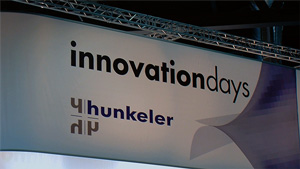 Hunkeler Innovationdays 2011, held in Lucerne, Switzerland, from February 14-17, 2011, is a unique and very focused digital printing event. This year, in its 9th year, the event drew more than 5,000 attendees between customers, partners and other visitors, surprising even the organizers with the high level of interest among both European and international attendees. According to Stefan Hunkeler, it is the only global show that focuses purely on high-performance digital printing and finishing solutions. He said, "What's unique at Innovationdays are the real world processes, which are presented in a single, continuous workflow all the way to the finished product."
During the event, WhatTheyThink conducted more than 40 video interviews with attendees and exhibitors, many of which you will see on WhatTheyThink over the next few weeks. For most, it was not their first time in attendance, and they plan to be back again in 2013. Although this was an extremely busy show—Hunkeler indicated that there were about 4,000 people at the event on the 2nd day alone!—it had a completely different tone than many other trade events we have attended over the last few years. Upbeat, of course, but also relaxed and very friendly at the same time. Vendors and customers alike took advantage of the opportunity to not only view a number of brand-new products, but also to spend a great deal of time networking, both during and after show hours. The compact nature of the facility and the complementary on-site lunch each day of the event made this aspect of the gathering easy to achieve. Most attendees we spoke with came to explore very specific solutions and either made buying decisions on the floor, or were moved closer to those decisions by what they learned at the event. Hunkeler reported that about half of the equipment on display at the show was sold and will make their way directly to customer sites following the event. Visitors came from more than 70 different countries. About 55% of attendees were from Germany, Switzerland and Austria, but every region of the world was represented, including 250 from North America.
It was also a terrific example of multi-vendor integration and the integral role JDF plays in today's digital print production environment. Although the dreaded three letter acronym was not much in evidence in signage or conversation, it was clearly a key enabler that has helped the industry drive closer to the ultimate goal of touchless production. Many of the digital printing devices on the show floor featured integrated feeding and finishing solutions from Hunkeler, Horizon and others, demonstrating full end-to-end manufacturing of specific applications, ranging from books to transactional/TransPromo to newspapers and direct mail. This included more than 30 "manufacturing" lines that included modules and solutions from more than 80 different companies, in both 20" and 30" configurations.
...(JDF) was clearly a key enabler that has helped the industry drive closer to the ultimate goal of touchless production
Hunkeler also showed its new Hunkeler Control Platform that enables production operations to not only control multiple production lines in a single production facility from a single console, but also to manage production lines across multiple locations.
In addition to automation, modularity and flexibility were highlighted by just about every exhibitor. This includes fast, JDF-enabled setups and switchovers for application such as newspapers—for example, being able to quickly switch between broadsheet and tabloid formats on the same manufacturing line, opt for glue binding instead of staples for tabloids, and produce glued book blocks that are easier and more efficient to handle in a fast-paced production environment than conventional loose book blocks that can also include perfing and punching inline.
While inline finishing offers clear advantages, many of the solutions being exhibited can also be used nearline, to provide additional manufacturing flexibility, allowing production operations to easily feed output from multiple production engines into one finishing line rather than dedicating a print engine to a specific type of finishing with an inline solution. Even inline solutions are more modular than ever before, including innovative folding, stitching, perfing, punching and binding that can be selectively chosen depending upon the needs of the specific product(s) being produced.
Franz Hunkeler summed up the event by saying, "We are overwhelmed by the presence of so many top quality visitors and clients. And we are very proud that so many competent members of the media came to our press event. We want to offer professional products at Hunkeler Innovationdays and to be experts that can provide useful and interesting information to partners and customers alike. But we also offer a friendly atmosphere that gives this exhibition a personal touch you rarely find in an exhibition of this size. Over the years, we have worked hard to keep pace with the developments in digital printing and we have invested a great deal in R&D, with our own solutions and in collaboration with our partners and customers. We are proud to present the results of those investments at Hunkeler Innovationdays."
For more information about the event and the announcements made by specific flyers, visit the event's Online Info Service. You can also download a concise two-page summary of solutions being exhibited at the event here.
If you attended the event, please share your comments with our readers!