Event scheduled for 14-17 February 2011 in Lucerne, Switzerland
Hunkeler bills its Innovationdays as a unique event on the international trade fair scene. The 9th annual Innovation Days will take place in Lucerne, Switzerland, 14-17 February 2011, and WhatTheyThink will be there to cover the event. The focus of the event, according to Hunkeler, is not on individual products but on holistic production systems with real practical relevance. This special-interest event revolves around paper processing and digital printing and offers a platform for information and networking with a defined framework. As we gear up for the event, we took the opportunity to discuss it—and industry trends in general—with Hunkeler CEO Stefan Hunkeler.
WTT: Mr. Hunkeler, let's start by getting your opinion about the current state of the industry and its companies around the globe.
SH: The print market is clearly experiencing upheaval. There is a significant trend in the migration of offset processes to digital printing. That was apparent at Ipex 2010 – and even more so at Graph Expo. The fact that makers of large printing presses either weren't in Chicago or were there in limited numbers is a clear signal of industry turbulence. For us, of course, this situation presents very good opportunities. Hunkeler is a product of the digital age, and we've increasingly focused our strengths on pre and post solutions. We pioneered the first production systems to emerge in banking and insurance data processing centers and we're now into the seventh generation, which we're using for applications involving continuous-feed digital printing systems.
WTT: Which segments do you see as most affected by this upheaval?
SH: The book market is undergoing radical change. Faced with declining print runs all the way to the single copy, logistics has become a key issue, and digital printing can deliver an optimal solution. Digital is also playing an increasingly important role in longer-run book printing, and we expect this will accelerate. Another segment is mailing production. The trend there is driven by color printing systems, which are getting faster and better all the time, helped by digital's highly flexible data variability. Transactional printing is also changing due to digital color printing which now allows for transpromotional printing. This will assume an increasingly important role going forward, especially once companies start using color for differentiated advertising.
WTT: It seems that we have been talking about transpromotional printing for quite a while, yet its adoption isn't really as fast as has been projected. Any thoughts about that?
SH: It's true to say that TransPromo is still under development. There are various reasons why it hasn't reached critical mass yet. Digital color printing has made a limited impression on the marketplace so far. One inhibitor is that company workflows need reorganizing, which requires close collaboration between a company's marketing and IT people. That said, we see clear signs pointing to the emergence of tangible TransPromo applications. Customer retention programs will become increasingly important, and they need solutions like this. TransPromo is sure to be a core theme once again at the upcoming Innovationdays event.
WTT: Digital newspapers is another application that has been slow to start. Any comments?
SH: We're keeping a close eye on this potential market, too. Hunkeler has done a lot of work in this segment as well and has already installed a number of lines. We'll again be showing a newspaper processing line in use at this February's Innovationdays.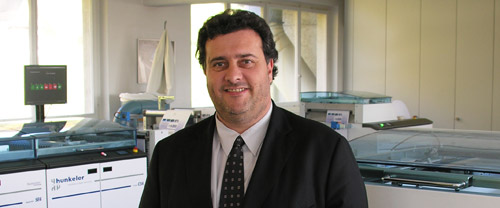 WTT: What about finishing in general?
SH: Many customers clearly want to perform more complex finishing steps in-line, with the ultimate goal of "touchless" production. When Hunkeler and our finishing partners can minimize material handling and manual intervention, the customer can lower production costs. One example is the Horizon StitchLiner 6000 Digital in-line saddlestitching system, which supports variable sheet count bookletmaking from a pre-printed roll or in-line to a press. Innovationdays will showcase saddlestitching, folding, perfect binding and inserting from several different leading suppliers, giving visitors a broad overview of best-in-class options.
WTT: With so many trade shows and declining attendance at many, why do you think the industry needs an event like Innovationdays?
SH: If you look at the global show calendar, you quickly realize that only Innovationdays is actually focusing purely on high-performance digital printing and finishing solutions. The feedback we've been getting over the years confirms that there's a need for an event of this nature. Customers like being able to trace the value creation chain from start to finish without leaving the venue. All the global players are here, from the software developers and world-leading printer manufacturers to the producers and suppliers of consumables. What's unique at Innovationdays are the real world processes, which are presented in a single, continuous workflow all the way to the finished product. A wide range of configurations and applications will be shown featuring inline, nearline and offline production. The Innovationdays show finds us focusing on products and consultancy, and rather less on promotion. Experts are on hand to stimulate a dialog in the industry. The level's very high, and it attracts a high caliber of attendee. That's how we differentiate ourselves from conventional shows. We want to offer our international visitors every opportunity to bring themselves up to speed, to make comparisons, to get the best out of their visit and to go home well informed enough to make definite purchasing decisions.
What's unique at Innovationdays are the real world processes, which are presented in a single, continuous workflow all the way to the finished product.
WTT: What's the predominant theme for 2011?
SH: Digital color printing, no question about it.
WTT: This is something else we have been talking about for years.
SH: Sure, but it's a fact that 90 per cent of our customers are still working on monochromatic systems. Although there's a very sharp upward trend toward color now. The other key concern for customers is the ability to move into automated quality assurance. It's not just about checking the print quality per se – equally important is the reliable monitoring of the contents and the printed material, such as personalized documents or individualized printed products. Development in color digital printing seems to be heading toward more cost-effective solutions with higher outputs, either through faster production speeds or wider paper webs.
WTT: Do you expect to see any new product announcements at this event, with drupa 2012 right around the corner?
SH: Rest assured that an abundance of new products will premier at the upcoming Innovationdays. The core target audience is here along with the international trade press. At least for Europe, there is no better opportunity for launching digital print innovations. Keep in mind also that the innovation cycles in digital printing are well under four years. No printer manufacturer can afford to wait that long to present innovations. Precisely because of its clear orientation towards digital printing processes, Innovationdays is a superb platform for showcasing premieres, and our exhibitors will take advantage of that.
WTT: I understand you will have 70 exhibitors at the event, 10 more than last year. What is the overall strategy in terms of the size of the event?
SH: The size of trade fairs is usually measured by exhibitor and visitor numbers. We're aiming at something different. We want Innovationdays to address a specific trade audience interested first and foremost in acquiring a good overview of what's on offer with a broad range of product solutions. That's why we're keen to keep everything within just the one exhibition space. That's the quality we're striving for – and trying to improve on wherever possible. If you analyze the visitor profile over the last few years, you see that there is a proportional shift towards business owners and key management, i.e. decision makers. Innovationdays provides a setting and opportunity for open dialog: we set ourselves the goal of making our visitors feel welcome, without a strong commercial overtone. Also, Innovationdays 2011 will take place in Lucerne's brand new exhibition hall, which offers more usable space than the previous hall. That allowed us to raise the number of exhibitors while maintaining our focus on quality.
WTT: Do you expect many visitors from North America, in light of the economic climate?
SH: Innovationdays visitors from outside Europe have been on the rise, and our North American partner Standard Finishing Systems has mounted a strong effort to attract even more in 2011. We expect to see the usual strong turnout from North American printer vendor executives. And of course, we are quite proud to welcome WhatTheyThink not only as a media sponsor of the event, but also to conduct live video interviews on-site during the event. These videos segments will be posted, together with other content from the event, at a specially-designed Innovationdays Virtual website, so that anyone worldwide who is unable visit Lucerne can still share in the knowledge and learning.