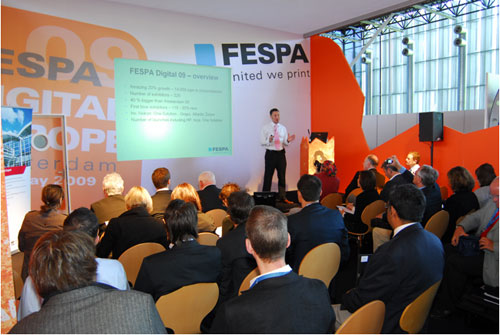 The Innovation Theater—showcasing a rotating schedule of demonstrations and presentations on the show floor—is an integral part of FESPA events.
The countdown has begun; in 72 days, the inaugural FESPA Americas 2011 show will open at the Orange County Convention Center in Orlando, Florida, offering commercial printers three days of instruction, interaction and inspiration.
FESPA's unique ability is to provide a connection from Europe, through North America, to the Latin American region. - Franzer Chesterman, FESPA managing director
Colocated with both the annual Graphics of the Americas show and Imprinted Sportswear Shows' (ISS) The Solutions Event, FESPA Americas, which runs February 24–26, 2011, is designed to introduce the nearly 50-year-old organization to the community of American printers (FESPA already comprises 36 international associations), and highlight the resources the organization can provide for U.S. digital, wide-format, and screen printers. The show will also point out—thanks to the colocated events—how digital and screen printing (and printers) can integrate and collaborate with general commercial printing and specialty textile printing.
FESPA Americas is also about bringing the international print community together. Said FESPA managing director Frazer Chesterman in a blog post: "I see FESPA Americas acting as a bridge between different parts of the world. FESPA's unique ability is to provide a connection from Europe, through North America, to the Latin American region. The market sees FESPA as the global community, and our exhibitors, delegates and visitors really value being part of this global imaging 'village'."
Like the dozens of other FESPA events held worldwide every year, FESPA Americas will not be your run-of-the-mill trade show. To that end, show organizers are concentrating on special content and interactive exhibits on the show floor that allow shops to share new and innovative technology, marketing, and business solutions.
In addition to hundreds of exhibitors, as well as the educational content offered by Graphics of the Americas and The ISS event, FESPA Americas offers attendees six special features that offer both production and business managers the opportunity to learn—and, often, be entertained.
Global Business Forum—This special one-day program, chaired by J.R. Kraft, an entrepreneurial printer and owner of BuildASign.com, brings together movers and shakers from the printing community with senior representatives from leading global advertising agencies. These experts will discuss, among other things, new markets for print, sustainability, case studies and new business models, mergers and acquisitions, and more. Says Kraft, "I am excited to be involved in this innovative feature at FESPA Americas. It is an event that is unrivalled by any other regional trade exhibition." Delegates will receive a special VIP invite from FESPA to attend this exclusive conference.
Wide Format Print Shop Live—This feature allows attendees to check out and even get their hands on the latest digital inkjet printing technologies "in the wild"—that is, in actual production right on the show floor. Hosted by Sophie Matthews-Paul, the Wide Format Print Shop demonstrates such technologies as flatbed, roll-to-roll, latex, textile—as well as the latest software innovations and other aspects of the workflow. Production managers attending FESPA Americas will also be invited to bring their own original artwork and test-run it live.
Screen Masters Workshop—This is a "boot camp" of sorts for screen printing newbies who get the opportunity to learn from the masters. Michel Caza and Scott Fresener (SGIA award-winning screen printers), Charlie Taublieb, Bhargav Mistry, and Ad Versteeg will be on hand to conduct hands-on sessions and lead training presentations on such diverse topics as garment decoration, fine art, signs, and other types of screen-printed materials. Attendees can also officially "enroll" as students for this boot camp, at the end of which they will receive a special certificate.
Wrap Cup Masters Series—Didn't think there was such a thing as a "vehicle wrapping superstar"? Think again. The Wrap Cup Masters is a daily competition in which participants vie against these superstars to wrap a variety of vehicles using the latest and greatest materials and techniques—leading to the final round to determine who is the Wrap Cup Master of the Americas. The competition is open to anyone who thinks they have what it takes—click here for details.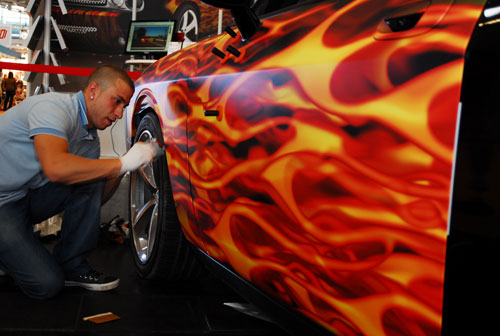 Digital Textile Conference—On February 25, FESPA presents the Digital Textile Conference, which gathers together a line-up of digital textile printing luminaries—consultants, printers, and other experts—who will share their insights, knowledge, and experience to examine new products, the latest market trends, and case studies—and even betray a few trade secrets.
Innovation Theater—This show floor theater will offer a rotating schedule of presentations from industry experts and exhibitors that provide a look at new technologies and innovations from the perspective of how they can help print providers seek new types of business and improve profitability. How have other commercial printers successfully implemented wide-format printing? Where are some unique opportunities for growth? The schedule of presentations is still being developed as of this writing; be sure to check the Web site as FESPA Americas draws nearer.
The official FESPA Americas blog indicates that early registration for this event is highly encouraging—both in terms of sheer numbers and caliber of attendee: "According to current pre-registration figures, 62% are final decision makers, CEOs, Directors, or Presidents and 40% are business owners. 35% recommend or research new products for their businesses."
As the North American printing industry revitalizes itself, printers are looking for unique niches and opportunities. And they just might find what they are looking for—or perhaps something even better—at shows like FESPA Americas.
WhatTheyThink will be reporting live from the show in February.