Established last year, Gronhi Graphics International (GGI) is the import and distribution representative in the U.S. for Hans Gronhi, (pronounced GRON-high) a Chinese technology conglomerate that manufactures offset presses, CtP systems, and bindery equipment. Hans Gronhi exhibited at Print 05 and at drupa 2008, but Keith Tweten, GGI's vice president of sales and service, says that GGI's appearance at Print 09 marked the start of a focused effort to establish a presence in the U.S. market.
GGI, which is based in Ontario, CA, also exhibited at this year's Graphics of the Americas and will take part in the Florida show's 2011 edition in February. A return to Chicago for Graph Expo 2011 is planned, Tweten says.
Features Look Familiar
The press that GGI brought to McCormick Place was a four-color GH524, a 20.47" x 14.56" offset press that can print at up to 12,000 impressions per hour. Its features include semiautomatic plate loading, said to be capable of a four-plate changeover in eight minutes; a controlled dampening system that automatically adjusts the dampener to changes in press speed; and precision sheet feeding. The GH524 also is available with a CIP3-compliant color control console for ink fountain presetting.
Figure One: GH524 Offset Printing Press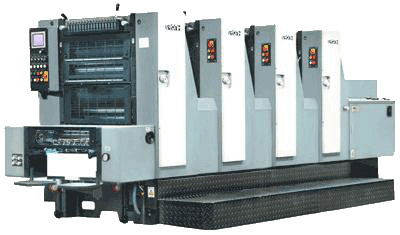 Its companion in the booth was a Speedy 56 thermal platesetter, a 2,450 dpi device for plates from 18.11" x 14.56" to 21.65" x 16.92". The external-drum device, which comes with an inline plate processor, uses a 32-diode array to image plates at high resolution in a claimed exposure time of three minutes
Besides the GH524, Hans Gronhi makes eight other press models, the largest of which is the half-size (25.98" x 18.89") GH664B. Its postpress offerings include the DM340 numbering and perforating machine and the JBB-320 glue binder for books.
Hans Gronhi, a 34-year-old company that bills itself as the largest small offset press manufacturer in China, exports to other countries in Asia as well as to the UK, Italy, Canada, and Netherlands. It claims to have a 70% market share for 20" presses in China, with more than 1,100 machines installed. It is part of a corporate group that says it is the largest producer of laser components in Asia and the third-largest worldwide. Press manufacturing takes place at a 4.1 million-sq.-ft., ISO9001-certified factory in Yingkou, where the company reportedly produces its GH-series presses at a rate of better than one per day.
"With a name like Hans Gronhi," says Tweten, "people would ask us, 'Oh, are you a German company?'
In the U.S., GGI will distribute Hans Gronhi products both directly and through dealers. Tweten says that GGI has a nucleus, if not yet a network, of dealers that consists of Best Graphics, Graphic Associates, and Cliff's United. Additional dealer partnerships are being sought. GGI does not yet have an installed base of equipment in the U.S., but when it does, says Tweten, two-year warranty service, technical support, and parts will be provided in three ways: either by GGI, from its showroom facility in Ontario; by independent service technicians; or by the dealers.
"Wow—an Offset Press!"
Tweten says he wasn't surprised that the GH524 had sparse company at Graph Expo, given that equipment manufacturers are trying to save money and that exhibiting at McCormick Place can be expensive. But the shortage of presses, he says, "helped us quite a bit" once showgoers realized how little conventional printing equipment there was to see. The typical reaction at the GGI booth ("Wow—an offset press!") is evidence, in Tweten's opinion, that people still come to Graph Expo to look at litho presses—a wish that a vendor with even one press in the booth was well positioned to fulfill.
Some of these visitors undoubtedly would point out that the North American market for half-size and smaller offset presses is stagnant and that a late entrant like Hans Gronhi faces long odds for that reason alone. But Tweten believes that the general flattening of equipment sales has reduced competition in the small-format press category, and he wants GGI to be ready to exploit the opportunity that this has created when printers start spending again.
He also contends that small-format offset presses are looking more attractive to those who bought digital presses but found them disappointing in terms of print quality, productivity for longer runs, and, in particular, operating reliability. Digital presses, says Tweten, are maintenance-intensive, requiring a great deal of periodic servicing that customers don't necessarily know about when they buy them—an issue that doesn't trouble owners of dependably-running offset equipment.
Where GGI has one of its biggest advantages, says Tweten, is in acquisition cost. To be sure, Hans Gronhi presses are competitively—some would say aggressively—priced. Tweten notes that in a "normal market" (not the depressed one prevailing now) they would be 30% to 35% less expensive than comparable equipment. The intention is to gain a similar price advantage for the Speedy platesetter. "We're working on it," Tweten says.
A "Misnomer" to Overcome
That will mean working to change perceptions about the worthiness of graphic production equipment made in China. The GGI web site puts it bluntly: "A common misnomer is Chinese manufacturing is inferior to that of the West." But, if there is a bias in the market against Chinese-made printing equipment, GGI apparently encountered little of it at Graph Expo.
"With a name like Hans Gronhi," says Tweten, "people would ask us, 'Oh, are you a German company?' They didn't know the press was made in China until I told them."
Still, Tweten acknowledges that because Chinese manufacturers other than Hans Gronhi have attempted to export sub-par printing equipment in the past, there is a negative impression to overcome. But seeing, he insists, is believing, and he believes that when printers see an attractively priced press that is "85% to 90% there" in terms of features and performance vs. equipment from Germany and Japan, Hans Gronhi will win acceptance as China's emissary for world-class press quality in the U.S. market.
Healthy Skepticism
On the issue of manufacturing quality, Tweten himself needed some convincing, since he's no newcomer to the industry. He worked 10 years for Hamada (no longer selling presses in the U.S.) as a service technician and eventually as national service manager. When scouted for the opportunity with GGI, he initially was hesitant: "I've seen Chinese equipment before, too," he says. But a trip to the factory in China convinced him that Hans Gronhi's products could stand comparison with any other manufacturer's, and this has become a message that he's eager to share with potential customers at trade shows and wherever else he can meet them.
That may take time, given the uncertain condition of the U.S. print equipment market, but GGI is ready to take the challenges as they come. "The dust needs to settle, and everybody needs to see where they're at," Tweten says, noting that Hans Gronhi is a financially strong company that's currently in growth mode. As the market recovers and suppliers reassess their positions in it, he says, "it will be interesting to see who'll survive."