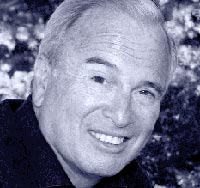 Looking for a good read during the holidays? Check out Googled: The End of the World as We Know It, by Ken Auletta.
In a relatively short period of time, what started out as a search engine company is well on its way to being a mega-media company. Strangely, traditional publishing didn't really take note until the company went public in 2004 and its financials were revealed for the first time. At that point, Auletta says, "To most consumers, Google remained an iconic brand, a force for good, a company that made search easy and fast and free; a company that retained its bold, entrepreneurial spirit and was both a beneficent employer and a benefactor to shareholders … To most media industries, Google was becoming a dreaded disruptor. The engineering efficiencies touted by Google were also perceived as threats to the sales forces of the television and radio and print industries."
Auletta spent a great deal of time with Google founders Larry Page and Sergey Brin, as well as CEO Eric Schmidt, who joined the company in 2001, some say to bring "adult supervision" to the company. He also interviewed many big names on the publishing side, as well as venture capitalists, board members and academic experts. This is truly a fascinating read, a story whose ending has yet to be told.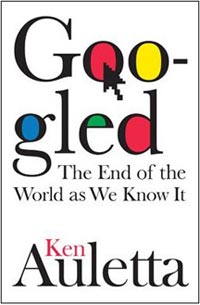 The company, run out of its corporate Googleplex headquarters in Mountain View, California, touts its motto of "Do no evil." Let's hope they stick to that. Auletta documents the amazing amount of data Google accumulates about its users—you and me—which is stored in millions of computers and servers strategically placed in data centers around the world—Google will not disclose how many or where they are—processing searches, collecting and digesting data in a scalable architecture that makes cloud computing not only possible but a reality for Google. Even scarier, FBI chief Robert Mueller, visited Google and other high tech Silicon Valley companies this week to see how they can assist the government in improving internet surveillance. No word yet on how those conversations went.
In another juicy quote from the book, Bala Iyer and Thomas H. Davenport wrote in the Harvard Business Review, "Everything google does extends its reach. It is informational kudzu."
Reading the book leaves one in awe of exactly what Google has accomplished in such a short time. The book was published in October of 2010, hard to say when it was actually finalized, but it seems that almost daily, we are seeing more things coming to market from Google. Some examples just this week:
Boutiques: a new way to shop for fashion online. Just this week, Google launched Boutiques.com touted as a personalized shopping experience that lets you find and discover fashion goods by creating your own curated boutique or through a collection of boutiques curated by taste-makers.
The day before, the company made available a native iPhone app, Google Voice, putting the company squarely into the voice-over-IP (VoIP) market competing with the likes of Vonage and Magic Jack.
The company teamed with AirTran, Delta and Virgin America to provide free Gogo Inflight Internet to passengers through the holiday season—using, of course, its browser, Google Chrome.
Google also reported 3Q earnings last month, with quarterly revenues of $7.29 billion, an increase of 23% compared to the same quarter in 2009, with net income of $2.17 billion or 35% of revenues. The company had $33.4 billion in cash, cash equivalents and marketable securities as of September 30, 2010. The company employs nearly 21,000 people translating to sales per employee of about $350,000, if I did the math right. Yikes! The company also gave each employee a $1,000 cash holiday bonus (upon which the company is paying the taxes) and company-wide salary increase of 10%.
There are lessons to be learned for the printing industry in the Google story. Auletta quotes Sony Chairman, CEO and President Sir Howard Stringer as saying, "If you read every piece in every newspaper and magazine about new technology, you would walk into the East River! There are so many options out there, simultaneously, that it's a dizzying experience. For every time you see an opportunity, you also see a threat. Every time you see a threat, you see an opportunity. Or if you see a threat, you are afraid you're missing an opportunity. That's the one-two punch of the technological marathon we are all in. You worry about missing a trend. You worry about not spotting a trend. You worry about a trend passing you by. You worry about a trend taking you into a cul-de-sac. It means that any CEO or senior executives of a company have to induce themselves to have a calm they don't feel, in order to be rational in the face of this onslaught."
Sound familiar? I am sure many leaders in the printing industry feel the same way. Of course, former Sony CEO Noboyuki Idei is the one that was not worried about the Apple iPod, saying, "Sony and Dell know manufacturing. Apple does not. Within a couple years, Apple will be out of the music business." That prophecy certainly fell flat!
"It means that any CEO or senior executives of a company have to induce themselves to have a calm they don't feel, in order to be rational in the face of this onslaught."
Google has its own competitive concerns as well, probably the primary one being Facebook, with the war between the two companies heating up. It doesn't help that as of November 4th, "any service that accesses Google's Contacts API — which makes it easy to import your list of friends' and coworkers' email addresses into another service — will need to offer reciprocity. Facebook doesn't… so Google has turned off the ability to import Google contacts into Facebook.
In an attempt to keep more of its users captive, Facebook launched Facebook Messaging this week, in an attempt to make the site a seamless, self-contained social inbox. And RockMelt (Your Browser. Re-Imagined), a new web browser that integrates into Facebook, appears to be an attempt to get users to become even more captive. I've been trying out the beta, and it is pretty slick; its features appear to offer an integrated social media platform with easy messaging with your favorite Facebook friends (thumbnail photos on the left side) and access to your social media accounts and favorite web designations using icon thumbnails down the right side. If you find something on the web you want to post on your Facebook Wall, there's a button for that! Will it give Google Chrome a run for its money? Probably.
For anyone in any media-related industry (that's us, folks), the Google juggernaut is a must-follow and Auletta's book is a must read. Talk about missing trends or having them pass you by, seems like Google as establishing them at a rapid rate. Read the book, and then keep an eye on the news—you can do that using Google Reader on your Google Desktop, or by subscribing to Google Alerts or perusing Google News as your primary news source. While you are at it, map your next car trip and translate a few foreign web sites. Seems like they've got it covered!
You can see Ken Auletta interviewed by Charlie Rose or Bloomberg if you are looking for more insight. Wish I had thought to write that book!