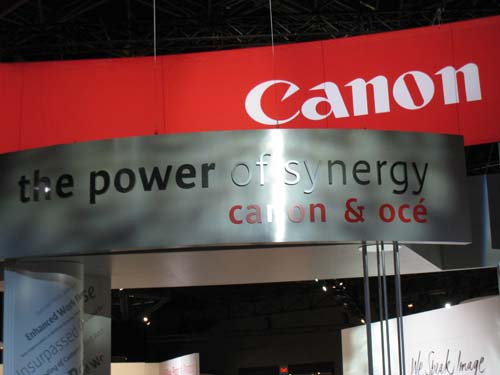 "Quadrennial" is a word that we get to use for events that occur every four years, like drupa and Print. Next in the list of anniversaries is "quinquennial," and there's an industry occasion for that too: the Canon Expo, which showcases the company's ever-expanding range of imaging technologies at five-year intervals. Canon Expo 2010 New York, presented just before Labor Day, included something that would have seemed highly unlikely to many people in 2005—a side-by-side showing of production printing equipment by Canon and an erstwhile rival in that space, Océ.
Today, though, the two companies are joining forces through a buyout of Océ shares that Canon announced last November. Canon Expo 2010 (September 2-3) was their first joint public appearance, and for both, it was important to strike the right note: Canon, to show that it can turn the acquisition into a successful integration; and Océ, to reaffirm its prowess in high-volume transactional and graphic arts document printing as it moves ahead under new ownership.
In the "Canon & Océ Zone" of the 150,000-sq.-ft. exhibit at the Jacob K. Javits Center, it was clear that Canon wanted maximum exposure for the high-end production capabilities that Océ, with its strengths in both cut-sheet and roll-fed toner printing, brings to the partnership.
Demonstrating the new union of solutions was the continuous production of a 114-page, fashion-themed souvenir book on equipment from both manufacturers: the black-and-white interior pages on an Océ VarioPrint 6320 Ultra, and the color covers on a new imagePRESS from Canon, the C7010VP. Production control was furnished by Océ's Prisma workflow software, and in another section of the zone, an Océ ColorStream 10000 Flex turned out copies of a show newsletter detailing "The Power of Synergy" between Canon and Océ.
In This Together
Visitors to the zone, which contained equal numbers of products from both manufacturers, had the opportunity to see a more tightly integrated presentation than Canon and Océ will be able to put on at Graph Expo, where (because of space bookings that predated the acquisition) they will occupy adjacent but separate booths.
The display at the Canon Expo addressed four print market environments, each with an appropriate selection of equipment: an in-plant print facility (where the souvenir book was produced); a reprographic shop (with large-format printers for signage and CAD); a commercial print setting (housing the ColorStream 10000 Flex and a black-and-white imagePRESS); and an architecture and design office (large-format printing, a print-copy-scan system, and software).
Canon's wish to be fully equipped for all of these markets is what drove its decision to acquire Océ, a supplier that essentially takes up where its new owner leaves off in terms of product offerings for high-volume production. (For commentary on how the merger is likely to change the competitive landscape for digital printing in general, see special reports for WhatTheyThink by Andy Tribute and Cary Sherburne.) At the New York event, senior marketing executives for both companies said that the complementarity of the product lines would be the source of a mutually powerful marketing advantage going forward.
You Want It, They Have It
Thanks to the combination, said Forrest Leighton, director of product marketing for Canon's Imaging Systems Group, "no other company has our range of capabilities and solutions, from light office production to midrange output to high-end production"—the latter on Océ systems that Canon now can sell alongside its own equipment for enterprise and commercial printing.
There is a big gap between our 'high end' and their 'high end,'" said Leighton, referring to the very-large-volume applications for which Océ's VarioStream, VarioPrint, and ColorStream systems are designed. As these solutions enter its portfolio, said Leighton, Canon will be able to its build up its capabilities in transactional printing, book production, and other markets where it sees long-term potential.
Benefits also accrue to Océ, which is now selling Canon's imagePRESS C7000VP digital color press to print providers and Canon's imageRUNNER document printing systems to business customers. Francis McMahon, Océ's vice president of marketing for production printing systems in North America, said that tapping into Canon's broad range of imaging technologies would help Océ introduce its customers to opportunities that might previously have been out of their reach.
"Separately, we can't do that as aggressively as we can together," said McMahon, who joined Océ earlier this year after a long stint as director of marketing for HP's graphic arts business segment in the U.S.
New imagePRESS Takes a Bow
Although the joint presentation wasn't primarily intended as a venue for product announcements in the production printing space, there was one such system in debut on the show floor: the Canon imagePRESS C7010VP, the successor to the imagePRESS C7000VP color digital press for mid-range to large-volume production environments. Also announced (but not displayed) were enhanced models of the imagePRESS C6000VP and imagePRESS C6000 digital color systems.
Improved image quality on the 70-ppm imagePRESS C7010VP comes in part from a hygrothermal sensor in the marking engine that measures humidity and automatically adjusts air flow for color consistency in all operating conditions. The press, which can handle stock weights from 120-lb. cover to 16-lb. bond, also features a three-stage, auto-eject jam correction system and can be equipped with an inline saddle stitcher that can make 100-page booklets from 25 sheets of 13" x 19.2" paper.
Because the imagePRESS C7010VP uses 100 new components that the imagePRESS C7000VP does not have, there is no upgrade path from the older platform. All of the new imagePRESS models are expected to be available for delivery in the fourth quarter of this year.
An Imaging Extravaganza
The joint presentation with Océ was just one element of Canon Expo 2010 New York, an elaborate showcase of everything Canon offers to the many consumer and business markets that it serves. With "We Speak Image" as its theme, the event also abounded in workgroup printers and MFPs, wide-format inkjet systems, digital cameras, camcorders, scanners, photo printers, security cameras, studio and field lenses, photolithography manufacturing systems, and medical imaging technology.
A good overview of what Canon Expo 2010 New York presented to the photography market can be found here. Other editions of the event will be held in Paris, Tokyo, and for the first time, Shanghai.