By Hal Hinderliter
IPEX is many things – a celebration of print, a Euro-centric gathering of major and minor vendors, a walkable show that makes it easy to enjoy the variety of offerings that compose our industry – but it's certainly no drupa. On a lower budget, and with much less fanfare, our British compatriots put on a show that entertains but seldom surprises. Until now. Today's introductions marked the tipping point, the day in which a new wave of technology crashed like a tsunami onto the beachhead of the status quo…
Kodak began the day with a pre-show press event to unveil the new PROSPER 5000XL inkjet web press. Unlike the secretive technology demo from drupa 2008, this time the covers were lifted and engineers held aloft the magical Stream inkjet heads for all to see. Adjacent racks were full of prepared samples that showed impressive quality on a variety of substrates, although the press demonstration seemed to cruise substantially below the rated speed of 650 feet per minute. Pre-treated rolls of paper from NewPage ran through a straight forward paper path that included an internal video inspection of each side of the web for color quality and registration. No in-line finishing equipment was demonstrated, however; the web roll wound up on a Hunkeler RW7 roll stand without a chance for closer inspection.
During my breakfast meeting early that morning with Terry Taber, Kodak's Chief Technical Officer and Vice President, he was justifiably proud of the technological advancements contained within the PROSPER. Foremost in his list of breakthroughs was the highly pigmented aqueous ink formulation that enables micro-milled pigments to flow freely through the PROSPER's miniaturized silicon printheads. The continuous flow nature of this press means that surface tension is not an issue, allowing for a more viscous fluid that contains less water per page (reducing the negatives that come with putting too much water onto the substrate). The results are impressive by any standard, and easily compare to web offset print production.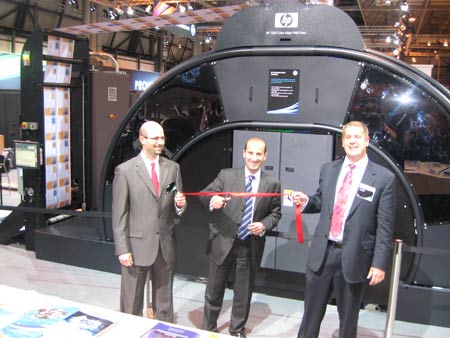 To bookend the day, the show closed with a massive HP press conference followed by a ribbon cutting ceremony for the new HP T200 inkjet web press. Essentially a single-engine version of the T300 press that debuted at PRINT 09, this new entry into the rapidly expanding inkjet web field was shown with a variety of in-line finishing equipment, creating several different products including a direct mail campaign with perpendicular perforations and a Z-fold book block.
"The T200 is built on a set of technologies that have been proven to be reliable, and suitable for high volume production," said Aurelio Maruggi, Vice President and General Manager of HP's Inkjet High-Speed Production Solutions division. "From day one we have heard from customers and industry leaders in order to really understand what are the needs of this market," Maruggi explained, "because we want this product to be qualified with the magic that is defined by our customers, not by our engineering team."
The quote that truly portrayed the game-changing reality of these inkjet web marvels belonged to print visionary Benny Landa, founder, Chairman and CEO of Indigo. "What an exciting place this is to be, compared to the stodgy industry it once was!" observed Landa, who spoke during HP's press gathering. "But let me tell you something – as proud as I am of what HP Indigo has achieved, I am even more excited about what it has yet to achieve. In the commercial printing space, HP will attain the number one spot well before the next IPEX in 2014."