We titled this regular column "Thinking Creatively", with the hope you would draw some inspiration and motivation as you confront challenging business or customer issues.
To date, we've covered topics like how to craft a differentiating strategy for your business. We provided the framework for creating and implementing a Unifying Business Idea that aligns your entire company and helps guide your decision making on all key business choices. And we talked about ways to tap opportunities in areas like Transpromo and traditional direct mail.
In this article, we're going to take a slight detour, I'd like to provide some ideas and links that can help you open your mind and expand your thinking... something that is often necessary to get to a new or breakthrough idea.
About Thinking Creatively
Thinking Creatively is about taking a step back…when you want or need to think strategically and creatively about your business…or about your customer's business…or about a solution to a challenging business problem. The goal is to be one part inspiration and one part motivation. We hope to provide – over time -- thought-provoking advice, tools, ideas and company profiles that help get you to your next breakthrough. Your feedback and interaction is invited, welcomed and encouraged.
Thinking Creatively is made possible by the support of GMC Software Technology. Normally such features are for "Premium Members" only. However, because the topic is so timely and essential to all executives in the industry we asked GMC Software Technology to provided support for this series. Their support allows us to to present these articles free for all WhatTheyThink.com members.
We're all familiar with the term "writer's block." When an author can't seem to get going... when a student just can't get their arms around a paper that is due... or a copywriter just can't seem to get the words from their head onto the page in crafting a new brochure or piece of copy.
Well, business leaders - especially those responsible for the strategic direction of their company - often need creative inspiration as well. For that matter, so does anyone in business who needs to come up with a creative idea for a customer project... or wants to think of a new way to do something that breaks a routine pattern. Opening your mind up to new thinking is especially helpful if you spend most of your time on day-to-day management tasks; it becomes hard to shift gears and free your mind up enough to be creative.
This is an issue I have confronted my entire career. And I've seen creative individuals like art directors, strategists, designers and copywriters face this problem as well. So I'd like to offer up a few simple resources you can tap when you just need that kick start or just need to re-set your mind to a creative or strategic or problem solving task.
Tip #1: Look at completely different business models when you need inspiration on a business or strategy problem.
I get an amazing amount of inspiration -- and plenty of useful ideas -- when I can apply models that have worked in one industry to a completely different industry. Michael Dell figured out that you could use the mail order business model to sell computers. J. Darius Bikoff was catching a cold and was taking Vitamin C and mineral water... and then wondered about putting them in the same bottle. This eventually became a refreshingly healthy drink called Vitamin Water (and became an incredibly lucrative business).
Two places that inspire me - and give me ideas galore - are Killer Startups and Springwise. They both find new businesses that are attempting to do new things... and each has a way of quickly evaluating the potential for each business they uncover. "Killer" showcases five new businesses every day, so you can be sure you'll find something relevant or tangential to the challenge you're thinking about.
Here are two examples I found just by logging on today. One new business captured by Springwise is Giiv. It allows you to shop for, purchase and send gifts right from your cell phone.
On Killer Startups, I found HelpAStartUpOut.com. It is simply described as a Craigslist for startups - just classified ads from start up organizations. Whatever a start up needs... advisors, feedback on their business idea, partnerships, you name it.
I have found that perusing a bunch of new business ideas will get your juices flowing to solve your own problem with a refreshed perspective.
Tip #2: Do some "aimless wondering" online to inspire just the right idea.
If you haven't discovered Stumble Upon, then you need to go there and register. It what may seem like a complete waste of time, you'll actually find yourself saying things like, "that was cool", or "wow, I never would have thought of that".
Here is how they describe themselves: "StumbleUpon uses

/

ratings to form collaborative opinions on website quality. When you stumble, you will only see pages that friends and like-minded stumblers (

) have recommended. This helps you discover great content you probably wouldn't find using a search engine".
You can select topics you're interested in and you'll be served unique websites to view. Scan a site quickly and vote up or down (useful or interesting - or not); then move on to the next one by clicking "stumble". Amazingly, about 8 million people a month use StumbleUpon, to bookmark and share the best sites on the Web. More than 35 million Web pages have been "stumbled upon".
From "stumbling", I have found great ideas for ideation and brain exercises and design that really helped me when I got stuck or fell into a "thinking rut." Try it. It's actually really fun!
Tip #3: If you're trying to achieve breakthrough success in the "new world' of communications, check out the best in the world.
This is an old ad agency trick, updated for the digital age. Whenever copywriters or especially art directors wanted to get their minds started in a new direction, they'd pick up the award show books to simply get inspired by others who had "broken through". It is just an easy way to find new motivation by studying the successful risks others had taken.
Today the easiest way to do this is to go to http://webbyawards.com and click on the link to nominees and winners. The webby awards are for websites and interactive advertising. There are over 70 categories to select from. You can look at award winning websites, interactive advertising, online film and video and mobile applications.
I promise you, this will be like going to the Disney World of interactive communications. You will find sights and sounds and designs and ideas that offer so many possibilities. Even if you are trying to solve a problem with printed communications, this path will get your mind and imagination going.
The website winner for "Best Use of Video" is http://ted.com. They describe their site as "Riveting talks by remarkable people, free to the world." If you have never taken the time to listen to some of the speakers who show up on this site, you'll feel inspired after you do.
When it's just the right words you need, there is a visual answer for that too.
I'm sure most of you have seen or run across the Visual Thesaurus. Whenever I'm working on a Unifying Business Idea assignment, writing a proposal, report or even when I'm writing an article for WhatTheyThink, sometimes I just struggle to find the right word. You feel great when you find that one word that is packed with meaning.
Well, the Visual Thesaurus is an excellent way to see all the possible alternatives for a word. It is just more visually pleasing, more interactive and more inviting than straight text. Here's an example of what comes up when I type in the word "inspire":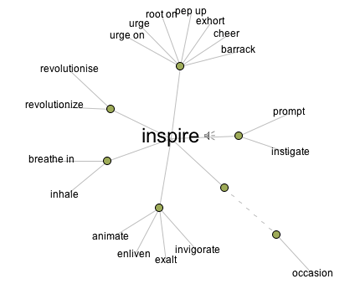 Source: http://www.visualthesaurus.com.
What is cool about the Visual Thesaurus is that you can click on any of the related words and the graphic completely reconfigures around the choice you made. It is interactive... addictive and really, really helpful when you're stuck.
If anyone reading this article has other ideas or tools they find particularly inspiring, I'd love to hear from you and get them into a future article or blog post. Please feel free to email me.
So armed with a few new tools and ideas, I wish you luck in your strategic and creative problem solving endeavors.