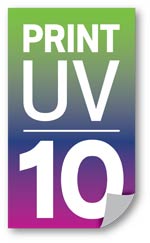 Make your reservations, buy your plane ticket, pack your golf clubs, and head to Print UV 2010 at the Wynn Resort in Las Vegas. This year's event takes place beginning Sunday, March 7, and concludes on Tuesday, March 9.
Unlike most trade events, Print UV is carefully planned to ensure maximum learning – and networking – opportunities. Sponsors are selected for what they can contribute to the attendees, not the other way around! Vendors attend by invitation only and are limited to 30% of attendees to keep the focus on printers and their real-world UV needs.
There are not only informative general sessions, this year there are multiple breakout sessions on two tracks: UV Business, targeted to print company managers and executives, and UV Technical, for personnel tasked with mastering the various technical issues specific to UV printing.
Hans Ulland, Vice President Sales and Marketing for Air Motion Systems, a founding sponsor of the Print UV conference, advised that attendees should be ready to leave armed with the knowledge they need to succeed with using and selling UV printing.
Unlike any other conference or trade event you've ever attended, all meals are provided for registered attendees. Ulland warned that calorie-counters should beware; the meals planned are fantastic. You won't get dried out muffins for breakfast, soggy sandwiches for lunch, or rubber chicken for dinner!

This year's keynote speaker is internationally renowned designer Kit Hinrichs, Principal and Creative Director of Studio Hinrichs in San Francisco. Hinrichs is well known throughout the printing industry for his love of what ink and paper can achieve and for his encyclopedic knowledge of printing processes.
The General Sessions include:
The Best and Brightest in UV: The differentiation that UV provides is a fundamental strategy - not just for surviving – but for thriving.
Switching "On" the Lights – One Year Later: How UV transformation can become a critical part of your growth strategy; a live case study.
Capturing the Design Community Through the Creative Force of UV: Hear how you can unleash your capabilities to capture – and captivate – designers.
Planning for Success in Print (by Doing Everything Differently): Hear from a printing start-up that did everything right by doing it the "wrong" way.
An Era of High Power UV LEDs (Light Emitting Diodes) to Cure Inks and Coatings is Here: Hear a "we are here" update on this state-of-the-art curing process.
Breakout sessions focused on Business include:
New UV Tricks – Special Effects: Explore new techniques to expand your business.
Mad Men – Pitching UV to Agencies and Designers: Tactical advice on how to reach designers and influence print buyers.
How to Sell UV to the Print Buyer: Selling UV in today's market, tactics behind the sales.
New UV Tricks – Substrates: New substrates you must know about.
The Economics of UV Printing: Answers to all the questions your CFO will ever have about UV.
Adding Capacity – UV Retrofit or Buy a New Press: Hear from a panel of printers who have done both, and learn how they each made their decision.
Breakout sessions focused on Technology include:
Battle Scars from a UV Printing Veteran: Learn tips, tricks, and techniques from someone who has "been there, done that."
Dealing with Tricky Substrates: Hear from a technical panel about ever-difficult substrate issues.
New Developments in UV Inks and Coatings: UV inks and coatings are getting more eco-friendly and sophisticated all the time; learn more from the experts.
Pulling off Incredible UV Special Effects: Hear from a technical panel about how to implement special effects on your press.
"Yes, We Can Do That:" How to talk to your sales team about the UV press and its limits. Or are there any?
Game Plan UV – How to Pull It Off Like a Pro: Making the case for why and when to bring in outside help. How "pro-bowl talent" can cut your costs, reduce your risks, and make switching faster.
WhatTheyThink will be at the event throughout; video taping, reporting, interviewing, and using every form of social media known to (wo)man to provide you with live coverage.