As it did to every other print equipment manufacturer, 2009 brought a host of challenges to Koenig & Bauer AG (KBA). Declining orders, a change of leadership at the top, job cuts further down the structure, and uncertainty about the future cost this global distributor of sheetfed and web offset presses some momentum. But, KBA remains a financially stable, technologically innovative supplier with an optimistic outlook on what economic recovery in 2010 and beyond will bring.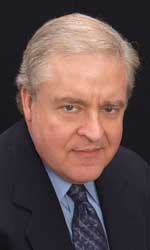 In the U.S. and Canada, the executive principally responsible for regaining the momentum and maintaining the optimism is Mark Hischar, who became president and CEO of KBA North America last October 1. He's a print equipment veteran who has held top management positions at W + D Machinery Co., Tresu Royse Inc., LeFebure Corp., and Matthews International Corp. We asked him to talk about what to expect from his division of KBA now that it has completed its relocation from Williston, VT, to a new corporate headquarters in Dallas, TX.
WTT: Recent figures from NPES indicate that U.S. printing equipment shipments declined from $2.5 billion in 2000 to $634 million in 2009. In other words, during this decade, equipment sales have fallen off a cliff. Is there any hope that they can recover to what they were 10 years ago?
Mark Hischar: Sales won't rebound to where they were 10 years ago. We're living in a changing world of customer requirements, and the industry is contracting. This means that although volume will come back part of the way, it won't come back all the way.
We have to remember, though, that the size of the market isn't necessarily an indication of how successful a company is going to be—the real test is how adaptable it can be to changing market conditions. As Helge Hansen, president and CEO of KBA, has said, KBA is adapting its technology and its business strategies to better meet its customers' needs.
We're beginning to see an increase in inquiries about our products, and this is something that bodes well for the industry as a whole. Some of it represents pre-planning for a quarter or so out, and this suggests that we'll continue to have status quo in terms of sales the first quarter of the year. But, after that, there could be a ramp-up. This is what makes us optimistic, and we're seeing some of that same optimism in our customers.
What I would say to our customers is that although the business climate is tough, they shouldn't persist in thinking negatively. If you get caught in a downward spiral of pessimism, it's easy to miss opportunities. We all need to fight the tendency to be too negative and too introspective.
WTT: At Print 09, a KBA executive said, "Finding someone who wants to buy a printing press is not the most difficult challenge that we have. Finding someone who can finance that purchase is the challenge." Is this still the case, and if it is, what are the implications for your sales this year?
Mark Hischar: There's no question that credit continues to be tight not just in this industry, but in all capital equipment markets. But, now that financial institutions are starting to see slight improvements in our customers' balance sheets, we think that progress will be made. The lenders understand that downturns are cyclical, and we think that they're starting to loosen up a bit.
WTT: What principally distinguishes KBA's sheetfed lithographic technology from that of the competition?
Mark Hischar: it's clear that KBA has continued to reinvest heavily in product development and that we are the leaders in patents issued. Our technology is leading-edge, for example, in terms of press speed, which leads to increases in productivity. But, it's not just about speed. Look at the range of equipment we offer, from the Genius 52 UV and the Rapida 75 to the 81" Rapida 205, the world's largest sheetfed press. Look also at innovations such as the sidelay-free infeed system for our 41" presses. The fact that many of our presses can print on a diverse range of substrates, including plastics, is another feature that helps owners of KBA equipment to be more prosperous.
WTT: What is happening on the web side of KBA's business? What is the sales outlook this year for newspaper and commercial web presses?
Mark Hischar: There's no doubt that the newspaper market is under pressure. Nevertheless, newspaper publishers continue to look for ways to improve production not only of their daily editions, but of free-standing inserts and other commercial products. The diversity and flexibility of KBA newspaper and semi-commercial web presses is helping them to achieve the productivity they need. The New York Daily News, for example, replaced eight presses with three KBA Commander CT web presses that will enable the paper to be printed in color on every page. At Print 09, we announced the sale of four Commander CT webs to Transcontinental, the largest independent newspaper printer in Canada.
On the other hand, we are seeing very little sales growth right now in commercial web. This is an oversaturated market that has been hurt by declining run lengths, and used equipment is a factor as well. Although the commercial web market is lagging, we believe that it can come back as conditions improve. But, of the two, the newspaper web market is more vigorous.
WTT: KBA does not offer a digital press, but according to recent news reports, some of your major competitors are taking serious steps in this direction. Isn't it time that KBA came to market with a digital press offering of its own?
Mark Hischar: As Helge Hansen has said, KBA is looking to diversify its product line, and digital certainly is in the mix of possibilities that we are exploring. Our KBA-Metronic subsidiary offers inkjet technologies for marking and coding. We'll continue to be involved in inkjet solutions, but this doesn't necessarily mean that KBA has to develop a digital press from scratch. Although I can't give details, I can say that no option is off the table for KBA in looking at our future development.
WTT: KBA made a strong showing at Print 09 by displaying a Rapida 106 and a Genius 52. But, does KBA remain committed to the idea of an annual print equipment show in Chicago, or does the company think that these events could be held less frequently?
Mark Hischar: Taking part in a trade show is always a business decision. We believe that at Print 09, we invested more heavily in our presence than any other press manufacturer, and we have committed to exhibiting at Graph Expo this year. Beyond that, we will make the decision based on our need to showcase our technology in the right venues to the right audiences. I will say, though, that at a trade show, there is always a greater opportunity to interact with people whom we haven't met before.
WTT: When will you officially cut the ribbon at KBA's new, 60,000-sq.-ft. Customer Center in Dallas? What can your customers expect to find there?
Mark Hischar: As you can imagine, we still have work to do in integrating our parts operations and some of our other activities, but we are 98% to 99% where we want to be. We've decided that in 2010, we'll create interim demonstration center where visitors can see the Genius 52 and the Rapida 75. Then, we'll continue to expand the demo center until it has a full complement of equipment. We expect to open the interim demo center in four to five months and have fully equipped 12 to 15 months after that. We're planning to cut the ribbon sometime this fall on a date that won't be in conflict with Graph Expo.
As we bring the center on line, we'll be focusing on customer-specific applications of KBA technology. We'll work with manufacturers of plates, paper, and ink as a testing lab. The center also will serve as a training facility, staffed by KBA technical experts.
WTT: You have had a long career as a senior executive of print equipment manufacturing companies. How is that role different today from what it was, say, 20 years ago?
Mark Hischar: The biggest difference is in the way we deal with customers, who have changed in what I think is a very positive way. They're more sophisticated. We see CFOs becoming much more heavily involved in purchasing decisions, using advanced analytical tools. And, the conversation isn't only about price. Printers are just as concerned about the long-term ROI that their purchases will bring them.
Another difference is that if you're selling equipment today, it's crucial to understand your customers and your customers' customers from an operational standpoint. Twenty years ago, there was a lot more relationship selling being done, and decisions were made more intuitively. This did not always lead to the most desirable outcomes. At the time, a growing volume covered up some of those ills, but in today's market, we don't have that advantage.
WTT: Thanks for speaking with us. What's your parting message for customers and prospective customers of KBA?
Mark Hischar: That we're serious about investing in this business, and that we're here to stay.