Whew!
Last Saturday was the twice-yearly Toastmasters District 53 Conference. I had been one of the two "co-chairs"—i.e., organizers—of the event, which was a long, nine-month process that was not unlike giving birth. The planning process generated seemingly terabytes of e-mails, an endless stream of phone calls (curse you, cellular technology!), and several reams of notes and other hard-copy documents. (Word of advice: never have planning meetings in a diner, or any place that serves maple syrup. Reviewing my notes last week, I discovered that many were stuck together.) Ultimately, though, the hard work paid off. We had 150+ attendees comprising Toastmasters club members (about which more shortly) from eastern New York state, western Massachusetts, and Connecticut. The event was hailed almost universally as a great success, and my recurring vision of being chased from town by a torch-wielding, Frankenstein-esque mob of aggrieved Toastmasters happily did not come to pass.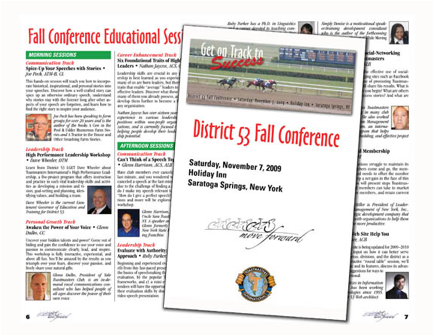 I mention this not only because I don't happen to be in therapy at the moment, but also because events such as that—or organizations such as Toastmasters—can provide tremendous opportunities for creative professionals to market themselves and their services.
Actual Reality
All the buzz these days surrounds Web-based social networking (you know, the kids today with their Facebooks, and their Twitters, and their hula hoops), but when it comes to effectively marketing oneself as a creative professional, very often you can't beat good old-fashioned flesh-and-blood-based "social networking." That is, turning off the computer, leaving the house or office, and going out to actual events.
Industry trade shows and conferences such as the annual HOW Design Conference or Creative Freelancer Conference provide opportunities to network with one's peers and even forge creative alliances—copywriters can hook up with designers, print designers can collaborate with Web designers, and so forth. Networking events in one's local business community can also provide good opportunities to meet people who have a demand for some kind of creative or design services. Most large-ish areas have a local chapter of the American Marketing Association which sponsors regular meetings and other events. There may be a local small business association, which may have meet-and-greets and other events. If you have a good local Chamber of Commerce, it can be a valuable asset in helping you grow your business. Here in upstate New York, the Saratoga County Chamber of Commerce has a several monthly events that facilitate local business networking. (They tend to draw a disproportionate share of financial planners; I am inevitably approached and asked "How are you managing your assets?" to which my stock response is "I'm thinking of getting a second change cup.")
But there is more to networking than just networking. Some organizations offer a variety of ways for creative professionals—or any business professional, really—to prowl for prospects. One organization that I have found to be invaluable for the purposes of marketing and promoting myself is my local Toastmasters International club.
Warm as Toast
For those not in the know, Toastmasters International—according to their Web site—is a world leader in helping people become more competent at, and comfortable with, public speaking and leadership. The nonprofit organization, celebrating its 85th anniversary this year, has nearly 220,000 members in 11,300 clubs in 90 countries, offering a proven—and often quite enjoyable—way to practice and hone communication and leadership skills. I have been a member of Thorobred Toastmasters in Saratoga Springs, NY, since November 2001, and in that time have served as president of my club and as governor of Area F4, overseeing a half dozen clubs in Saratoga and Washington Counties. I am currently my club treasurer, a position that is gradually turning me into a Dickens character, assuming I wasn't already one to begin with. Last summer, I helped charter a new club in Clifton Park called Capital Advanced Toastmasters, which is designed for people who have already mastered the basics of public speaking and want to move forward and pursue it more or less professionally. That is, for pay.
I mention Toastmasters in this space because I have found over the years that it offers a wide variety of opportunities to market and promote myself—often in ways I have never anticipated when I first joined.
First, improving your public speaking skills can help lead to public speaking gigs—not surprisingly. Even if you don't plan on traveling the world talking to any group that will have you, occasional opportunities to give talks at industry events and conferences, sit on panels, deliver keynotes, etc., are prime ways of getting your name and face in front of a crowd. A PowerPoint presentation—de rigueur when it comes to professional talks these days—can and should contain your business' logo and URL on each slide. Printed handouts likewise—that way, audience members can easily find you again. (An even better idea is to ask anyone who wants a copy of your presentation to give you their business card and you'll e-mail it to them. That way you can assemble a database of contacts for future nefarious or marketing-related purposes.)
Second, you can interact with a broad cross-section of the local business community on a regular basis. Toastmasters members use club meetings to rehearse business presentations, get valuable feedback on the effectiveness of their presentations, and even pitch their own services. As a result, whenever I am in the market for something a Toastmasters member sells or provides, they are at the top of my call list. (Although, one of our members sells components for nuclear power plant control systems, which I can't say I will ever really be in the market for, but never say never....)
The goal of Toastmasters speeches is not necessarily to make sales pitches—no one likes a hard sell, regardless of the context—but members' speeches often provide new ideas and perspectives on a wide range of topics.
Third, Toastmasters club meetings—and larger conferences and other events—often function as idea exchanges and important networking opportunities. They can also provide a venue—via meeting agendas, conference programs, and other printed documentation—to showcase your design skills. For last Saturday's conference, for example, not only did I design the official conference Web site but I also made sure that I designed the conference programs, and ensured that there was a credit line on it. I received a number of compliments, and even if I didn't walk away from the conference with a slew of lucrative new projects, I at least got on the radar of everyone there. And at past conferences, I was able to use networking and socializing time to work on my "elevator speech," that is, the 30- to 60-second response to the question, "so, what do you do?" I have exchanged business cards, and these networking opportunities have led to further discussions and collaborations. My fellow co-chair is a local business coach, and he came away with some leads and prospects. And, in fact, we have since spoken about collaborating on various projects.
Fourth, presenting educational sessions at a large Toastmasters conference can directly promote your business. Another colleague runs a new media consultancy, and he conducted an educational session on using the Internet and social networking to grow one's business—and his session included a special offer on his consulting services.
Even if these opportunities don't bear immediate fruit, they plant the seeds of professional and personal relationships that can grow and develop over several years, or for however long you remain active in the club.
To Do List
Ultimately, these live networking opportunities let you:
Talk to and network with other business professionals.
Talk about what you do.
Use every opportunity to show your graphic design, copywriting, or, basically, "that thing you do."
Develop public speaking skills to get paying speaking gigs and get yourself and your creative skills in front of others.
Make important contacts that can lead to new projects in the future.
It doesn't just have to be Toastmasters; that's just one example. Depending on your extracurricular interests, you may want to become involved with other groups and organizations in your community, which also afford you the opportunity to interact with a larger pool of individuals and local businesses. Say you have an interest in theater; get involved with your local community theater and offer to design posters and programs. If you're interested in local politics, there is no shortage of opportunities for local involvement—and often there is a need for copywriting, graphic design, and/or Web development. Sure, a lot of this involves pro bono work, but think of it as an investment in getting your name and a visual demonstration of your skills in front of large numbers of people.
Don't discount the advantages to be had in going out and getting involved in actual, physical networking. Cyberspace is a nice place to visit, but who wants to live there?