The competitive landscape of the print industry is often harsh and unforgiving. One of the greatest challenges facing a company is attempting to win in a tough economy where competitors have a position in the market that includes pricing power, brand recognition, and a satisfied customer base.
In a challenging economy, successful print service providers (PSPs) and marketing service providers (MSPs) have evolved from the average providers of just a few years ago. Many of today's providers are savvier, business-process-focused, and capable of delivering a broad range of document services far beyond print.
The Benefits of Vertical Marketing
Targeting specific vertical markets and establishing a leadership position in a vertical market segment is proving to be a key differentiator for some firms. Simply put, vertical marketing is development of the products, services, and promotional tactics targeted at specific industries. The benefits of vertical marketing are immense. Vertical marketing can open new doors and reach niche markets where there may be little competition. Messages are better received, companies enhance credibility, marketing budgets go further, and selling cycles are more efficient and productive.
Although it offers many benefits, vertical marketing is not easy. It takes a great deal of thoughtful management time to analyze the right business focus. Owners and managers must:
Identify, qualify, and prioritize vertical solutions that deliver the highest return on investment
Profile the vertical market, then identify and prioritize key solution influencers in each vertical industry
Define route-to-revenue strategies that complement industry route-to-market influencers in a specific vertical market
Define products, service offerings, and related value propositions that drive compelling customer value and financial ROI for your business and your customers
The Document Outsourcing Evolution
Later in 2009, InfoTrends will be releasing a Multi-Client Report entitled The Document Outsourcing Evolution. In conducting this research, we surveyed more than 350 print buyers with the objective of providing the information that document services providers require to better serve their existing markets, grow share, and successfully target new opportunities. This study examines 7 key vertical markets, including Financial Services, Insurance, Healthcare, Manufacturing, Telecommunications and Utilities, Retail and Wholesale, and Legal.
Whether Document Services are Outsourced
Of the more than 350 organizations surveyed in InfoTrends' Document Outsourcing Multi-Client study, more than 55% were actively engaged in outsourcing document services.
Figure 1: Does your company currently outsource any document services to a third-party provider?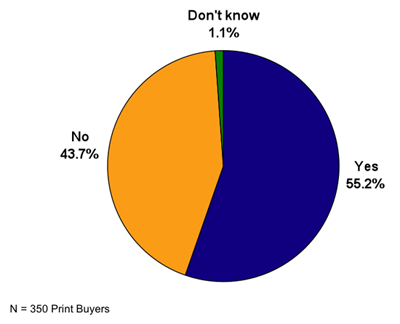 Legal, insurance, and healthcare were the leaders when it came to outsourcing document related activities.

Services Outsource
InfoTrends' report will analyze the desire to outsource on-site document services, offsite printing and document services, transaction document services, and document process outsourcing. In these difficult economic times, corporations are exploring offsite services. 46.6% of respondents indicated that they were currently utilizing offsite support, and another 19.7% were considering moving this work offsite. This means that those companies competing for work must ensure that they have the right infrastructure and technology in place to meet the needs of corporate buyers.
Figure 2: Is your company outsourcing or considering outsourcing any of the following services?
As illustrated in the Figure below, the propensity to outsource non-strategic functions like offsite printing and document services varied by company size. Notice that the smallest companies with fewer than 500 employees were particularly likely to be considering outsourcing offsite printing and document services. In addition to helping companies streamline operations and focus on their core competencies, outsourcing can reduce capital investments.
Figure 3: Is your company outsourcing or considering outsourcing offsite printing and document services? (Segmented by Number of Employees)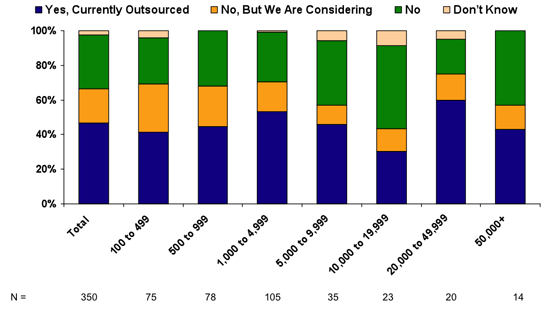 Primary Factors When Selecting an Offsite Outsourcing Provider
Respondents who are currently outsourcing offsite printing and document services or plan to do so in the future were asked to rate the importance of various factors. These factors were graded on a 5-point scale, where 1 meant not important at all and 5 meant extremely important. While priorities vary by industry segment, security, turnaround, quality, electronic document management, and in-depth business process knowledge were ranked as the top five factors overall. As technology continues to advance, service providers will need to consider geographic reach, automation, multi-channel capabilities, and self service options.
Figure 4: When selecting an OFFSITE service provider, how would you rate the importance of the following?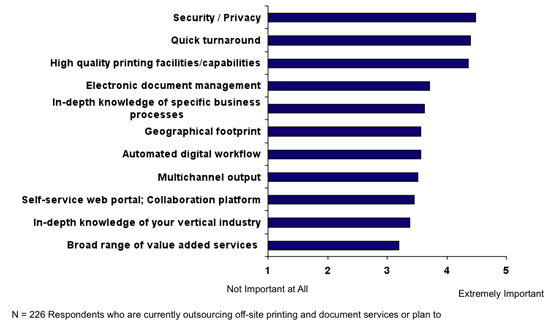 Anticipated Increase in Outsourced Printing
From a vertical market perspective, the Financial and Insurance industries were the most likely to project an increase in outsourced printing over the next two years. Given the challenges that have plagued the financial services market over the past several months, it is no surprise that these firms are seeking mechanisms to reduce overall headcount and capital investment. Outsourcing print provides an opportunity for cost reduction.
Figure 5: Over the next two years, do you expect the amount of print outsourced to external providers to increase, decrease, or stay the same? (Segmented by Vertical Industry)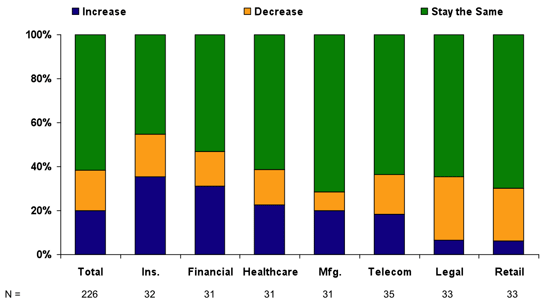 Vertical Market Success Stories
Developing an understanding of industry dynamics can help service providers identify the right vertical market. Once the vertical market has been identified, the service provider must then develop the right document and marketing solutions to meet the needs of clients. This process starts with identifying key customer pain points. After that, the marketing service provider must determine, qualify, and prioritize those solutions that will deliver the highest return on investment in terms of cost savings, business results, or response rates for the target market. Finally, the service provider needs to establish a business model and value proposition to drive compelling customer value, financial return, and a collaborative sales engagement.
One to One Gulfcoast provides an example of a firm that has opted to take a vertical market approach. This company has focused its attention on the not-for-profit market and the power of personalization. Co-founded by friends Brian Weiner and Dana Place, this business was born in Venice, Florida in October 2003. From a vision perspective, Brian and Dana wanted to offer innovative products that increased the communications impact and response rates through the use of personalized text and graphics. They wanted to provide the tools to leverage customer knowledge and increase loyalty while utilizing printed pieces that employed everything from simple personalization to 100% variable content. Today, this desire has evolved into a full spectrum of multi-channel communications offerings.
In developing its business model, One to One Gulfcoast sought potential customers that had good data. With that in mind, Brian and Dana decided that One to One Gulfcoast's primary focus would be the non-profit market. This was a market segment where targeted campaigns could be very effective, and organizations generally had high quality data available. According to Brian Weiner, "This strategy is paying off. We started out with three people, and today have 12 employees. We are printing more than one million variable impressions a month, but our real value comes from the intelligence we add to the overall campaign. We do everything from list acquisition and development to ensuring that the piece gets in the mail. Last year, we focused heavily on multi-channel communications and leveraging personalized URLs. 40%-50% of our campaigns now utilize pURLS as a response mechanism."
When asked about the benefits of a vertical market approach, Weiner likened it to mechanics at Southwest Airlines. He stated, "Southwest has only one plane to service—the Boeing 737. As a result, its mechanics are the best in the world. The same is true here—we focus specifically on non-profits. With a targeted focus, we are the best at generating donations for our clients. We have a great reputation, our territory is well staked out, and we have systematized the process." The results for One to One Gulf Coast illustrate the wisdom of a vertical market focus. Weiner projects that revenues in 2009 will be up 15%-20% over 2008.
Franklin, Tennessee-based TAG is a family-owned business that was launched in 1999 through the acquisition of a small printer, S&W Printing. Co-Founder Adam Bishop had an MBA in International Business and a much bigger vision. The name of the company was changed to The ADAM Group (Advertising Design and Marketing) in 2002, then to TAG Marketing and Recruiting in 2006. This marketing company has a full production facility (offset and digital) and is focused on developing vertical marketing programs for the healthcare market.
To meet the needs of this market, TAG established an organization comprised of former home care agency owners, administrators, graphic designers, and marketing specialists with more than 75 years of combined home care marketing experience. They created a series of automated marketing services designed to drive referrals as well as recruit healthcare workers for home care agencies. The ultimate benefit for the agency is improved sales productivity for new prospect activity as well as a reduced cost for recruiting employees.
TAG has introduced variable data recruiting solutions to help home care and hospice companies attract hard-to-find candidates at a greater return on investment than traditional recruiting methods like print ads and recruiters. Using a "one-to-one" approach, TAG designs highly personalized campaigns that integrate direct mail and the Internet to attract field staff recruits. The solution comes at a critical time when the healthcare industry is experiencing a shortage of nurses, therapists, and other field staff.
Breaking away from the conservative methods widely used in the industry, TAG leveraged variable data logic to personalize each direct mail piece for the individual recipient to drive them to their own personalized Web site (MyURL) for more information and to complete a pre-screening online survey. Images and messages on the direct mail pieces and MyURLs change based on each individual's unique set of variables such as gender, ethnicity, area of specialty, age, and more.
By the end of 2007, The ADAM Group was ranked No. 2,336 on the 2007 Inc. 5,000 with three-year sales growth of 150.9% . The firm was also recognized by the Nashville Area Chamber with a 2008 Future 50 Award. These are given to firms considered to be the fastest-growing, privately-owned companies in the region across a broad range of business categories, including retail, wholesale trade, and healthcare.
The Bottom Line
Service providers are demonstrating that success requires a good understanding of the competitive landscape. Growth companies are evaluating and picking openings that they can own, and they are relentless in enforcing their market focus. As print service providers evaluate their businesses in a difficult economy, differentiation is critical. Now may be the time to pick the right vertical segments and become the best provider in your market niche.