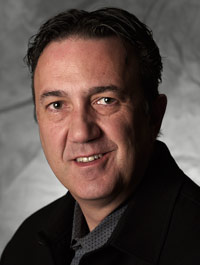 Tukaiz is a family owned and operated supplier of quality marketing communication products and services. Founded in 1963 as a prepress operation, founder, Frank Defino, Sr. always had an innovative approach to media and marketing development. Because of that, today, Tukaiz provides worldwide development for companies in Digital Imaging, Specialty Print and Interactive Media.
With over 125,000 square feet, Tukaiz employs the industry's leading artists and craftsmen, along with the finest technology available in hardware and software solution tools in their field. The company's range of services offers clients the ability to take advantage of complete media flexibility, from design and capture to print and Internet, as well as comprehensive mailing and fulfillment services.
---
WTT: How is Tukaiz dealing with current market demands?
FDJ: The market demands are always changing, and that is a good thing, but it always presents challenges for a company. We have been lucky that the vision of Frank Defino, Sr. provided Tukaiz a culture of forward thinking when it comes to marketing services. It has always put us ahead of the curve in terms of market demand and it puts us in a good place today in spite of the economic conditions. We have the technology and the people to offer the creative, interactive services, data applications programming, and high-quality print production capabilities that the market is demanding; and we can positively impact the marketing activities for a variety of industries.
WTT: Where do you see the biggest opportunities in the future for your company?
FDJ: I see us offering even more of an online presence to reach a broader audience. Right now, we are creating the portals for businesses to have a stronger reach and more control over their creative campaigns. But our plans are to go even one step further to take advantage of business-to-business and business-to-consumer opportunities.
WTT: Describe the role personalization will play in a tough economy.
FDJ: Well, as recent events support, it is hard to predict much when it comes to the economy these days. But I think when it comes to business, certain principles always apply in order to stay successful, no matter how much the economy is fluctuating. You have to know your value proposition … what differentiates your company, and that comes down to what benefits you are delivering and what relationships you continue to build upon.
I think recognizing that the demand for personalization and variable data will be even stronger in the future is very important to the growth of any company offering print or interactive services. It is just going to keep evolving. More enterprises will be using personalization as a way to connect and keep their customers in a tough economy, and they will want to partner with a firm that can consult, control, and manage their data effectively to create these materials, or they themselves will get their data in a manageable format to be used in the most effective way possible. Everything is going to be driven by data and printers of all sizes need to be ready for that. But it is all very exciting. It is a good time to be in this industry.
WTT: Tell us about your environmental strategy.
FDJ: Very soon a focus on being environmentally friendly will no longer differentiate a company. It will be expected. So every printer needs to have these initiatives as part of the business model. At Tukaiz we are committed to environmental responsibility. We believe in compliance to industry standards for sustainable forestry practices and have obtained certification in the Chain of Custody (COC) process. (link to) http://www.tukaiz.com/index.php?option=com_content&task=view&id=110&Itemid=63
WTT: What effect has digital had on your business?
FDJ: Our digital business is strong. We helped pioneer and launch digital print to the industry in 1994. Marketers are excited about using everything that is new and innovative like structural graphics, clear envelopes, new print technologies, picture personalization, and PURLs. I think as technology becomes more widely available, more robust marketers will figure out how to take advantage of those elements and narrow it down to use in their own focused marketing campaigns.
WTT: Tell us about your customers.
FDJ: Our customers are advertising agencies and corporate America. They are looking for innovative ways to engage customers that cut through the clutter. Our infrastructure includes Imaging, Print and Interactive services including prepress, color correction, retouching as well as offset, digital, large format and banner printing, web-to-print, data development, website development/hosting, e-learning solutions, finishing, mailing and fulfillment services. So whatever their challenges are, we are prepared to meet them with a solution that makes sense