Digital inkjet has been heralded as a keynote technology of drupa 2008, and correctly so. Less showily, but no less pervasively, offset lithographic presses will define drupa in their own way—but's let's preface this roundup of offset press highlights at drupa with a tale of two printers.
This will be the best-reported drupa in history. Four years ago, we in the trade media didn't have the blogs, the digital video, and the other e-news resources that we rely on so heavily today.
In March, we heard the sad news that one of the country's best known and most respected book producers was closing its doors after more than 50 years in operation. Loss of business to China was the principal reason, but one of the owners of this New England-based company told a local newspaper that old equipment was partly to blame—he and his partners couldn't afford to spend what it would have taken to make the plant technologically competitive.
In the same week that this story appeared, I interviewed a printer in another part of New England who was in his fifth month of operating a prototype of one of the presses described below. He'd also invested heavily in digital workflow components from the manufacturer that provided the press.
He told me that as a result, he can complete in one shift what used to take two shifts to produce—without any fall-off in sales. Now he's concentrating on building up his volume to a two-shift level that's commensurate with the increased capacity and efficiency that his technology investment has given him. This will be a challenge, to be sure, but it's a nice problem to have.
I think that in the contrast between these two outcomes, we hear all that we need to hear about the urgency of bringing process automation and the techniques of digitally integrated manufacturing to printing. From now on, more than any other factor, digital automation will spell the difference between printing companies that continue in business and those that pass from the scene. It's a transformation that all of us journalists and analysts will be addressing, from one perspective or another, in our reporting from drupa.
It's impossible to pick a credible top-10 list at an event as rich in press technology as drupa, and what follows is by no means a comprehensive guide to offset lithographic must-sees at the show. Some of the press manufacturers we contacted for this story either didn't respond or had pre-drupa news embargoes in effect. The press makers who did respond haven't shown us all of their drupa cards, and there will be unveilings at the show that we don't yet know about.
So, our apologies to manufacturers that aren't included or that don't see every one of their drupa products mentioned here. But, never fear: the good news is that this will be the best-reported drupa in history. Four years ago, we in the trade media didn't have the blogs, the digital video, and the other e-news resources that we rely on so heavily today. These tools will enable the stalwarts of the WhatTheyThink editorial team to bring you timely, continuous coverage before, during, and after the show. For now, here's an alphabetical sampling of what I'll be tracking on the offset side.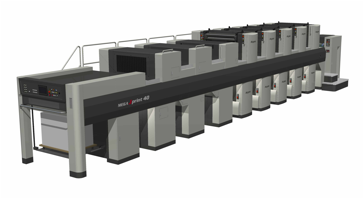 Akiyama International (hall 4/stand E11) introduced the world's first non-convertible perfecting press, the Jprint, in 1994. JPrint's linear transfer arrangement and upper and lower unit design makes it possible to print both sides of the sheet in one pass, maintaining the same gripper edge of the sheet throughout the run. A new version, the MEGA Jprint series, will be presented at drupa. The MEGA JPrint presses offer enhanced color control, faster running speeds and numerous improvements in sheet feeding, travel, and delivery. At the Akiyama stand, you will see a 40", double-coater equipped model similar to the one pictured above.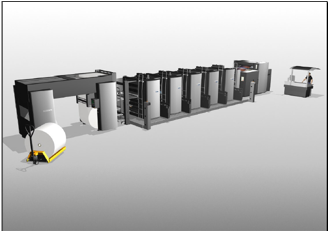 Goss International (17/A76) will demonstrate what it is calling a new "sheetfed alternative" press at drupa. The Folia system, consisting of a Goss M-600 web press and a sheeter specially designed by VITS (17/66), is said to be capable of producing up to 30,000 27.5 x 40" sheets per hour. Goss says that the sheeter permits web printing on coated stocks with standard sheetfed inks, but without a dryer. Eliminating the dryer means that the length of this blanket-to-blanket press can be equal to that of an eight-unit long perfector. The Folia system will be available with automatic plate changing, digital inking control, closed-loop color management, and other features associated with high-end sheetfed printing.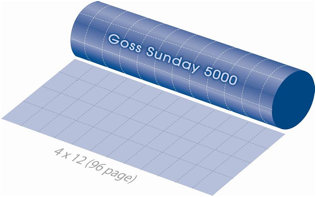 Above is a diagram of a cylinder from what Goss says will be the world's first 96-page web offset press—a four-unit Goss Sunday 5000 with a four-around, 12-across page configuration and a 112" web width. The press can't be recommended as a must-see item at drupa, because it won't be there. It is, however, scheduled to go into operation at a commercial printing company in Italy toward the end of this year, and Goss will be happy to talk about it at the show. The press will use gapless blankets to eliminate vibration and stabilize the form across its 9.3' printing width. Goss will install it with automated plate changing, digital inking, and systems for automated presetting, waste reduction, and workflow management.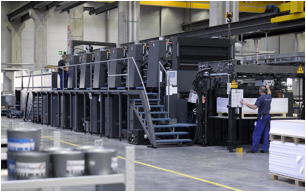 As usual, Heidelberg Druckmaschinen AG (halls 1 and 2) will be the largest single exhibitor at drupa, filling two buildings with about as much prepress, press, postpress, and workflow technology as two buildings on the drupa fairgrounds can hold. Hall 2 is the place to see the most significant additions to Heidelberg's Speedmaster press line in many years. These include a new class of very large format (VLF) presses; and a wholly new platform in the 29" range. The VLF presses are designed for high-volume packaging, publishing, and commercial work. The two models now going into production—the 41.73" x 57.09" XL 145, and the 47.64" x 63.78" Speedmaster XL 162—can run a broad range of stocks at up to 15,000 sheets per hour. A six-color, coater-equipped model of the XL 162 will represent the VLF family at drupa.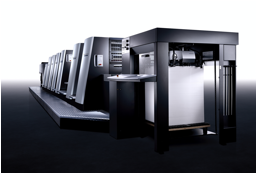 Heidelberg hasn't forgotten its roots in the half-size sheetfed market, and for this segment, it will introduce a new best-of-class performer in the 29" range: the Speedmaster XL 75. Heidelberg has designed the press for extensive automated presetting, running speeds as high as 18,000 sheets per hour, and customized finishing with UV coating, inline cold foiling, and flexo printing units before the offset units. At drupa, the Speedmaster XL 75 will be shown in a six-color, double-coater configuration and as a 10-color perfector. It will be available with up to 12 printing units plus coater in both the straight printing and perfecting models.

Koenig & Bauer AG (KBA, 16/B45) has been producing large-format and very-large-format presses longer than any other manufacturer, and it remains the sole supplier of large-format perfectors. At drupa, KBA will showcase its expertise in two-sided large-format printing by demonstrating eight-color perfecting on a 56" press, a Rapida 142. The print length of the 64" Rapida 162a perfector has been extended to 46", which means that the full sheet format can now be used in perfecting mode.
At a recent demonstration at the KBA factory in Germany, three jobs of 500 sheets each were completed in less than 16 minutes—including 24 plate changes—on the press in the photo, the new Rapida 106. This 29½" x 41¾" press is automated with dedicated drives for the plate cylinders, the feeder, and the infeed. It also has a feature that can set zero register on all plate cylinders by reading a registration mark imaged in the gripper margins of the plates.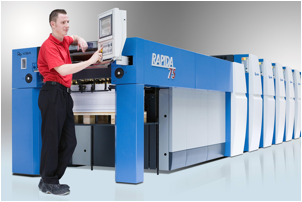 The new Rapida 75, a 20½" x 29½" press, also comes in a 23¾" size for label and packaging applications. The Rapida 75 lives up to the "rapid" in its name by running at up to 15,000 sheets per hour in two to eight colors. It has many of the advanced features of the larger Rapidas, including automatic ink density measurement and control from the console.

Komori (15/D04) is promising that its System 38S 16-page web press will take makeready on web offset presses to new levels of efficiency. It will be shown at drupa with a high-speed single chopper folder and, for the first time, the new Komori flying paster. The System 38S gets its quick-changeover capability from KHS-AI, a Komori technology that uses artificial intelligence to help the press "learn" the most efficient ways to recalibrate itself from job to job. It also will be integrated with PQA-W, a quality monitoring and control system to be launched by Komori at drupa.

Komori's major announcement on the sheetfed side is the new LSX40—a 41" press with a host of new productivity enhancements. It has a higher speed and a larger sheet size than other Lithrone 40s, fully automatic plate changing with non-stop plate removal, and integration with the KHS-AI fast-start system. Komori also is introducing a half size press that can be equipped with inline UV coating, foiling, diecutting, and embossing: the Lithrone SX629. Komori says that this press, which permits six-up printing of letter-sized pages, can be useful for labels, small cartons, book covers, and packaging for CDs and DVDs.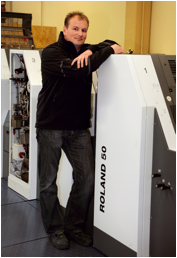 At drupa, the biggest news from MAN Roland (6/D28) will be its smallest press ever: the ROLAND 50, an all-new product that's being billed as the press that delivers the technology of MAN Roland's XXL platforms in a 14" x 20" format. Double-wide impression cylinders, the ability to handle substrate thicknesses from 0.04 to 0.8 millimeters, and automation for one-man operation are among the promised selling points of the ROLAND 50, built by MAN Roland in acknowledgment of the fact that the world market for small-format presses is greater than the market for large-format equipment.
MAN Roland also will announce the sales release of a perfecting version of its largest sheetfed press, the 64" ROLAND 900 XXL. News from the web side of the business includes the recent installation of an 80-page LITHOMAN at a commercial printing house in Germany. Like Goss, MAN Roland has its sights set on 96-page production, and it will make a concept presentation of a 96-page version of the LITHOMAN at drupa. Like the Goss product, the 96-page LITHOMAN will have a web width of 112".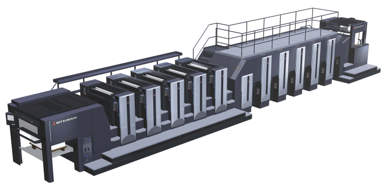 At drupa, Mitsubishi (15/D42) will be exhibiting the largest number of printing units the company has ever brought to a single event. All presses are sheetfed models from the new 41" DIAMOND V3000 Series. The lineup will include a straight printing, six-color DIAMOND V3000LX with coater and extended delivery; an eight-color DIAMOND V3000R convertible perfector; and a ten-color DIAMOND V3000TP Tandem Perfector (pictured above). The new convertible perfector, the V3000R, and the dedicated perfector, the V3000TP, are rated at what Mitsubishi says is the fastest perfecting speed in the world: 16,200 sheets per hour. The V3000TP will be equipped with SimulChanger, a fully automatic plate changing system that removes old plates and mounts new plates at every unit simultaneously in less than 75 seconds.

RYOBI (17/A06), distributed in the U.S. by xpedx, will enter the full-size sheetfed market by introducing its 1050 series at drupa. The 16,000-sph press will be offered in two 41" sheet formats with inline aqueous or UV coating. RYOBI says that a perfecting version will be available in 2010. RYOBI also will display its new inline UV casting and foiling system on a 29" 750 series press. This system irradiates special films and foils with UV light to produce the effects inline at running speeds up to 15,000 sph. When it isn't needed, the casting and foiling unit can be swung out of the way on an overhead crane.
In articles to come, we'll try to analyze the extent to which these developments can keep offset lithography competitive with inkjet and the other non-impact technologies that are making a serious play for large-format, high-speed printing in four-plus colors—work that, once upon a time, either got done on an offset press or didn't get done at all. In the meantime, let us know what you'd like to hear more about from drupa. Are you a North American printer who'll be attending the show? Please contact me at the e-mail address below so that we can arrange an interview at Messe Düsseldorf. We're eager to share your take on drupa with the entire WhatTheyThink audience.
Please offer your feedback to Patrick. He can be reached at [email protected].