Appointed to Board of Directors of Presstek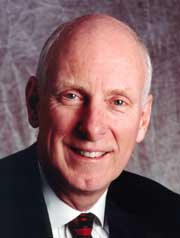 Industry veteran Frank Steenburgh, who is often called DocuFrank because of his role in launching the Xerox DocuTech to the world, retired from Xerox at the end of 2005. We expected that he might spend more time on the golf course, run his boat around Keuka Lake in the Rochester, New York area, and perhaps do a little consulting. But this was not to be. First, Frank started a consulting business, then he joined Rochester's ColorCentric as Chief Marketing Officer (CMO), and recently, he was appointed to serve on the Board of Directors of Presstek. WhatTheyThink caught up with Frank recently to learn more.
---
WTT: Frank, great to speak with you and thanks for taking the time. First of all, I wondered what were the key drivers that moved you to become the CMO of ColorCentric after retiring from Xerox?
FDS: John Lacagnina, the founder and owner of ColorCentric, is an entrepreneur. His first company was Entire. His last company, his fifth, had more than 20 DocuTechs in one room and he sold that to Kinko's for use as one of their production facilities, or CPCs, and then he retired. When I took over the iGen3 program at Xerox, I called him the same day. The next day, I met him at 6 AM for breakfast, took him to see the iGen and meet with Tony Federico, and told him he needed to go start another company .
I guess retirement was not in his immediate future, either. He called a few weeks later to order iGen3's and he started ColorCentric. The company is all digital, has been in business for 4+ years, and focuses on three markets, digital books, digital photo applications and marketing collateral. In the area of digital books, ColorCentric has a strategic partnership with Lulu.com. Bob Young, who was the founder of RedHat, the Linux company, founded Lulu.com, and was brought on as the second person on ColorCentric's Board, after John.
Subsequently, John asked me to join his board, and subsequently we added Paul Reilly, formerly of Mail-Well/Cenveo, to the Board.
All three markets, digital books, digital photo, and marketing collateral, are going crazy. You could build a billion dollar business in each one of them.
Late last year, John asked me if I would be his CMO, and in late November of 2007, I said yes. I am still on the board and also CMO. Today, the company has 70 employees.
WTT: With your role at ColorCentric, it seems that you have plenty to do. Why did you decide to join the Board of Presstek?
FDS: There were two reasons. The first one is the leadership at the company. I have known Jeff Jacobson for many years. I think he is outstanding from a performance, people, and business ethics perspective. I am very impressed with what he has done with the leadership team. Also, John Dreyer is Chairman of the Board, and I know him from the Indigo days when he was CEO of Pitman. We have always had a great relationship. My perspective is, if you are going to be on a Board of Directors, it starts with the leadership, and I love what I see going on there.
The second reason is the market opportunity Presstek has in front of it. At one point, Xerox had an agreement with Presstek to market the DI press, so I understood their offerings. I think this kind of digital offset complements pure digital printers in an important way. Jobs can be directed to toner or digital offset depending on run length, cost and time requirements. I think there is a good business opportunity there as offset run lengths continue to decline. And I can help from a business, strategic and go-to-market standpoint.
WTT: Do you have any DI presses at ColorCentric?
FDS: No, we do not. Our mission statement is centered around Quantity One, and we have no finished goods inventory. The type of work we are doing today is not necessarily the type of work that is suited to a DI press. But I wouldn't rule it out in the future.
WTT: What about the CTP side of Presstek's business?
FDS: I think the opportunity is there I look forward to working with Jeff and his team on go-to-market strategies to further penetrate this market. Jeff will also be establishing a strategy committee including some board members and senior staff, and I will be part of that as well.
WTT: How important do you think Presstek's environmental strategy is?
FDS: I think it is critically important given what is happening in the world today and critically important to Presstek customers. Presstek has been a leader in this area, even before it was popular. Not only are most of their products chemistry-free, but they have implemented automation and other workflow enhancements that reduce paper waste, conserve labor and otherwise help the environment.
WTT: Do you regret not being retired?
FDS: No. I am having the time of my life, moving 180 miles an hour, and I can see doing this for two or three years, or more. It is energizing, like the early days of DocuTech, or the beginning of the iGen3 program. It is a great group of people. Many of them have been with John forever, through all of his companies. Steve Lacagnina, John's brother, is the COO.
WTT: What do you see as the competitive advantage of ColorCentric?
FDS: The company's mission statement, as I said, is Quantity One—simple and to the point. Steve is responsible for implementing most of the workflow and manufacturing productivity, which is really the competitive advantage for ColorCentric. The entire system was designed for Quantity One. They produce thousands of orders every day that are automatically routed into cells. For example, a color document that needs to be perfect bound would go into a cell with an iGen and perfect binder. No one touches anything until the product is ready to ship. The average run length for books produced for Lulu is 1.7. ColorCentric can do this better and more profitably than anyone in the world. There is no finished goods inventory; everything is shipped right after the manufacturing process is complete. The company promises 48 hour turnaround time, and for an uptick, product can be shipped within 24 hours or the same day. John has always had positive cash flow and profit at the end of year one in all of his companies, and the same applies to ColorCentric.
WTT: What type of equipment does the company have?
FDS: We have three iGens, a twin-engine Xerox Nuvera, some DocuTechs, a couple of Indigos and one NexPress. The choice of equipment is driven by customer requirements. For example, in terms of the digital photo opportunity, Kodak has a lot of relationships with professional photographers, as does HP, and you often must produce output for these customers on the products they specify. Those companies are pushing hard with their customers to make sure that volume comes their way. That is why John has all three platforms.
WTT: Will you be attending drupa?
FDS: Right now, I am not planning on adding another drupa to my life. I am already tied in to most of the announcements and in constant contact with the suppliers. Our market, for the most part, deals with affinity sites. Most of our customers have come into being in the last four to five years, like Lulu, Qoop and Blurb. We do the B2B part for them, and the affinity sites do the B2C part. They aggregate demand, and our strength is in integrating their workflow into our workflow for efficient and cost-effective production. Most of the companies we deal with will not be at drupa, or are going there to learn more about the technologies. On the other hand, PMA and the book shows are big for us. We look for those opportunities.
WTT: As an industry luminary, what do you think people should be looking for at drupa?
FDS: Obviously, the inkjet technologies and especially the solutions and applications inkjet is enabling, like TransPromo. drupa will see also see an increase in continuous feed products, both color and black & white. There is a lot happening in wide format and UV printing, and those are areas that are going to play big. I think you will see evolutionary announcements from HP, Kodak, and Xerox, a lot of what you would expect to see in terms of expanding product capabilities. It all boils down to what are the solutions you can bring to target markets to get cost benefits, productivity or revenue generation in key business areas.
WTT: What else are you looking to do at ColorCentric?
FDS: One of the markets I want to go after with ColorCentric is colleges and universities. Lulu and ColorCentric worked together at RIT to set up a front end that any of the professors can use to produce a book. That is one application that I want to cascade across colleges and universities to make publishing more readily available and affordable for professors. But it goes farther than that. You can talk to colleges and universities about course notes, books and theses, but what moves you to strategic relevance is when you can talk about how you leverage digital color technology to develop a solution that improves business processes by getting at revenue generation in terms of more money from alumni, improved student acquisition processes, cost reduction, or productivity improvement. I believe the next two years are going to produce absolutely phenomenal business opportunities for people in the industry that are willing to take this kind of approach.