As the world's largest printing trade show, drupa is as much about trends as it is about products. With that in mind, I was able to find the time to cruise some of the halls, and there was some cool stuff to be seen. Not that I claim to have seen it all, mind you, but I wanted to share some of it with our readers. Where to start?
3D Applications
I have been watching the evolution of 3D software for the last few trade shows, and it is getting easier and easier to create and deploy 3D applications. In fact, as I mentioned in my last article, Adobe has incorporated native 3D capability into PDF 9.0. But if you are looking for an easy-to-use 3D application that has some added flexibility, check out FFEI's RealVue3D family. FFEI spun out from FujiFilm and now operates as an independent UK-based company. RealVue3D is a slick application that comes in a consumer-oriented Photo edition as well as in a Professional Edition. Following a demo at the show, I took the opportunity to download the Photo Edition, which sells for £95. This allows you to assemble an album of photos and display them in a 3D photo album, with page turning capability, variation in thickness and color of cover and glossiness of the inside pages. The resulting .jar file operates independent of the application using Java and can be shared with others or posted to the Web. Andy Cook, General Manager of FFEI, who was kind enough to demo the application for me, indicated that the company was not looking for huge sales volumes from this consumer application, but I think they are missing the boat if they don't promote it aggressively. With all of the interest in photo applications, and the deluge of digital photos in cyberspace, this easy-to-use 3D photo album creator is a very easy to use and affordable solution that seems like it would be rapidly adopted by a variety of users. Here is the quick photo book I put together after downloading the software.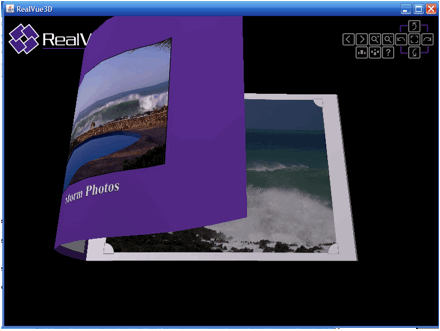 For a more sophisticated solution, the Professional version allows increased flexibility, including the ability to add various colors of foil, textures, and to adjust for ambient lighting. In addition to being able to deliver 3D document images for various uses, the application enhances the ability to deliver complex soft proofs of a wide range of applications.
You can download a trial of the software. Images will bear a watermark until it is purchased and registered. This is well worth checking out!
Grabbing the BISON by the Horns
Watch for my next article where I will talk about Mehrkanal's BISON application in the larger context of the upstream migration of capabilities that places more control in the hands of the document owner or print buyer. There were a number of print-buyer-specific applications being shown in the drupa innovation parc amongst the 100+ companies demonstrating there. Although I have to admit that I did not visit all 100 companies, the Mehrkanal application particularly caught my eye.
BISON stands for Brand Integrating System Online, and is a very simple interface that can be used by organizations to execute a wide variety of marketing campaigns, ranging from web banners and email campaigns, to TV, SMS and even print. The brand owner establishes the campaigns and templates for each channel of communication, and the agent or franchisee simply enters a price, selects a motif, chooses the channels and is done. An agent or franchisee can literally launch a multichannel campaign in 10 minutes or less. If there is a printed component, a PDF is sent to a predetermined print service provider partner, with a mailing list, if appropriate, to get the piece produced and in the mail. I was told by several purveyors of this type of application who were exhibiting in the innovation parc that their efforts were motivated by the perception that print service providers were not moving quickly enough to adopt web-to-print and other multichannel capabilities and marketers wanted more than was being offered by the printers. They were, in effect, grabbing the BISON by the horns and taking control. More on this later …
Taking Integrated Marketing Campaigns to a New Level
Kodak continues to add unique solutions to its portfolio. At drupa, I spent a significant amount of time looking at the latest iteration of KODAK INSITE Campaign Manager, expected to be available early next year. While it can be deployed to marketers or agencies as a standalone application, it is designed to link into KODAK INSITE as part of an end-to-end solution.
There are lots of campaign management solutions available, but what is different—and very powerful—about this one, is the built-in data analysis component. It uses a methodology called Multivariate Interaction Detection (MID) that analyzes campaign results to better structure an ongoing relevant dialog with recipients. The example used in the demo was a beer taste test. Based on the results of the taste text, the responses were automatically categorized based on whether or not respondents liked the beer and how they rated certain attributes of the beer. The system operates in four areas:
Campaign Data: manages and organizes marketing campaigns for print service providers on behalf of their customers
Customer Data: provides framework to consume, cleanse, correct, and process client data
Enhanced Data: provides framework to enhance client data by leveraging geo-demographic data
Knowledge and Insight: uses an analytical engine to leverage client data to create marketing campaigns
Kodak hired a data mining expert, Serge Grichmanoff, to help in the development of this solution. Almost every other solution I have seen relies on an external data mining application, but this one has it built in. As I was watching Serge work through the application, it reminded me of the Geico commercial: It's so easy a caveman could do it. Here is an example of what the analysis looked like in the beer example: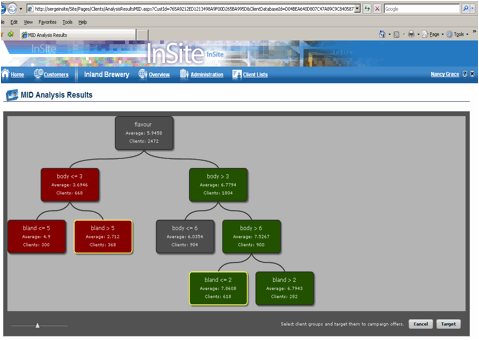 The red boxes represent those who did not like the beer based on the attributes specified (flavor, body, blandness), and the green boxes represent those who did like the beer. Gray boxes are fence-sitters. Each box displays the sample size that fits into that category, and the marketer simply needs to click on one of the boxes to select the underlying data and send the next phase of the campaign to that audience. For example, for the 368 respondents who did not like the beer and complained about its blandness, the marketer may want to follow up with a promotion for a different beer that doesn't have the blandness attributes of the tested brand. For the 618 respondents who liked the beer and did not think it was too bland, a discount coupon might be sent or they could be directed to a personalized Web microsite to take advantage of certain offers.
As the marketer lays out the initial campaign, the attributes to be measured and the responses to be sent to each category can be planned in advance, so that subsequent stages of the campaign can be executed with a few clicks of the mouse. Alternatively, the stages of the campaign can be designed on the fly based on responses.
This is an amazing piece of work, assuming it actually operates as advertised, and I have no reason to think it won't. It takes the complexity out of the data mining process and makes it extremely easy for the marketer, in partnership with the printer, to design and execute a multi-phased marketing campaign, all in one tidy package. The application will be available in early 2009, and is well worth monitoring.
Automated Books on Demand
There was lots of attention give to books on demand at drupa, as this application becomes increasingly attractive to authors and publishers. Among others, Xerox, Kodak, HP, and Océ were showing books on demand. But the coolest books on demand application I saw was from a small company exhibiting in the drupa innovation parc, Pro-Book. This hardware/software solution is capable of accepting input from up to four digital printing engines and marrying the books automatically with covers drawn from five different trays. Each book block can actually be a different book, and the system can produce up to 2000 books an hour with two people managing the process. If the books are lower quantity counts, the system slows down to perhaps 700 books an hour for one-off books because of the time required to readjust the finishing equipment. But still … Each book block is measured and the perfect binding system is automatically adjusted for its spine width and measurements. The correct cover is selected, and the book is bound and trimmed. It can handle the production of both hardcover and softcover books. Cover stations are set up in batches with covers preloaded in the appropriate quantity and order. Cameras and barcodes are used to ensure that the right cover is married with the right book block. The company was founded by a bookbinder who took time off from his two book binding businesses to develop this automation idea. Way cool …
Cool Color
Pantone/X-Rite can always be counted on for cool stuff, and they had lots of it at drupa. Of course, they were showing their innovative ColorMunki, which we have written about before on WhatTheyThink. We also interviewed X-Rite's President & CEO, Tom Vacchiano, on video describing the ColorMunki with one in hand. Another cool announcement X-Rite made was a complete optical brightener correction solution designed for use in conjunction with X-Rite's i1iSis family of automatic spectral chart readers and ProfileMaker or MonacoPROFILER profiling software. It allows users in color-critical proofing and printing environments to effectively and precisely compensate for color shifts in custom ICC output profiles caused by Optical Brightening Agents (OBAs) in papers and other printing substrates.
Speed Dating at drupa?
While this isn't exactly an example of a cool application, European PR firm Duo Media deserves credit for a creative press conference approach. Called a Speed Conference, this innovative press conference brought together six Duo Media clients who were on the small side to be able to conduct an effective press conference on their own, either due to cost, or due to a concern that amidst all of the competition at drupa, the draw would not be that large. Instead, each was given 12 minutes to peddle their wares in a speed-dating approach to a press conference. This was a win/win for the media and the Duo Media clients. As a member of the media, I sat through presentations I would not otherwise have attended—what was I going to do? Walk out for 12 minutes? And for the clients of Duo Media, they got press attention that they likely would not otherwise have received. The presentations were, of necessity, concise and meaty. And I learned a few things sitting through them!
Participants included
Atlantic Zeiser, a company that specializes in industrial, high-security personalisation and encoding technologies for applications such as banknotes, providing the solution that puts those serial numbers on your dollar bills. The company's solutions also are used in the manufacture of passports, identification materials, phone cards and more.
Compose, a developer of prepress workflow and digital color proofing solutions, including ExpressRIPa high performance solution that can be interfaced to over 200 different output devices, and delivers maximum speed and full workflow compatibility.
Crossroads, a multivendor initiative established by Gradual Software prior to its acquisition by EskoArtwork and which the company has decided to continue. Its focus is on ensuring trouble-free automation with multivendor solutions, using Gradual's (now Enfocus) Switch solution as the central control point. The group has been conducting automation seminars in Europe and will begin bringing those seminars to North America at Graph Expo in the fall.
DP Lenticular, a manufacturer of lenticular substrates. This informative presentation was a primer on how lenticular printing works, something I have to admit I never really understand before.
Gandinnovations, a manufacturer of grand format digital inkjet solutions;
Press-sense, a supplier of Web-to-print and "business flow automation" solutions, who was proud to announce at the session that it has added to its portfolio of strategic partners and now sells its solutions through Xerox, Presstek, the Infoprint Soltuions company and HP.
This was a terrific concept, and a good use of the limited time the media has at an event such as drupa. I hope other agencies will consider this approach at future shows.
Your Chance to Recognize Print Champions
If you are a CNN junkie like I am, you will have seen their process for nominating and recognizing Heroes, ordinary people who have an extraordinary impact. As they gear up for IPEX 2010, the show organizers have launched the 'Champions in Print Awards' to acknowledge the huge contribution of those who have influenced and shaped the development of the printing industry. This is your chance to get involved and to recognize people who you believe have made an important contribution to the industry. Between April 2008 and IPEX 2010, anyone in the industry is invited to nominate any living person who has made an outstanding contribution to print anywhere in the world—the key being a living person, so, no, Johannes Gutenberg can't be your nominee! But there are plenty of great people to nominate, and I already know who is at the top of my list! Every quarter, the IPEX Advisory Committee (IAC) will debate the nominations and announce a winner for that period, resulting in the designation of ten 'Champions in Print' in the run up to IPEX 2010. Don't miss your opportunity to contribute to this important effort.
drupaCube
drupaCube was an effort on the part of the show company to attract more buyers and specifiers of print to the show. The first floor of the building was set up in a cool club environment with food, drink and music, and provided an after-show-hours club people could partake of as well. I don't stay up that late, so didn't see how that went. But it was also set up in an art gallery kind of format that displayed a number of print applications produced by well-known brands so that visitors could see print in action. A very well-done and informative set of four booklets was made available to visitors (in German and English) that described each application area along with case studies and statistics that showed the value of print for that specific application area. Upstairs there were a wide range of seminars conducted by experts, and print buyer visitors were also given a customized tour of the drupa fairgrounds. This first year, seminars were only in German. Perhaps in the future, this initiative will be expanded, along with the marketing efforts to drive more buyers of print to the show.
While this doesn't even being to scratch the surface on cool at drupa, I hope it gives you a flavor of some of the unique things being shown. The innovation parc concept is an idea that I hope other show companies will adopt, giving both exhibitors and attendees the opportunity to see cool emerging products and services that they might not otherwise hear about.
Start planning now for drupa 2012!