The marketing momentum of Graph Expo continued last week with the inaugurations of two major new facilities for product presentations: the Ryobi press demonstration and learning center in Lenexa, KS; and Agfa Graphics' Inkjet Competence Center in Branchburg, NJ. Agfa also is expanding the capacity of its plate production line at the Branchburg facility, which will be covered in a separate article along with the new inkjet installation.
At its headquarters in Lenexa, a suburb of Kansas City, xpedx Printing Technologies will formally open a 20,000-sq.-ft. wing for Ryobi equipment on Oct. 22. Members of the graphic arts trade media were given an advance tour of the facility on Oct. 1. The center, which will house a rotating assortment of Ryobi presses, also will provide training in value-adding printing techniques, production standards such as GRACoL G7, and environmental responsibility.
Visitors also will be invited to participate in an ongoing "Ryobi print test challenge" by bringing tough-to-run files for output on presses installed at the center. In this way, xpedx hopes to showcase the ability of Ryobi equipment to print fine screens and heavy solids on thick and otherwise challenging substrates. The precision construction, automation, and mechanical quality of Ryobi presses also will be emphasized, as will their ability to be configured for UV printing and other specialty applications.
Invitation to Compare
The opening of the center is a part of a continuing campaign by xpedx to raise the competitive profile of the Ryobi press line, for which it is the exclusive distributor in the U.S. Ryobi, a diversified Japanese manufacturing company that built its first branded offset press in 1961, now offers two-, four- and six-up platforms that xpedx Printing Technologies sends to market through a network of 50 dealers nationwide. An eight-up addition to the Ryobi family, the 920 series, was announced at Graph Expo.
Guy Belew, vice president of marketing for xpedx, noted that more than 17,000 Ryobi presses have been installed in the U.S. over the last 30 years in an arrangement that began when a paper merchant, later acquired by xpedx, became the sole American distributor for Ryobi equipment. Today Ryobi presses are the centerpieces of xpedx's graphics portfolio, which also includes digital workflows and a broad assortment of hardware, software, and consumable products for graphic imaging and offset printing.
More than 17,000 Ryobi presses have been installed in the U.S. over the last 30 years
Belew gave a general overview of xpedx, a $6.7 billion, 7,000-employee distribution company that represents about one-third of the total business of its parent, International Paper. According to Belew, paper represents about 60% of xpedx's annual sales volume, with packaging services (20%), "jan/san" facility supplies (15%), and graphics (4%) furnishing the remainder.
The largest North American distributor of printing papers, xpedx serves commercial printers, small/quick printers, publishers, and in-plants through a variety of retail and merchant channels. xpedx significantly expanded its capacity to supply the commercial and packaging markets with the acquisition of Central Lewmar, a $900 million paper distributor, in August.
Belew said xpedx also uses its national footprint to provide logistics, warehousing, and packaging services to product shippers, importers, and retailers. xpedx also has a burgeoning e-commerce operation that is expected to transact $1.4 billion worth of online orders this year.
Ryobi fits into this complex scenario by furnishing presses that printers can acquire from the same general source that sells them paper and other day-to-day supplies. However, xpedx leverages the local nature of these relationships by relying on its Ryobi dealer network to provide service and technical support. xpedx claims that this model is superior to centralized, manufacturer-run service operations because it assures Ryobi customers of responsive, close-to-home support when assistance is needed. xpedx supplements the dealers' efforts in the field with a parts inventory that can ship overnight to almost anywhere in the U.S. from Lenexa.
Heritage of Precision Manufacturing
Visitors to the new center will learn that Ryobi presses come from a company with more than 60 years of experience in metallurgy, precision molding and finishing, and machine assembly in an integrated manufacturing environment. Over the years, Ryobi has made presses for branding and sale by other press manufacturers, and it continues to produce press components used in platforms other than its own.
Today, Ryobi's graphics systems division accounts for about 12% of the business of the Ryobi Group as a whole, which also specializes in diecasting, power tools, and builders' hardware. Its main press manufacturing facility in Hiroshima, Japan, recently completed the second of two major expansions undertaken within the last 18 months.
Today, Ryobi's graphics systems division accounts for about 12% of the business of the Ryobi Group as a whole.
During the Oct. 1 media tour, Tim Kirby, Darren George, and other xpedx Printing Technologies personnel pointed out numerous features of Ryobi presses that they said were equal in sophistication to press technologies from any other manufacturer. They also noted that Ryobi is unique in offering "flagship" and "economy" models in each of its press lines—versions sharing the same basic design and construction but with sets of options for both ample and moderate budgets.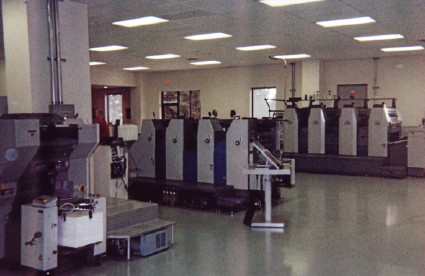 The interior the new Ryobi demonstration and learning center, Lenexa, KS.
Installed in the spacious, well-lighted, and laboratory-clean demonstration center was a cross-section of Ryobi small-and medium-format equipment: a 13" x 18" 3404E-DI digital offset press; a four-color 524HE and a five-color 525GX with coater, both 14" x 20", two-page presses; and, in the six-up, 24" x 31" format, a six-color 784E and a coater-equipped, five-color 755. Over time, these presses will be replaced by other equipment to permit the entire product line—including a press from Ryobi's eight-up, 24" x 36" 920 series—to be cycled through the center for display.
The better to support the live operation of this equipment, the facility will have a complete prepress capability including platemaking and digital workflow management. Next year, demonstrations will include printing with UV, spot- metallic color, chemical embossing, and lenticular special effects.
Points of Technical Interest
Visitors can expect thorough briefings on the functions and features of each press shown. Details gathered during the Oct. 1 media visit included the following:
In the six-page 750 and 780 series, cylinders are configured to minimize the number of gripper changes the sheet must undergo as it moves through the press. Larger cylinders mean fewer sheet transfers and, as a result, less risk of marking, misregistration, doubling, and slur. Six-page Ryobi presses cut gripper changes with transfer cylinders that are equal in circumference to impression cylinders. Sheets are fully printed prior to transfer—another feature for reducing marking and other defects. A perfecting mechanism introduced at the IGAS printing show in Japan last month also uses double-diameter cylinder design for clean, consistent two-sided printing.
An advanced lubricating system for six-page equipment continuously feeds fresh oil to moving parts without the need for filtering. The system contains enough oil for a year of operation, after which the oil is replaced.
On six-page presses equipped with a chambered anilox coating system, the unit's speed can be controlled from the press console to vary the amount of coating laydown. The coater can be disengaged and removed while the press is running.
Operators of Ryobi multicolor presses equipped for fully automatic plate loading can mount "five plates in three minutes," the visiting journalists were told. Ten-minute makereadies and the space-saving design of presses in the 780 series also were cited as advantages that can help smaller shops step up to full-color production in the six-page format.
Ryobi is positioning the 14" x 20" machines in its 520 series as "digitally automated traditional presses" that are built to produce the same high levels of quality as larger equipment. According to Kirby, who is the national sales manager for xpedx Printing Technologies, the demonstration center will be more than happy to submit its 520 presses to the print test challenge: "We never lose a printing test on our 20" equipment."
Although xpedx admits that automation and increasingly fast makereadies on conventional presses have eroded some of the throughput advantage held by direct imaging (DI) platforms, it continues to offer four versions in its 3404DI digital offset series. xpedx believes that the self-contained, "press-in-a-box" design of DI equipment may appeal most strongly to digitally oriented customers whose primary business is not printing, such as prepress houses, ad agencies, and creative studios.
Related equipment on display at the center included the PDS-E console sheet scanner for printing density control and the camera-based RP780-425M micro-adjustable plate punching system. Also to be demonstrated are Print Job Manager, an MIS for printing, and other Ryobi solutions for JDF workflow implementation.
Postpress and Environmental
Jeff Higgins, director of marketing services for xpedx, said that xpedx would venture into a new area of supply—postpress—through soon-to-be-announced partnerships with manufacturers of cutters, saddlestitchers, and other bindery equipment.
As a paper supplier, xpedx is certified for commitment to sustainable forestry management practices by the three principal organizations that advocate these policies
He also detailed the company's efforts to encourage environmental awareness and sustainability initiatives. Higgins said that as a paper supplier, xpedx is certified for commitment to sustainable forestry management practices by the three principal organizations that advocate these policies: FSC (Forest Stewardship Council), PEFC (Program for the Endorsement of Forest Certification), and SFI (Sustainable Forestry Initiative).
According to Higgins, xpedx has helped about 150 printers to achieve FSC certification for chain-of-custody compliance by referring them to Bureau Veritas, an independent organization for inspection, testing, and auditing. xpedx also is cooperating with Agfa and Kodak in "green" initiatives, Higgins said, and has produced a video on sustainability for the company's 1,400-member sales force. The demonstration center in Lenexa will have a formal recycling program for paper and corrugated board, he added.