By Jean-Marie Hershey, Senior Editor
June 23rd, 2008 -- First, the bad news: It's not getting any easier to demonstrate the advantages of print over other forms of media. The good news: As we observed earlier in this series of articles focusing on postpress advances at drupa 2008, it is largely by virtue of numerous processes occurring after the press that customers ultimately realize the value of their printed products - processes that put a sturdy, readable book in their hands or provide them with a stunning high-quality visual and tactile experience. From UV coating or laminating to folding, stitching and binding to foil stamping, embossing, die cutting and more, value-added finishing techniques help create the unique effects that lend both conventionally and digitally printed products an irresistible appeal unmatched in today's diverse media mix. In this final installment of our postpress coverage, we take a look at some of the largest and some smaller-but-still significant innovations on display at drupa 2008.
An Idea Germinates Within
Once upon a time, Graham Harris had an idea. The live-wire managing director of Tech-ni-Fold and the inventor of the company's core Tri-Creaser technology is a former factory floor print finishing manager who knew there had to be a way to eliminate fiber cracking of cover stocks on digital, litho and web offset print applications without incurring the expense of professional outsourcing. Harris's idea was to produce a device that would fit onto the most popular folding machines so that a perfect job could be completed quickly and cheaply in-house. And so the device Harris called the Tri-Creaser was born. The company claimed its patented rotary creasing device produced the results comparable to those one would normally expect only from a flatbed cylinder or letterpress die cutter. Word spread and by the time the business was a year old, 200 devices had been sold. By February 2008, that figure had risen to 30,000 worldwide.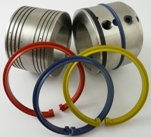 Tri-Creaser technology from Tech-ni-Fold.
Today Tech-ni-Fold maintains a strong distribution network in the United Kingdom, USA, Germany, France, Italy, Spain and Australia, as well as emerging markets in China and India. Over the years, Tech-ni-Fold has steadily expanded its product range to cover other specialized postpress operations; its repertoire now includes nearly 250 unique products designed and sold through the company's many international partnerships. At drupa, the company launched the Turbo-Creaser, billing it as the world as fastest digital creasing and folding machine. Based on rotary Tri-Creaser technology the Turbo-Creaser easily reaches creasing and folding speeds to 18,000 copies per hour, the company says. Tech-ni-Fold also offers the Micro-Perf Cut and Crease Combo, an add-on device for folding machines that performs many functions traditionally produced on flatbed cylinders. The Micro-Perf Cut and Crease Combo incorporates Tech-ni-Fold's proven Tri-Creaser technology and is available for all types of popular folding machines.
Gentle Giants
Brandtjen & Kluge's new V-10 Series 41" Foil Stamping and Embossing Press is a 300-ton, full-sheet press developed for high speed, high-volume foil stamping and embossing. It features a large access door, pull-out drawer for the foil system as well as a brush roller-assisted rewind system with waste bailer. Also new to the Kluge product line is the EHG Series Half Sheet Press with EZ Load, whereby the user can raise and lower the height of the magazine with the turn of a knob. In addition, the Toggle Base Hoist System assists the operator in the removal of the large toggle base for make-ready. Designed to accommodate an image area of up to 22x30" and at speeds of 1700 iph, the EHG Series Half-Sheet Press is available with diecutting alone or with foil stamping, diecutting and embossing capabilities.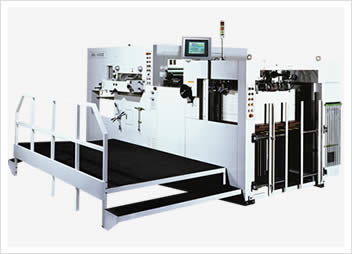 Kluge V-10 Series 41" Foil Stamping and Embossing Press.
Gietz, which has been manufacturing automatic foil stamping presses for 50 years, displayed a photographic retrospective of the company's history alongside its newest technologies at drupa 2008. The company's FSA 1060 Foil Commander high-speed platen press for B1 foil stamping and embossing features the patented Vacufoil foil transport system, which makes it possible to process large-diameter (up to 350 mm) stamping foil reels at speeds to 8,000 sph with a maximum 2.5 second dwell time and 350 tons of pressure. The company also announced the ROFO 910 web-fed foil stamping machine, said to be capable of processing web widths up to 910 mm and offering flat/flat foil stamping and embossing. The ROFO 910 runs up to 100 m/min with short set up times and pre-selectable repeat and print lengths. The result: higher profit margins for both large and small print runs, Gietz says. Also on display: one of the company's original foil stamping presses, manufactured in 1957.
Bound and Determined
Gateway Bookbinding Systems announced the PLASTIKOIL Concept QS2 Dual Interline System, a modular system for in-house plastic spiral manufacturing and automated insertion. The QS2 is said to reach production speeds to 1400 books per hour. It also features a dual-sided crimping unit for coil diameters from 6 mm to 50 mm. The company also unveiled the TCB – Total Cut & Bend, reportedly the only machine on the market that cuts and crimps the full range of plastic spiral diameters with the same crimping heads.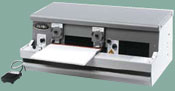 Total Cut & Bend from Gateway Bookbinding Systems.
Spiel Associates' Sterling Coilmaster Jr. is a tabletop unit automatically inserts coil into the book from the first hole onwards, then cuts and crimps automatically. The Coilmaster Jr. enables the speedy binding of books up to 25 mm in diameter with margins up to 3/16 inch, with round or oval holes at speeds to 600 books per hour. No tooling is required.
DIGITAL PRINT FINISHING
The VividCoater from Graphic Whizard marks the company's first foray into UV coating, and is said to offer digital printers a competitively priced coating option. With a standard low-pile vacuum feeder and an optional deep-pile feeder, the of-line flood coater is said to handle sheets from 5.5×8.5" to 21.5×26". The company's CreaseMaster Plus+ or CreaseMaster Platinum also can be used as a feeder for the VividCoater. The company now incorporates large touchscreens with PLC-driven controls in its products, allowing shops to track machine use by operator, maintenance schedules and fault codes.
Morgana offers a line of innovative products aimed at digital print finishing, including the new, fully automated Digicoater micro-format UV coating and priming system. Targeted to on-demand printers, the compact Digicoater is compatible with liquid ink and toner-based digital print engines, as well as with photographic, inkjet and conventional litho printing technology. It handles stocks to 400 gsm in 500mm widths and applies coatings in variable thicknesses. Functions include dual-path coating stations for both matte and gloss varnishes or two differently textured finishes for ease of changeover. Also equipped with fully automatic wash cycle and adjustable universal sheet feeder with optional station for priming paper prior to printing. The company has also upgraded its DigiFold 5000P creaser-folder to produce 5000 creases/hour on A4 stock. It works as a standalone creaser or perforator on stocks to 400 gsm and JDF-ready for integration in automated workflows, the company reports.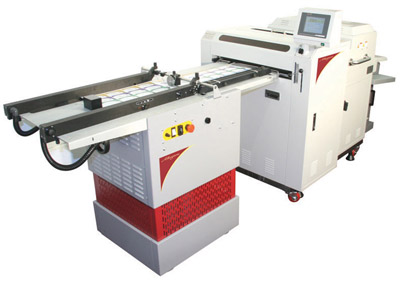 Morgana Digicoater micro-format UV coating and priming system.
The Gift You Can Open Again and Again
On-demand books may get the glory these days, but innovations in industrial-scale bookbinding should not be overlooked. At drupa, for example, Kolbus unveiled the compact, entry-level KM 600 perfect binder for professional bookbinding. Teamed with the ZU 832.A gathering machine and the HD 143.P three-knife trimmer, the KM 600 operates under control of the Kolbus Copilot system to offer an automated and cost-competitive solution for the production of book blocks, paperbacks or any commercial perfect bound items, according to the company. With its top-of-the-range KM 412.E perfect binding line, Kolbus offers another cost-effective, high-performance solution for industrial-scale book production, complete with perfect binder, gathering machine, card gluer, three-knife cutter and palletizer. Another introduction, the new KOLBUS BF 530 book production line, is said to raise industrial-scale book finishing to a completely new level with an integrated book forming and pressing machine and other patented innovations. With its unique machine dynamics, the BF 530 consistently produces premium quality books, thanks to synchronized, positive transport along the whole line, Kolbus says. Finally, the Kolbus range of casemakers, the DA 280, DA 270 and DA 260, deliver peak performance at up to 100 cycles/minute to satisfy the most demanding expectations for professional casemaking. All three systems can be operated ergonomically and cost-effectively by one person and can be coupled with an inside lining machine for inline file production. Short set-up times and easy handling make for competitive unit costs, even when case formats are changed frequently.