By Jean-Marie Hershey, Senior Editor
Strolling through the postpress halls at drupa one had to marvel at the wonderfully complex human behaviors postpress machinery is designed, first to mimic, and then to improve upon. If the aim of postpress automation is to eliminate labor-intensive operator makereadies, diminish variability and error, lend greater consistency to product quality, and increase machine uptime, then postpress manufacturers have spent a tremendous amount of R&D energy between this drupa and the last, streamlining and refining equipment devised to cut, fold, stitch and bind lithographic as well as digital printing. And no, it's not your father's bindery anymore. Below, a survey of selected developments across the postpress spectrum:
The Kindest Cut
Bobst came to drupa with its next generation of equipment and solutions, aiming to make further inroads into the commercial printing market with graduated offerings including the VISIONCUT 106 LE flatbed diecutter; MASTERCUT 145 mid-range diecutter for large-format work; and the high-end EXPERTCUT 106 for diecutting specialists.
Colter & Peterson introduced the Prism-HPM and Saber lines to the international market at drupa. Built for heavy use, the 45-, 54-, and 65-inch Saber paper cutters have chrome-coated cast-iron side tables with low-pressure air control to prevent rust. Prism-HPM paper cutters, available in 30-, 36-,45- and 54-inch formats, feature the Microcut makeready console. An active matrix touchscreen guides the operator through all operations and collects real time system data.
Heidelberg continued to challenge its diecutting competition with a new feeder for its Dymatrix 106/113 Pro CSB die cutter, adding the Preset Plus Feeder of the Speedmaster XL 105 and the DySet Pro automatic feed system that aligns sheets laterally to sheet edge, print image or printing marks before they are transferred to the grippers, reducing the number of sheets and jams. Heidelberg also unveiled the Dymatrix 145 CSB for the 41.74x57.09" format.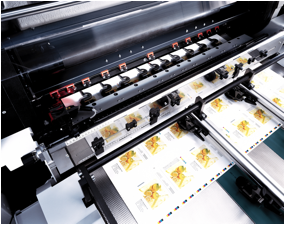 Heidelberg's DySetPro automatic feed system.
The new diecutter features a high-performance feeder, patented register system, moving upper table and electronically controlled sheet brake. Capable of speeds to 8,000 sph, the Dymatrix 145 handles materials from 80 to 2,000 gsm and corrugated board to .16" thick, and is geared for production in conjunction with the VLF Speedmaster XL 145. Software options include web-based Remote Service and workflow integration via Prinect Postpress Manager for Finishing.
Aiming to provide small-medium-sized commercial printers with value-added options without added staff, KAMA outfits its compact die cutters with a variety of multifunctional features. New for drupa was the ProCut 53 with 120 tons of cutting force and hourly output of 6,000 sheets. Applications range from cutting, creasing, perforating and kiss-cutting to finishing with cold embossing and Braille. A hot foil stamping module and a device for hot stamping plastic, both retrofittable, are being developed. The ProCut 53 was also shown inline with the iGen 3 in the Xerox booth at drupa. Refinements for the company's ProCut 74 die cutter included motorized pressure setting and new quick-change system for the hot foil module.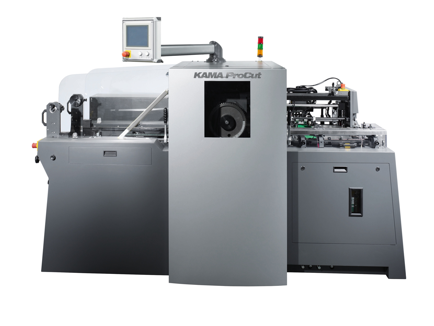 KAMA ProCut 53.
POLAR-Mohr, whose extensive offerings were handsomely showcased in Heidelberg's mega-printshop in Hall 2, added the POLAR L-R-176-T PACE VLF cutting system for use with Heidelberg's new Speedmaster XL 145 and XL 162 VLF presses. The cutting system also includes an automatic jogger designed to meet the demands of large-format cutting and handling.
Schneider-Senator showed the hydraulically driven S-line 137 H high-speed cutter with Trimm-Master, new sheet transport system and turntable technology that enables an automatic four-sided trim. The Senator 137 H is further equipped with a high-end control type CT with large color monitor and touchscreen. All Senator cutting machines with computer control type "CT" are CIP-4 compatible.
Know When To Fold 'Em
Baum introduced several new buckle folding solutions with the company's ifold and AutoSet folding technologies on board. The ifold touchscreen computer provides the operator with professional assistance at the folding machine for setup, operation, troubleshooting, maintenance, and can save up to 100 different jobs derived from more than 30 preprogrammed folds. Using the ifold computer, AutoSet communicates with servo motors on the folder for automatic setup features. Baum also offers automation on the smaller format Flexifold modular folders. The company also showed the all-new Baum 20 IPF Independent Deep Pile Feeder and the PS Creaser for long run production.
Heidelberg's Stahlfolder KH 82 combi-folder with automatic cross-fold unit is said to provide improved stability at speeds to 755 fpm and 30,000 cycles per hour. The company's folding and gluing options began with the Easygluer 100 for printers looking to move into professional production of folding cartons to the new Modular Diana X 115 folder-gluer, which reportedly reaches speeds to 2130 fpm and is capable of producing straight-line folding cartons, cartons with lids and four- and six-corner collapsible cartons.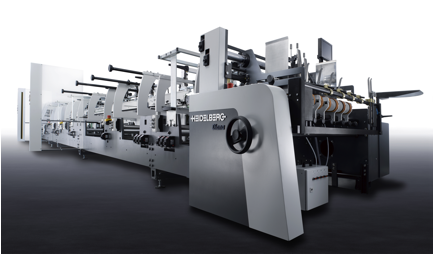 Diana 115 X folder-gluer from Heidelberg.
KAMA's new ProFold 74 folder-gluer with tools for the creation of CD pockets, presentation folders with capacity folds and glued pockets, credit card covers, cross folders, ticket pockets and envelopes.
Based on its popular OmniFold Automatic Folder-Gluer, Brandtjen & Kluge's compact, modular ComFold Folder Gluer reportedly can be customized for individual folding and gluing needs. The company's OmniFold Automatic Folder Gluer itself is designed to maximize converting capabilities while minimizing set-up time. A new Electronic Multi-Sheet Detector (MSD) replaces a mechanical Multi-Sheet Detector for detecting multi-fed sheets.
MBO introduced a pair of half-format buckle folders to its Efficiency line. Designed to handle high-volume print runs, the T535 Efficiency folder is also said to be suitable for use by binderies not working at full capacity in the folding department. The new T 535 Efficiency Automatic is ideal for frequently changing jobs and small print runs, Baum says, with a 15-color touch screen unique in its price class. For large-format printing, MBO has further developed its T 1420 Perfection buckle folding machine. Misprinted sheets which have been color-marked on the printing machine can now be automatically detected and ejected during the folding process. Even more production safety is provided by the ejection of misfolded sheets after the parallel fold, a feature on MBO's T 800 Perfection and T 960 Perfection buckle folding machines. To save time and reduce costs, Remote Access Service (RAS) is now available on MBO folders.
A Stitch in Time
The new full-format Pacesetter 1600 stitcher from Goss International finishes products from digest to tabloid size at speeds to 16,000 books per hour. The shaftless system is built on the same technology platform as the company's Pacesetter 2200 stitcher, introduced in 2006 for magazine formats. All models are designed for high-productivity applications. Servo-driven horizontal or vertical hoppers can be repositioned within systems or among multiple systems. Additional features include a spine register infeed, vacuum opening and full selective binding and inkjetting capabilities.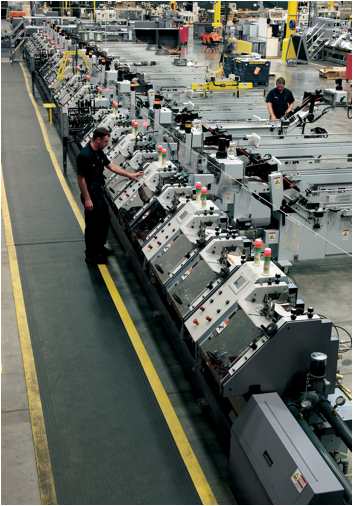 Goss International's Pacesetter saddle-stitcher.
Sticky Wickets, As it Were
Adhesive binding solutions from Heidelberg included the upgraded Eurobind 4000 perfect binder, now with crisscross delivery, back stripping station, closed PUR nozzle application system and new Eurotrim 4000 automatic three-knife trimmer. With its glue-gun PUR system and Eurotrim 100 automatic three-way trimmer, the Eurobind 1300 PUR line for high-quality business reports, catalogs and magazines is targeted to print shops and finishing specialists that produce small and special editions.
Wohlenberg offered a new version of its Master e Edition 8000 perfect binder with dynamic drive technology, KRF cover feeder, VSS-foredge gatefold trimming device, PUR-valve side gluing and new ConditionPro system for real-time monitoring of machine conditions. It was shown with an optimized Streamer gathering machine, with new functions for pile-forming and hopper-loading and new Winspector camera inspection system for false sheet recognition and barcode reading. Also new was the City e Edition 6000 mid-range perfect binder, shown with the Sprinter e gathering machine with foredge trimming device and trim-tec 60i three-knife trimmer. The company also showed its high-performance compact Quickbinder, which works with hotmelt, cold and PUR glue, and features an optional gauzing station.
On June 23, we'll look at advances in book production, foil stamping and embossing, coil binding, UV coating, creasing and digital finishing.