Labels at Xeikon and Océ Speeds up
When I left you last I was headed over to the Xeikon stand to see what they had to show off, as the company is on a mission to carve out a bigger share of the digital print market with its 5000plus, 6000 and 8000 family of continuous feed digital presses. The company has been running a variety of applications on these machines here at drupa, using a direct marketing campaign for a (fictitious) auto parts chain on the 8000 and customized photo book on the 6000. Both were good examples of how a print provider could expand what they can do and showed off the flexibility of the big red boxes from Belgium.
To amp up the capabilities of the 5000plus and 6000 presses, Xeikon has given them a print quality boost with the 1200 dpi print head from the company's flagship 8000 model. The new head is now standard on new 6000 models and optional on the 5000plus. For existing installs, these options will be available as a field upgrade in the first quarter of 2009.
The Xeikon 3300 offers true 1200 dpi at 4 bits per spot and runs at a 63 feet/minute, making it what I believe is the fastest 5-color digital label press on the market
Since I'd seen these machines just a few weeks ago in Belgium, I was more interested in the new 5-color label press. The Xeikon 3300 offers true 1200 dpi at 4 bits per spot and runs at a 63 feet/minute, making it what I believe is the fastest 5-color digital label press on the market. I saw it running a mix of substrates, including foils, self-adhesive films, paper and more, making it a good fit for many short-to-medium print runs or just-in-time jobs at a shop presently using flexography but is looking to increase its versatility. With five color stations, the 3300 can apply spot colors as well as an opaque white and special security toner. It uses Xeikon FA toner which Xeikon says combines the benefits of chemically produced toner with the performance of conventional toner and is FDA-approved for use in certain food contact applications.
One of the great things about Xeikon is that the C-level guys can talk to you about the details of the technology and also explain product strategy. Punch Graphix's Chief Marketing Officer Paul Willems walked me through the 3300, explaining how the machine was developed in response to the evolving needs of the label industry. "Industry globalization, increasing product variety, shortening product life cycles, legal and regulatory issues, counterfeit deterrence, and brand protection are all placing new challenges and requirements on the label industry," he explained. "At the same time, label printers, even more than other printers, are facing shrinking profit margins. We believe digital printing provides many of the answers the sector is looking for."
I've thought so, too, but all the digital label presses I'd seen lacked the substrate flexibility and speed needed to be a real alternative to conventional label printing. I'm not a label printing expert, but the 3300 seems to have what many printers need today and I'm betting it will get the attention of shops wrestling with the challenges Willems notes.
Océ Goes Faster
As one of the only inkjet devices being promoted at drupa that is actually available for sale today this device seems to be especially interesting to printers who are figuring out how inkjet fits into their business
A few buildings away, Océ had taken over a large chunk of space with big red walls and hanging displays announcing the ability to "Print Beyond the Ordinary." Just about everything the company sells was on the floor, but the biggest crowds were around the new JetStream inkjet printer. I reported on this device when it was rolled out back in December 2007, and found it hard to get near the big machine here at drupa. There seemed to be a constant crowd around it, even when the demos weren't running, indicating the growing interest in inkjet technology among attendees. As one of the only IJ devices being promoted at drupa that is actually available for sale today (there are already some machines installed and deals were signed at drupa for others) this device seems to be especially interesting to printers who are figuring out how inkjet fits into their business. The JetStream system is now available in multiple configurations and speed bands ranging from the 750 model which can print 714, two-up letter size impressions per minute (simplex) up to the 3000 model that can handle 2,865 full-color letter-size ipm in two-up duplex format --a monthly duty cycle of 86 million impressions or 20 million feet (nearly 3800 miles) of paper. Yikes!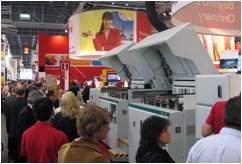 Océ JetStream 3000
Running somewhat slower on the other side of Océ's stand was the ColorStream 10000, a roll-fed, 172 ppm digital press that can also print monochrome pages at some 852 impressions per minute. The 10000 was awarded Best Digital Product of the Year in the "full color, web-fed production printer" category by the European Digital Press Association, an alliance of major European trade publications for the digital print industry.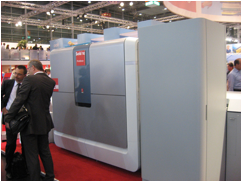 Océ ColorStream 10000
The CS10000 on the show floor had been sold to Netherlands printer Printforce and another is going to ScanLaser, also of the Netherlands. As it happens, I know the head honcho at ScanLaser and will find out how he likes the new machine once he's had it a while. Both companies will probably be pleased to hear that since placing their orders, Pantone has approved the ColorStream 10000 (along with the Océ's VarioStream 9240) and Océ PRISMA workflow software for use with the Pantone Matching System colors and the Pantone Goe System colors. This approval is an important one for all presses targeting the graphic design market where the ability to produce these color palettes accurately and consistently is expected. Furthermore, it gives printers looking at competing high-end production color presses another choice with a unique set of advantages.
Océ also used its VarioPrint 6250 monochrome press and its CS 650 color system to print a new book, Roll Over Gutenberg, which relates the history of books through the ages, chronicling the past, present and future of books and the book industry. Although not printed live at the show in the interest of floor space, logistics and distribution, the book is a mix of monochrome and color pages that illustrate milestones in printing, paper manufacture and publishing, and also explores the changing book publishing business model. The book --which is a treat for the eye-- traces the development of technologies that have driven the evolution of the book market, and resulting social and commercial implications. It highlights how book printers, publishers and retailers are leveraging digital technology to rewrite the rules of book printing and publishing. I managed to snag a copy and hopefully Océ will have it at Graph Expo so those of you who didn't' make it to drupa can get one it. It is a gorgeous volume.
Amidst the Milling Hordes
This drupa is one busy show. A few nights back I talked briefly with Joachim Schaefer, Managing Director of Messe Dusseldorf, who told me the show is living up to expectations in terms of attendance. The impression of some people I've talked with is that it doesn't seem as busy as in 2004, but when you factor in that people are also spread through two new halls, two elevated walkways, and the always full passage connecting the new buildings with the main complex, all I can say is the place seems pretty full to me. So do tramcar lines U78 and U79 that connect the fairgrounds with the Hauptbahnhoff. I don't remember the trams --which run every few minutes-- being as crowded in 2000 or 2004.
What there are not a lot of is Americans. The weak dollar is certainly keeping many people home, which probably bodes well for Graph Expo, coming up in October. I talked last Wednesday with NPES President Ralph Nappi and Graph Expo VP and General Manager Chris Price, who told me floor space for Graph is sold out and they are expecting record crowds. What's more, the Americans who are showing up here haven't crossed the ocean just for Schlosser Alt and bratwurst. Print engine vendors tell me the Americans who have come to Dusseldorf are decision-makers who have come to make deals and buy machines (and maybe enjoying a bit of Europe while they're at it). These vendors say they are selling just about everything in their stands and orders are being written at every turn. I'm looking forward to hearing what the final results are once the numbers are tallied and the deals are counted, but my sense is that regardless of the number of people here in Dusseldorf, this is a successful show.
And while the show may have ended, our coverage doesn't. Like I said several days ago, "Welcome back, my friends, to the show that never ends."
Stay tuned. We have more coming.