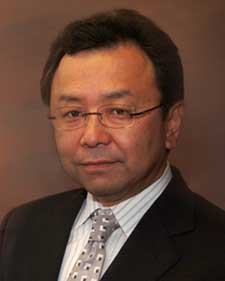 With the recent recent reorganization of Fujifilm Graphic Systems USA, WhatTheyThink took the opportunity to catch up with Sam Ota, the new President & CEO of the company to find out how things are going for the company and what plans he has for the future of the organization.
---
WTT: What has been the general beta feedback about the Brillia Ecomaxx-V chemistry-free violet plate and what types of customers seem most interested?
MSO: Ecomaxx-V* for newspapers made its debut at NEXPO in April in Washington, D.C. Customers seemed pleased with what they saw and they liked the benefits it offered, namely the ability to provide the same high plate per hour throughput and quality as Fujifilm's conventional LP-NNV CTP violet plate.
Customers were also obviously drawn to its environmental benefits as well – the simple, one-step finishing, less waste and a small environmental footprint. It's also easier to maintain, which they say gives them time to focus on other tasks.
Because of the large number of plates they produce, newspaper publishers were very interested in the system since it doesn't require a water rinse, lowers overall cost of production, and takes up less of their valuable production space.
The plate is available for both the newspaper and commercial printing markets and we'll be showing the Ecomaxx-V plates live during drupa. We're expecting them to be a big draw at the booth.
WTT: Can you update us on the status of the Ecomaxx-T** thermal processless plate (the new name for the thermal plate)? I had heard that it had been "reformulated." Can you talk about that a little? Any limitations on platesetters that can use either of these plates, other than the obvious thermal/violet split?
MSO: As the leading true processless thermal plate in the market, Ecomaxx-T has been modified to provide even faster dispersion of the non-image coating as the plate rolls up on press. The MultiGrain support structure for Ecomaxx-T facilitates fast, clean restarts while optimizing ink/water balance to support a wide array of press and stock conditions. This fast action allows the press operator to reduce makeready waste, and direct attention to the true needs of producing the job.
Ecomaxx-T has fast exposure sensitivity, so the plate making operation is not hindered. As a result, a wide range of platesetters are supported because Ecomaxx-T has exposure characteristics similar to Fujifilm's conventional thermal plates.
WTT: Your press release mentions inkjet and new inkjet technology that will be unveiled at drupa. Can you provide any hints about what we might see? Will this primarily be wide and superwide format as opposed to production and/or industrial, or will you have solutions in those other two areas as well?
EDITOR'S NOTE: Prior to publication, the company issued a press release announcing this product.
MSO: Our new inkjet technology combines several existing FUJIFILM sister companies' technologies and FUJIFILM's deep knowledge of chemicals gained from our extensive experience in the Graphic Arts industries.
We've recently announced the development of the Jet Press 720 (developmental name), the world's first high quality, high-speed inkjet digital printing for large sheet sizes (720mm x 520mm). The device will be on display at drupa and we will discuss it further during a press event at drupa.
WTT: Tell us a little about FUJIFILM's approach to the integration of offset and digital, and what we might see from you at drupa in this regard, under your theme "Digital Power at Your Control." I am particularly interested in your bundling strategy with the Xerox products and anything new on the hybrid workflow front.
MSO: At drupa, we will demonstrate how FUJIFILM can manage the entire printing process. This total solution includes the latest digital plates and platesetters, digital on-demand printing and wide format inkjet printing, all with consistent color management and quality control. Also, we will demonstrate the Xerox digital printing products combined with FUJIFILM workflow, color management and Taskero Universe, controlling the entire process.
WTT: In terms of C-fit, this had been announced and released, I thought, a couple years ago at Graph Expo. What's new with this drupa launch?
MSO: C-fit was shown as a technology demonstration two years ago at Graph Expo and was commercially launched just before last year's Graph Expo. Thus far, FUJIFILM customers have been very pleased with C-fit's automatic image enhancement and color correction, which provides them with greater productivity and color consistency. drupa 2008 will allow us to demonstrate the latest C-fit feature, the color management of PDF documents and digital printing.
WTT: WhatTheyThink reported that ORIS Press Matcher from CGS will be part of the Xerox FreeFlow Workflow Collection, providing color management in front of their digital production presses, including the iGen and DocuColor families. Will you be carrying this, or do you have another alternative approach?
MSO: While Fujifilm partners with CGS and is certified to deliver ORIS Press Matcher results as well as other CGS products, we do have an alternative approach. Since the inception of our Digital Print Program, we have been differentiating ourselves in the market by providing the expertise to color match the digital press output to the printer's proof or offset press, which is truly unique in the industry.
WTT: Of course, developments with advanced tools like Taskero Universe are always of interest to our readers. What might we see new from Fujifilm on this front at drupa, and does Taskero Universe have any linkages into digital printing workflows?
MSO: The integration of digital printing into a customer's operation is essential to the future of almost every printer and, to that end, Taskero Universe enables printers to verify and match color accuracy throughout their entire operation, regardless if the destination is an offset press or a digital printing solution. This year, Taskero Universe will be a highlight at our booth at drupa and will be shown monitoring color accuracy on almost every device in the Fujifilm booth, including an Epson inkjet proofer, several Xerox presses, Fujifilm wide format devices as well as all color accurate monitors and printing plates made for the Komori press running live in the Fujifilm booth.
Taskero Universe has developed a new "status dashboard" that works any Internet-enabled desktop. This lightweight new "Adobe Air"-based product allows end users with Taskero Universe connectivity to see their device status live without having to log into the Taskero Universe website. We will also be making additional partnership announcements and expect to have the product fully integrated into the pressroom by Graph Expo 2008.
WTT: FUJIFILM has quite a bit going on. With all of that in mind, what would you characterize as the company's top three objectives for the next year or two, and your own with respect to North America?
MSO: Our top three objectives for the near future are providing solid value by enhancing our ability to give our customers a total solution, strengthening the digital printing solutions and focusing on development of environmentally friendly products.
Fujifilm has a broad line-up of products, from proofing, plates, and pressroom chemicals to print on demand, wide format inkjet printers and workflow. We would like to move beyond simply selling various pieces of equipment or software to the customer and instead provide them with a total solution, partnering with them to meet their needs, resolve potential problems and help them grow their businesses.
Additionally, we plan to strengthen the digital printing solutions we offer and to continue to create a new business model that printers are able to adopt. By collaborating with Fujifilm's sister companies – including Fujifilm Sericol and Fujifilm Dimatix – we will create and develop new and advanced solutions, bridging the color management gap between traditional offset printing and digital printing.
As you know, Fujifilm has long been a friend to environment and we are continuing to develop new products that are in keeping with our Green Policy, but – at the same time – deliver what our customers need. Earlier this year, Fujifilm debuted the company's Ecomaxx-V chemistry-free violet plate in the United States. We'll also be demonstrating those live during drupa 2008. Fujifilm also manufactures the Ecomaxx-T, the only truly processless thermal plate on the market. While these plates offer true environmental benefits, they also offer the same characteristics as our conventional plates. Another product that is in keeping with our Green Policy is the FLH-Z processor, which allows customers to use up to 50% less pressroom chemistry.
* Fujifilm's Ecomaxx-V chemistry-free violet plate is sold in the United States. The same plate is sold in other parts of the world as Fujifilm's PRO-V chemistry-free violet plate.
** Fujifilm's Ecomaxx-T processless thermal plate is sold in the United States. The same plate is sold in other parts of the world as Fujifilm's PRO-T processless thermal plate.