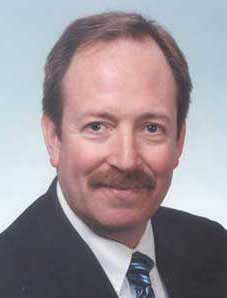 Sandy Alexander is one of the nation's largest privately owned graphic communications companies, headquartered in Clifton New Jersey, nine miles west of New York City. Founded in 1963, it is well known today for delivering innovative, high-quality print and digital marketing solutions to its Fortune 100 clientele.
Sandy's four facilities have a broad range of product offerings: in their Clifton New Jersey headquarters, extensive prepress, web and sheetfed print capabilities; at SandyDirect, in St. Petersburg Florida, direct mail, web inline finishing facility; at SandyLabel , in Staten Island New York, flexo label printing; and, at eSA Solutions in Fairfield New Jersey ,cutting-edge digital marketing technologies, including a variety of electronic media, digital print and web services.
Mike Graff joined Sandy Alexander in 1991 as an account executive. He was named president of the company in May 2008.
---
WTT: How demanding are client needs in today's economic environment?
MG: We have ever-changing client needs. In order to respond to this dynamic marketplace, we need to be as agile as a start-up, even though we are a half-century old, hundred-forty million dollar organization. We must continue to provide our clients with holistic marketing solutions that transcend print. Short term, the greatest challenge is the economic downturn, which is impacting our customer's marketing plans. But this also provides opportunities. Clients are more willing to listen to new approaches and entertain new technologies.
WTT: Are marketers discarding the value of print because of tough economic times?
MG: First of all, don't rule out print. With the recent restrictions on telemarketing, the spam filters on e-mail and the fragmentation of television programming, believe it or not, the biggest, measurable bang for the advertising dollar for the delivery of personalized messages is from variable-data driven direct mail.
Beyond print, the shift in how information gets communicated to the end-user has created tremendous openings for companies that can figure out how to become more integrated with their clients. We are responding to this challenge by evolving from a print provider to a marketing service provider.
WTT: Sandy Alexander has been focused on the certification process for many years - 14001, FSC and SFI. Tell us about these initiatives.
MG: In 2002 our Clifton, NEW JERSEY facility was first certified to the ISO 14001 environmental management standard. In 2006, our Florida facility was registered as well. In 2008 we added our Fairfield facility. ISO 14001 is still relatively rare among printers, since it requires a level of commitment as well as resources that most are probably unwilling or unable to devote. But it is an excellent framework for improving environmental performance.
We also have multi-site FSC, SFI and PERC chain of custody certifications. Chain of custody, as your readers certainly know, has become an absolute requirement in many sectors of our business.
The single most dramatic and impactful thing we did in the environmental arena was our conversion to 100% wind power. In 2005 we signed a 7-year commitment to buy renewable energy credits sufficient to cover all of our facilities. We can claim that the reduction in greenhouse gas emissions each year as a result of our use of wind power is equivalent to an automobile driving 25 million miles.
That purchase was part of a larger goal. We have pledged on the EPA Climate Leaders website to reduce our carbon footprint by 11% by 2012. In order to meet that goal, one of the things we had to do was identify significant energy-saving measures. Taken together, these measures have ROIs of over $1.5 million dollars over the next 3-5 years. This illustrates that being green is not just a moral imperative but is also a good business practice.
We are also working closely with the EPA's Waste Wise program to implement effective waste-reduction strategies. We intend to turn solid-waste from a cost center to a revenue generator. Our stated target is "zero to landfill," so to achieve this we have been focusing our efforts on recycling plastics, one of the few remaining categories of solid waste in our facilities that are not already being reused or recycled. We are currently experimenting with waste- to-energy solutions, plastic-derived fuel and a number of other recycling options.
WTT: Tell us about the equipment at your various locations.
MG: Now is a great time to invest in people and equipment. In New Jersey we have 8-Color 40" Speedmasters; some with interdeck coaters. We also have two 6-color and one 8-color Man Roland Rotoman web presses; two of them have in-line UV coaters.
At SandyDirect in Florida, we have three Heidelberg webs, 6-colors and 7-colors, and a 6-color half-web. We just completed a purchase in excess of a million dollars for in-line finishing and inkjet equipment. With this investment we will be able to produce new inline finished products, closed- end envelopes, for example.
At our digital facility we have two digital color presses and a number of wide format ink jets. We are looking to add more capacity and capability in the next quarter.
WTT: What is the prospect for your eSA Solutions business?
MG: eSA Solutions is an area of tremendous growth for us. Its volume has tripled since we acquired it less than two years ago and it is still growing, in spite of the economic downturn. Instead of printing millions of impressions on the web, our clients are now printing targeted digital and purchasing a whole range of associated campaign products like PURLs.
We have not lost any clients in this economy because we offer our clients total solutions. Sandy clients who once printed sheetfed or web are still Sandy clients: they are now printing digitally or availing themselves of other digital technologies to achieve their marketing objectives.
WTT: Is there anything else you would like to add?
MG: Our employees and suppliers have been with us a long time. The median tenure of our employees is around 15 years. So have our customers. There are genuine bonds of trust and loyalty between us. That is the secret of our success. Our employees, suppliers and clients are what makes Sandy the great company we are today.