Focus on Scholarships, Other Student Intensifies; Scope Broadens to Include Expanded Document Lifecycle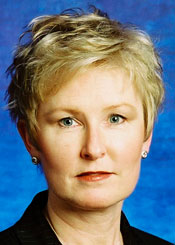 Brenda Kai took over as Executive Director of EDSF in October 2007. Now that she has a year under her belt, WhatTheyThink spoke with Brenda to learn what is new at EDSF, discuss her plans for the future, and gain insight into how EDSF programs and services are helping students and educators alike.
The Electronic Document Systems Foundation (EDSF) is the only Foundation dedicated to enhancing the value and relevance of document communications worldwide. Founded more than a decade ago, its goals are to be a catalyst for education and research initiatives and to bring the industry together to resolve document communications issues that impact society.
WTT: Brenda, during WhatTheyThink's Education Week is always a good time to catch up with EDSF. I understand this is a very busy time of year for you. But perhaps we could start by taking a look back at your first year in the role of Executive Director and talk about what's changed and what might change going forward.
BK: One of our objectives this past year has been to work toward encompassing a more holistic approach to the document lifecycle. In the past, there has been a heavy emphasis on the print side, and we would like to get more influence from software vendors and end users into the process, broadening our base both functionally and geographically. To that end, René Müeller of GMC Software Technology and Tawnya Starr from PrinterPresence have joined our Board of Directors. We would also like to be able to attract representatives from some of the larger financial services organizations. We believe this strategy is important as the lines continue to blur in the industry. As an example, HP's acquisition of Exstream and Xerox's acquisition of XMPie reflect the increased integration of hardware and software, from both an organizational and a functional perspective.
WTT: What are some of the things you hope to achieve by broadening the base?
BK: We are looking to expand into parts of the industry where we have not had much presence in the past; that type of expansion is always healthy for any organization. It allows us to bring in new blood and different ways of looking at things. It will also broaden the range of careers we can expose our students to as they graduate. By interacting with Board members from a broader spectrum of the industry, they will be exposed to channels of opportunity beyond print, including such areas as document management and document imaging.
WTT: Let's talk a little about the students you serve with your programs.
BK: As you know, we have been awarding scholarships to deserving students for over a decade. To date, we have awarded 277 scholarships worldwide, including the 53 we awarded this year to 51 students. We are receiving a growing number of international applications. This is something that sets us apart from other organizations. Applications overall were up 150% this year. I am sure this has a lot to do with the current global economic crisis and the fact that many financial institutions are cutting back on or eliminating student loan programs.
WTT: Brenda, I know there are lots of great stories that you have garnered during the scholarship process. Perhaps you can share two or three that stick out in your mind.
BK: Sure. The first I would like to highlight is Maggie Caplan. She received our largest scholarship, Woman of Distinction, for $5,000 this year. Maggie is a senior at Clemson, and is a dynamic, engaging, ambitious, driven young woman. Because of what EDSF has been able to provide her, especially with the $5,000 scholarship this year, Maggie is actually going to be able to graduate debt-free, which is huge. She is very grateful for that, as you might imagine.
The second recipient I would like to highlight is Gabe Grant. Gabe graduated a few months ago and is teaching in the Graphic Communications program at Eastern Illinois University. One of the challenges graphic communications programs face is the large number of their teachers who are retiring, and schools are having difficulty finding replacements. So we are considering implementing some special scholarships for students like Gabe that plan to teach in these programs. Gabe also put himself through school, graduated with an MBA, and has received scholarships from us in multiple years.
Finally, Jennifer Dadlow graduated a couple years ago and is working in the industry as a Production Coordinator at Madden Communications in Chicago. Jennifer has been very active in her support of EDSF. She serves on our Student Advisory Council and is in the process of writing a white paper for us. She is also a multiple year winner.
These are just three examples. There are many, many more stories, as you might imagine.
WTT: How were scholarships broken out this year between undergrads and post-grad students? And from what countries were international students who received scholarships?
BK: About half of our scholarships were at the post-grad level. And we awarded seven international scholarships, with students from Canada, Italy, Nigeria and Pakistan.
WTT: What other programs are you considering to help students during their education and as they start their careers?
BK: Along with our goals of expanding our industry footprint, we are also working hard to expand our services to scholarship recipients. We are in the process of zero-basing our web site to provide functionality that will enable us to deliver these services more efficiently. For example, we would like to be able to offer more assistance with job placement. We have always provided some level of assistance, but would like to be able to do more. Also with the redesign of the site, we can make the application process smoother for scholarships, grants and awards, eliminating much of the paper from the process. This year, members of our scholarship review team each received two six-inch binders full of paper applications, and that was after we had prescreened applicants! We would like to have as much of the process online as possible.
WTT: EDSF also has a research grant program that involves students in the research process. How is that going?
BK: The research grant program is going really well. We are currently receiving applications, until November 25th. Those are also gaining a more international flavor. We do four research grants per year, and last year, two were from outside the U.S.: Taiwan and Argentina. We are also seeing a move away from a heavy print focus in these research projects. Digital print is big, of course, but there is more research being done around the use of color, TransPromo and other areas that broaden the scope of the research we make available at no charge to the industry. The four research projects that are currently in the final editing process involve the use of color on web sites and the use of color in printed TransPromo documents. The Taiwan project is about the growth of digital printing in Taiwan, while the project from Argentina is also focused on digital printing.
WTT: You also do what you call co-branded research projects that involve leading industry research firms who engage with universities. What's new with that program?
BK: Yes, we do three of those each year. This year, we have a new research partner who is also serving on our Board, Angèle Boyd from IDC. She is working with Bonnie Blake at NYU on a project aimed at better understanding how increased use of graphics in marketing communications can help companies to differentiate themselves during difficult economic times.
DocuLabs is participating with us again this year, as is InfoTrends. The DocuLabs study is being done in conjunction with the University of Illinois at Chicago, primarily focusing on trends related to electronic documents. It is still a trends analysis in line with the last several years but with a different spin. InfoTrends discovered in its research last year that printers are having increasing difficulty in finding the right skill sets in the recruiting pool. This year, they are going to dig into that deeper, in partnership with Pat Sorce at RIT, and try to come up with some solutions.
WTT: Another important program EDSF has is the recognition of Excellence in Education.
BK: Right. We are still accepting nominations for those awards until December 10th. We recognize innovative educators at the higher education, secondary/post-secondary education and junior college/technical college levels, as well as innovative educational programs at each of those levels. These are often the unsung heroes of our industry, and we feel it is important to increase their visibility and provide them with the recognition they deserve.
WTT: Looking ahead, what do you see as your—and EDSF's—biggest challenges and opportunities?
BK: Our biggest challenge still remains raising awareness about EDSF and its mission. Here in Dallas, I am always asked if EDSF is part of EDS, the company founded by Ross Perot which is now part of HP. We still have a long way to go in getting the name out there. We are also trying to be as creative as possible in securing donations. Our work is funded exclusively by donations. We currently have an Eco Bag promotion going on that encourages people to give, even if at a lower level. These are the cloth bags that you can use at the grocery store instead of paper or plastic. They are very handsome, black with green printing, and were designed by one of our scholarship recipients. Sir Speedy sponsored the bags, and its President, Rich Lowe, sits on our Board.
Finally, we continually try to expand the scholarship program. There is such a critical, critical need for scholarship programs right now. In many cases, a scholarship can be a lifeline, and can allow students to continue their education who might otherwise not be able to so. I talked to one recipient from Chicago last winter who told me that he and his three roommates chose to turn off their heat and sleep in coats to save enough money to fund their education. Another young man negotiated a deal with the local Fire Department whereby he could sleep at the firehouse if he volunteered as a fireman on the weekends. These are real life stories, and there are lots of students out there who are very creative, ambitious and hardworking that we would like to be able to help. At the same time, it helps grow the talent pool available to our industry.
People should also understand that when they donate to a scholarship fund, they can ask that their donation go 100% to the scholarship with no administrative overhead. And if people can't give financially, we have plenty of other opportunities for them to get involved, including serving on one of our many committees. I encourage people to go to www.edsf.org to learn more about us and join us in carrying out our critical mission.