By Frank Romano
November 9, 2007 -- Here are three examples of proactive, meaningful actions being taken to aid graphic communications education. These initiatives set good examples that we can emulate or partner with. In many cases, you probably do not know of the important contributions that are being made — so here they are.
GAERF

The Graphic Arts Education and Research Foundation, GAERF, is a major source of financial support for education and research projects designed to promote careers in graphic communications. GAERF was created in 1983 by the National Association for Printing Leadership (NAPL), NPES The Association for Suppliers of Printing, Publishing and Converting Technologies, and the Printing Industries of America/Graphic Arts Technical Foundation (PIA/GATF). These three national associations jointly own the Graphic Arts Show Company, (GASC), which runs the GraphExpo and PRINT shows, as well as other events. GAERF channels a portion of the revenues earned by GASC-owned shows into worthwhile industry programs. We think the amount should be increased.
It has three primary programs:
1. PrintEd
PrintED is a national accreditation and certification program, based on industry standards, for graphic communications courses of study at the secondary and post-secondary levels. Currently more than 215 programs in 30 different states are committed to the program, evidence that PrintED has become a critical and widely respected vehicle for improving industry education and connecting the educational community to the workplace. Since the launch of PrintED as a national certification program in spring 2004, nearly 790 certifications have been issued to those PrintED students who achieved passing scores on standardized online examinations.
The key to PrintED's acceptance and success is the clear linkage it provides between what is being taught in America's schools and what the industry wants and needs in its employees. In this spirit, PrintED recently added a new area of accreditation, digital production printing, which joins the other seven areas of PrintED accreditation: Introduction to Graphic Communications, Offset Press Operations, Digital File Preparation, Digital File Output, Advanced Offset Press Operations, and Advanced Digital File Preparation.
PrintED was developed in 1986 by the Printing Industries Association of Georgia (PIAG) at the request of the Georgia Department of Education to provide a set of skill standards for the state's printing programs. In 1990, Printing Industries of America (PIA) adopted the Georgia program as a national industry-approved accreditation program. GAERF assumed management of PrintED in 2000.
2. Make Your Mark
As part of its campaign to promote a positive image of print and motivate students to choose careers in the industry, GAERF instituted the Make Your Mark in Graphic Communications program in 2002 with the distribution of curriculum materials and information about the industry to more than 65,000 high school teachers and guidance counselors with the potential to reach more than 6 million high school students nationwide.
The second phase of the campaign is the new career search website at www.makeyourmark.org, illustrating the industry's many products and career possibilities. Several features on the new site are designed to give students first hand experience about careers in graphic communications, including interviews with industry professionals, plant tours, an interactive quiz inviting visitors to match their interests with graphic communications career options, an interactive chart matching skills to graphic communications jobs, and information about colleges that offer graphic communications programs, scholarships and job search tips and links.
3. Graph Comm Central
Graphic Comm Central was founded in 1997 with support from the GAERF to establish and maintain the Graphic Comm Central Website, which provides a wide range of information and services for Graphic Communication teachers, students, and industry personnel.
Objectives
Establish and maintain links to information on the Web useful to Graphic Communication teachers, students, and industry personnel.
Convert printed educational resources to Web-viewable formats for inclusion on the Graphic Comm Central Website.
Create and deliver new products and services deemed useful for Graphic Communication teachers, students, and industry personnel.
Create dialogue and a forum for the sharing of ideas among Graphic Communication teachers and industry personnel (via the GCC-L Listserv.)
Create linkages between the Graphic Communication education and industry sectors.
GAERF continues to identify and promote additional activities that encourage young people to choose graphic communications as a preferred career choice. For example, in 2007, GAERF recognized our industry's most talented students by awarding $250 to each of the two graphic communications SkillsUSA state winners who competed in the national championships in Kansas City, MO. This effort was so successful that the Foundation is once again making this scholarship opportunity available in 2008.
IGAEA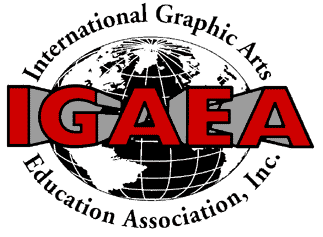 The International Graphic Arts Education Association (IGAEA) is an association of educators in partnership with industry, dedicated to sharing theories, principles, techniques, and processes relating to graphic communications and imaging technology. The Association's funds from gifts are used to provide scholarship money for those studying to become graphic arts teachers and to help graphic arts teachers attend their first IGAEA conference. The annual conference is its main event. The last few conferences:
2007 Rochester Institute of Technology, Rochester, New York
2006 Cal Poly State University, San Luis Obispo, California
2005 Millersville University, Millersville, Pennsylvania
2004 University of Houston, Houston, Texas
2003 North Carolina A&T State University
The summer conference is a week-long event that brings educators up-to-date on the latest technologies and to share information on graphic arts teaching and is always hosted by an educational institution. High school and community college educators do not have budgets to educate themselves. IGAEA deserves more support so that we can educate the educators. There should be closer ties between IGAEA and Graphic Comm Central.
Printing Museums
The International Printing Museum in Carson, California is a dynamic museum that takes a collection of antique printing machinery and brings it to life through working demonstrations and theatre presentations. Since 1988, visitors have toured the museum, learning about the history of books and printing, great inventions and inventors that have changed our world. The Printing Museum has been recognized worldwide for its importance and size, and for the successful and creative approach it takes in interpreting the collection to a general audience. A Museum on Wheels brings the dynamic quality of the Printing Museum's programs to schools or organizations. The 12-foot trailer exhibit features a fully functioning Colonial printing shop and graphics that depict the history of books and printing. It is taken to schools in southern California.
The Museum of Printing in North Andover, MA is dedicated to preserving the history of the graphic arts, printing equipment and printing craftsmanship. In addition to many special collections and small exhibits, the museum contains hundreds of antique printing, typesetting and bindery machines, as well as a library of books and printing related documents. A tour guide is always provided, and hands-on demonstrations are part of every visit. The museum is a non-profit organization, incorporated in 1978 as The Friends of The Museum of Printing, Inc., to save printing equipment and library materials associated with print technologies.
The history of printing has changed dramatically during the last 100 years, moving from letterpress printing to photographic and electronic technologies. The museum tells the stories of these changes using one of the world's largest collections of printing equipment, especially computer phototypesetting.
Both of these museums have visits from student groups on a regular basis. Students get to print from metal type and litho stones and develop an interest in printing. They see the long history of the industry. It may be old technology but it fascinates many students and they develop an interest in print that influences their educational goals and aspirations.
Because these museums have a lot of old equipment they get short shrift from the suppliers who support associations and other industry organizations and events. Yet the old can truly help to educate the new. Many graphic arts teachers bring their classes to these museums to demonstrate the roots of printing.
As we reflect on education this week, let us honor and support these organizations that are truly making a difference in graphic communications education. I salute them.