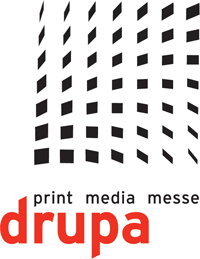 I'm sure it comes as no surprise to know it's drupa in May and from now on there will be a continuous flow of information about the event. The first big event for this was drupa Media Week in Düsselforf, Germany when a huge number of journalists came to hear from a large number of vendors what they could expect to see. I wasn't able to be there this time due to commitments to improve my golf game in Thailand and New Zealand, as well as giving some pre-drupa presentations in Australia and Singapore. I did however keep fully up to date with what happened in Düsseldorf thanks to the wonders of the Internet and e-mail. In fact not a lot happened and few real new products were announced at the drupa Media Week. We do however have more pre-drupa media events coming up in March in Europe and Israel, so we can expect to have a few more new products to write about soon.
I think the most important new announcements in Düsseldorf came from Kodak with the release of their new strategy for inkjet printing. What they outlined was very significant and I know there will be more to come at drupa. The new product they announced was the Kodak Versamark VL2000 printer. This is the first high-speed drop-on-demand (DOD) printer from Kodak. Up to now Kodak have only offered high-speed continuous inkjet (CIJ) printers. The new Versamark VL2000 will provide the same speed as Kodak's existing CIJ Versamark VT3000 printer but with a higher quality color image. I believe Kodak needed this printer to compete against the new high-speed printers from its competitors that include Agfa (Dotrix Transcolor, plus anything new to be announced in March); Dainippon Screen (Truepress Jet 520); IBM/Ricoh (Infoprint 5000), Océ (VarioStream 10000, JetStream 1100/2200); and Xerox (490/980 Continuous Feed Color System). I believe that the Versamark VL2000 will be the start of a family of DOD printers we will see from Kodak over the next few years.
The most important announcement however was of the new Kodak Stream Inkjet Printing Technology. This is the future of inkjet for Kodak and is its new CIJ approach. I don't expect to see a colour-printing product using this technology for at least two years, but it could be a real transitional product in getting printers to switch from offset to digital printing. It appears to offer high-speed, offset quality and potentially offset running costs. Kodak will show on their stand the Stream Concept Press. I have defined it so far as the likely digital printing highlight of drupa.
The next most important announcement appears to have come from Ricoh who have indicated they plan to become a major player in the commercial production printing market. Ricoh already claim to have the largest sales and service network worldwide with over 300 companies operating worldwide. Ricoh has a joint operation with IBM in handling the Infoprint 4100 monochrome printer that it manufactures, and the Infoprint 5000 colour printer. It will have 100% of this operation from 2010. The key announcement at drupa however was of its new Pro C900 and C900S colour printers that are aimed to compete head to head against Xerox, Konica Minolta, Canon and Kodak. At 90 pages/min they are faster than the equivalent competitor's devices. This is obviously another 'Must See' product at drupa.
Xerox's announcements at the event were mainly limited to its new continuous feed printers. Xerox has already announced its 490/980 Color Continuous Feed Printing System, and at Düsseldorf it announced its monochrome sister product the Xerox 650/1300 Continuous Feed Printing System. These products both use the technology of flash fusing that gives many advantages over other high-speed printers in substrate handling. I am sure Xerox has more new products to offer the commercial printing market than just these continuous feed printers but they obviously are wanting to keep their powder dry for May. They did admit to perhaps showing their developments in inkjet at drupa. Away from drupa Xerox announced its two latest solid ink printers. This is Xerox's own inkjet technology. These are the Phaser 8860 and the WorkCenter 7675 multi-function unit. This later unit is interesting as it runs at 50 pages/min in colour and 75 pages/min in monochrome. It is almost the same speed as HP's latest Edgeline inkjet technology office printer, so we can expect continuing major competition between these two companies in the office market. Whether Xerox is showing this product at drupa to demonstrate its inkjet developments or something else we shall have to wait to see.
The other interesting announcement in digital printing came from Dainippon Screen that stated it saw CtP was now a very mature technology and sales had peaked. Screen was now focussing more on being seen as a digital printer company. It did not mention any new products but just emphasised its Truepress Jet520 high-speed printer, its Truepress Jet2500UV wide format display printer, and its Truepress Jet650UV industrial printer. It also has its Truepress 344 D.I. offset press.
If my assessment of drupa Media Week has missed out something substantial that was announced I apologize. If I have, the blame is on the company making such an announcement for not providing a good enough press release via e-mail. Only four months more of pre-drupa hype to go before the event starts. I'm sure however that drupa will happen before my golf swing gets sorted out!