At its recent "Graphic Arts Summit" in Rome, Italy, HP declared that the essence of its business plan is to accelerate the transition of the graphic arts space from analog to digital. Any of the 900 customers, prospects, resellers, channel and technology partners, journalists, and analysts who attended the 10-day (May 2-11) series of presentations and special events might reasonably have asked: in the digital post-revolution of 2007, exactly what is left to accelerate?
Plenty, according to HP, which used the occasion to announce two new Indigo digital presses and other HP graphic equipment and to showcase additional product offerings with technology partners. Stephen Nigro, senior vice president of the company's Imaging and Printing Group (IPG), noted that of the 45 trillion A4 pages printed annually, only about 9% come from digital sources. Hence the urgency of speeding up the transition to digital by the graphic arts industry, which produces 91% of the total 45 trillion output. According to Nigro, just 2% of graphic arts pages are digital—a clear indication that HP has its work cut out for it as a promoter and a provider of digital printing solutions.
At its recent "Graphic Arts Summit" in Rome, Italy, HP declared that the essence of its business plan is to accelerate the transition of the graphic arts space from analog to digital
Nigro shared the conference stage with other senior HP executives in an update on the company's continuing efforts to bring more of its digital printing technologies to bear in the graphic arts market. In addition to briefings and roundtables, the "summit" also included a miniature trade show stocked with HP products and those of 15 co-sponsoring vendors. The event was a sequel to a similar event put on by HP last year in Barcelona, Spain.
What They Have To Offer
Throughout the program, HP strove to sharpen its marketing message and to clarify how its various product groupings meet the needs of commercial print providers. HP is, said Nigro, "the fastest growing graphic arts company in the world" and the leading manufacturer of digital presses, digital label presses, large-format printers, and table-top and mail table addressing systems. Its general portfolio of products for professional markets includes solutions for marketing collateral, direct mail, photography, and technical applications such as architectural, engineering, construction, and CAD output.
Nigro said HP also wants to be perceived as a simple company to do business with and as a partner committed to the success of its customers. To this end, HP operates a "Graphic Arts Capture" program consisting of marketing, training, supply ordering, and account management services for users of HP-branded Designjet, Indigo, Scitex, and SPS (Specialty Printing Systems) equipment.
Nigro explained that HP is following a four-pronged strategy to drive the growth of digital pages. It begins with identifying the kinds of pages that should be produced digitally and encouraging printers to deliver them that way. Next comes an intensive R&D effort to drive up the breakeven point between digital and analog output so that digital becomes more economically attractive for longer runs.
HP also wants to be perceived as a simple company to do business with and as a partner committed to the success of its customers.
Promoting digital's variable-print capability for items like individualized photo albums is another strategic essential. Finally comes a promotional push to increase the acceptance of digital printing in its "addressable markets": marketing collateral, labels, photo specialties, direct mail, publishing, signage, and packaging.
HP intends to leverage its "digital difference" in all of these markets, said Nigro, adding that applications for HP products now range "from postage stamps to building wraps and everything in between." (A video transcript of Nigro's presentation can be viewed online at HP's Enterprise TV archive.)
Alon Bar-Shany, vice president and general manager of HP's Indigo division, offered a broad overview of the Indigo digital press family and a closer look at the capabilities of the line's new flagship model, the HP Indigo press 5500. He said that HP Indigo claims a 42% share of the digital press market in Western Europe and North America, a 45% share in the Asia Pacific region, and a page production volume that reached 10 billion impressions last year.
HP acquired Indigo, the developer of the world's first digital offset sheetfed color press, in 2001. With the addition of the 5500 and a new entry-level device, the HP Indigo press 3500, the line now consists of nine presses; an assortment of digital front end (DFE) servers; a new near-line UV coater; and supplies. Workflow, finishing, and software solutions from various partners round out the portfolio.
"It's Not Graphic Science"
Bar-Shany emphasized that what Indigo delivers is practical solutions. "This is graphic arts—it's not graphic science," he said, adding that there will always be an element of "art" in print production no matter how sophisticated the technology becomes. He also said that HP wants printers to be "comfortable" in combining Indigo presses with their conventional offset presses so that analog and digital equipment can achieve "co-existence" in today's production environments.
The centerpiece of Bar-Shany's presentation was the HP Indigo press 5500, a platform in the $400,000 price range that is expected to be available in major markets next month. Its launch at the summit was heralded by a highly favorable evaluation from the SpencerLab Digital Color Laboratory, an independent testing organization commissioned by HP to compare the photographic print quality of the 5500, the Kodak NexPress 2500, the Xerox iGen3, and the Fujifilm Frontier 570 (a conventional photographic printer).
A SpencerLab white paper on the competitive analysis gave the highest marks to the HP product: "HP Indigo press 5500, with good richness, sharpness, and realism, and with smoothness approaching that of conventional film, garnered our overall preference." The report also stated that photo prints from the 5500 "had the best photo quality, better than the other tested digital solutions and even conventional film."
The object of this praise is the successor to the HP Indigo press 5000, previewed at drupa 2004 and launched the following year. With more than 50 engineering improvements to distinguish it from the earlier model, the 5500 will be aimed at high-volume production environments including photo finishing and photo specialty products. For these markets, HP offers a "photo package" that bundles the press with the new UV coater and a photo enhancement server. According to Bar-Shany, free software upgrades and optional, add-on features available later this year will help owners of the 5000 to protect their investment in the older platform.
Enhanced and Expanded
Live demonstrations in the summit's exhibit hall highlighted the extent to which the 5500 has been improved. The 13" x 19" press has an expanded image area that permits 4" x 6" pages to be printed eight up at 68 ppm (full color), 136 ppm (spot color) and 272 ppm (monochrome). The device can print in up to seven colors of cartridge-fed HP ElectroInk at resolutions of 800 and 1,200 dpi or, with high-definition imaging for enhanced halftone screens, 2,400 x 2,400 dpi. The color set choices are standard four-color printing; photo six-color printing with the addition of light magenta and light cyan; HP IndiChrome six-color printing with orange and violet; and Pantone-licensed spot colors and process-color builds.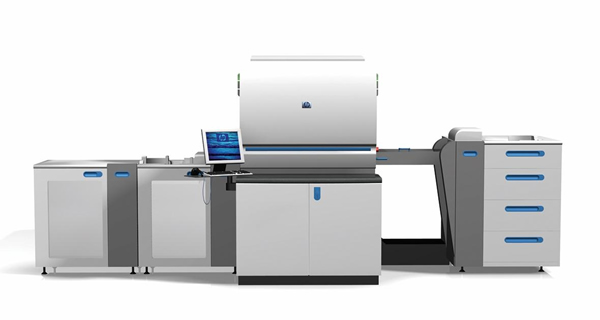 HP Indigo press 5500
A feature permitting the control and adjustment of cylinder pressure enables the 5500 to handle a broader range of substrate weights and thicknesses: for coated stocks, 55 lb. text to 130 lb. cover and up to 16 pt.; 60 lb. text to 120 lb. cover and up to 16 pt. in uncoated. More than 700 substrates are approved for use with the 5500, which can feed 6,000 sheets of paper from four adjustment-free drawers at full speed (272 ppm) regardless of paper type.
Other features enhance print quality and production efficiency. Added to the standard CMYK ink set, the light cyan and light magenta inks can selectively replace regular C and M to control dot contrast and image granularity in skin tones and other areas where problems can occur. An optional on-press fast ink replacement system speeds color changes and heads off ink contamination by flushing the changeover inking station clean of the old color while the rest of the units continue to feed the running press. This process is said to eliminate downtime when switching among spot and special colors.
HP's entry-level solution for digital printing is the HP Indigo press 3500, slated for availability in North America next month at a price in the neighborhood of $300,000. A follow-on to the HP Indigo press 3050, the 3500 is a 12.6" x 18.7" device that can print in four colors at 68 ppm and at 136 ppm in monochrome mode. Like the 5000, it can print in up to seven colors and supports the IndiChrome and Pantone ink sets.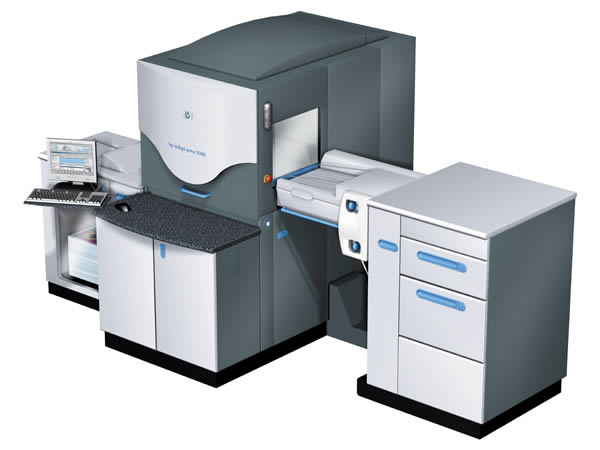 HP Indigo press 3500
Positioned by HP as an enhanced-productivity solution for entry-level production color, the 3050 is said to be capable of printing 1M+ color pages or 2.5M+ monochrome pages per month. The press can handle coated stocks ranging in weight from 55 lb. text to 130 lb. and uncoated sheets from 45 lb. text to 110 lb. cover. Technical improvements include adjustment-free paper handling; simplified operation with the HP Indigo Press Production Manager DFE; color management with Pantone emulations and ICC profiling; and HP Indigo adaptive halftone technology for enhanced line work.
HP Does UV
In introducing the HP Indigo UV coater, a unit compatible with most HP Indigo digital presses, Bar-Shany noted that customers are not necessarily looking for end-to-end printing and finishing solutions. What HP has given them instead is a near-line device that can deposit and cure gloss, satin, and matte finishes at speeds up to 4,000 12" x 18" sheets per hour. Capable of coating media ranging in weight from 80 lb. text to 260 lb. cover, the unit can optionally be equipped with an automated feeder and stacker for increased throughput. A graphical touchscreen provides a simplified operator interface. The HP Indigo UV coater is expected to be available worldwide in September.
Also announced at the summit were the HP Designjet T and HP Designjet Z6100 series wide format inkjet printers; the HP mPrinter 1700c, a process-color OEM device for addressing and transactional printing; Version 1.2 of the Creo-powered HP Indigo Production Stream Server for color-managed digital and hybrid offset/digital printing workflows; and a variety of HP Indigo DFEs.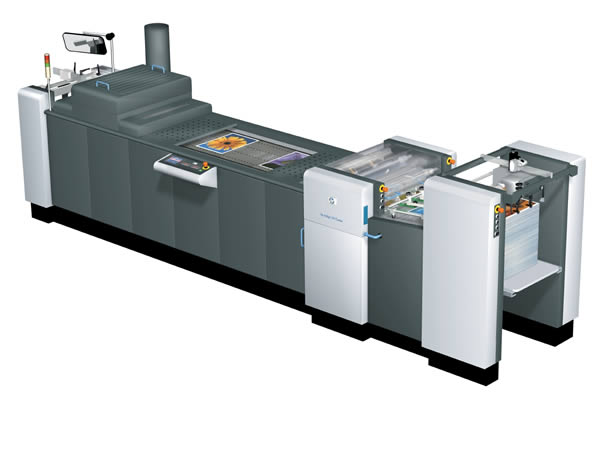 HP Indigo UV coater