Continuing our coverage of workflow and Web-to-print at Graph Expo 2006, Part Two today and Part Three tomorrow of this three-part series cover more of the latest in workflow solutions that were exhibited at Graph Expo, with solutions designed to meet the needs and pocketbook of any size printer, down to the smallest shop. What became clear to me as I walked the show floor and spoke to both exhibitors and printers was that automated workflow is quickly going mainstream. It is not so much whether to implement these days, but how, and as print service providers give consideration to improving their operations, it would behoove them to look closely at what they are spending today when they consider investments for the future.
In most cases, the addition of automated workflow is more a reallocation of resources than it is a new investment—the dollars are already being spent on less efficient workflows that are constraining capacity. By getting automated, printers can reallocate those resources—both in terms of labor and dollars—to more efficient workflows that will actually increase capacity, allowing them to grow their businesses at the same—or a slightly moderate increase in—level of spending.
Adobe reported that it was in Phase 2 of its go-to-market strategy with Adobe PDF Print Engine, and six suppliers at the show were showing technology demonstrations of their implementations, including Agfa, Kodak (Prinergy and NexPress), Fujifilm, Heidelberg, RIP-It and Screen. Adobe reports that HP, Océ, Xerox and others are evaluating how to incorporate the technology into future products. Products that are based on Adobe PDF Print Engine should start becoming available in the first half of next year and will go a long way toward aligning workflows between the creative and production environments.
Agfa showed unified offset/digital workflow interoperability with its :ApogeeX integration pack for HP Indigo. The company will be adding support for digital presses from other manufacturers as well. Using an icon-based production workflow, a job can be split into pieces for a distributed workflow, for example, sending the variable portion to an HP Indigo digital press and the static portion to an offset workflow. Users can specific workflow steps to the page level, including such things as which pages need to be proofed, with pages being directed automatically into the correct process steps.
:ApogeeX 3.5, debuted at the show, featuring enhanced JDF/JMF capability and interactive editing of PDF documents. Agfa also showed a new version of its :Delano project management solution that offers enhanced soft proofing capability along with enhanced JDF connectivity. :Delano can also access :SherpaRemote for centralized control of proofing at remote locations, enabling the creation of proofs with minimal skill and effort and minimal errors.
Agfa also showed a technology demonstration of its implementation of Adobe's PDF Print Engine, expected to be incorporated in :ApogeeX 4.0 in the second or third quarter of next year. Agfa chose to implement an architecture with parallel workflows for CPSI and PDF native, although the company indicates it has not decided whether its implementation will actually ship with both architectures. In its demonstration, Agfa showed a book in which two pages made extensive use of transparencies. The book file was dropped on both workflows simultaneously, demonstrating the increased production efficiency that will be offered by the PDF native workflow—even with a slight lead time, the file was still flattening on the CPSI workflow when the PDF Print Engine had completed rendering the file. :ApogeeX 4.0 will be shipping with Version 1.1 of PDF Print Engine.
DALiM announced compatibility with the Mac Intel platform for its suite of products and showed a new product targeted at the gravure marketplace—Helioflow, developed in collaboration with Hell Gravure Systems, which the company positions as the first intuitive, automatic gravure imposition tool. With a goal of shaking things up in packaging, DALiM also announced an update to its MiSTRAL packaging application, operating in an open environment. The product is server based, with no client licensing required.
According to marketing director Gee Ranasinha, "Packaging is a growing market, and a number of traditional commercial printers are getting into it as a business expansion opportunity. By eliminating the need for client licenses, we allow printers to more easily and cost effectively take advantage of the seasonality of the packaging industry without the need to purchase extra seats that may only be used a few weeks out of the year." Ranasinha also reported that sales of its Dialogue product are up 100% year over year, a sign that the company's "keep it simple but scalable" strategy is working.
Creo PODS, the "firewalled" subsidiary of Kodak that delivers digital color servers and variable data printing (VDP) solutions to Kodak and other suppliers, reported that it has added Konica Minolta and IKON to its partner list, with Xerox and HP already in place. The Creo Spire server will support Kodak's NexPress sometime next year and will be fully integrated into Kodak's Unified Offset/Digital Workflow.
Enfocus demonstrated PitStop Automate last year at Print. This entry-level, hot folder based workflow solution began shipping in the spring, and at Graph Expo, the company announced several partners that have developed plug-ins for further automation, including Alwan, ICS, PerfectProof, and Ultimate Technographics. PitStop Automate closely integrates with Acrobat Distiller and includes Enfocus' PDF editing, preflight, and auto-correction, as well as automation functionality. A natural upgrade from Enfocus PitStop Server, PitStop Automate starts at about $6,000, with an upgrade from PitStop Server priced at about $3,000. As workflow requirements grow more complex, the company has designed an easy upgrade path to its parent company's advanced workflow solution, Artworks Odystar.
Fujifilm has now eliminated the Enovation brand as part of the launch of a new corporate brand identity. Its distribution arm is now known as Fujifilm Graphic Systems USA, and was one of seven suppliers on the show floor showing a technology demonstration of its implementation of Adobe PDF Print Engine. In approaching this implementation, Fujifilm decided to start with a clean sheet design, due to the significant changes in process and technology that have occurred in the last seven to ten years. As a result, has one of the more interesting implementations I saw at the show, not the least of which is the ability to display documents in 3D mode, including the ability to turn pages in books, as shown below, as well as rotate items in 3D mode.
According to Fujifilm, this can be used to help service providers communicate with the less experienced buyers common in today's marketplace, and comes with a small executable file that can be sent to buyers to allow them to manipulate the document on their own in 3D.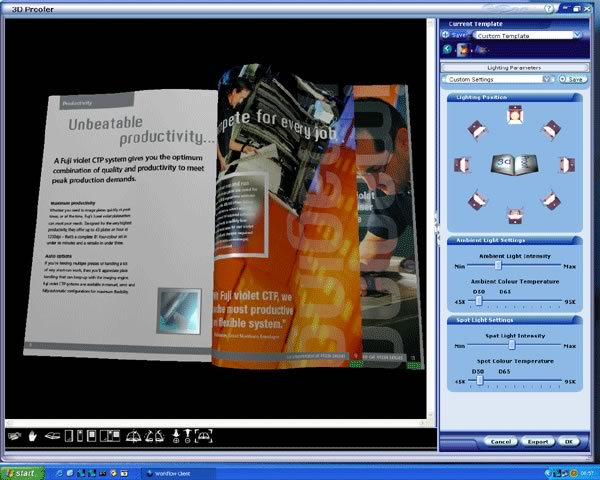 Fujifilm bills this as a new type of automated workflow incorporating intelligent workflows, image enhancement and process automation, leveraging a JDF database for a unified offset/digital workflow. The solution, which will begin customer field trials in Europe early next year, uses a job bag metaphor that allows users to gather and prepare documents, including preflight; organize the document for production, perhaps with some pages going to a color device and others to black & white; an approval process; and then on to production.
The JDF Job Bag model was built with native PDF workflow based on PDF Print Engine. Fujifilm is one of the few that has implemented both the viewing and printing capability PDF Print Engine offers. Because it uses a series of layered templates, last-minute changes can be made—for example, in imposition for a different print output device—and the system will examine the other layers to determine what else needs to be changed. This is a very impressive implementation, and it will bear watching as it comes to market. Pricing and availability have not yet been determined.
Global Graphics was the first company to successfully complete ICS certification for JDF compliance with its Harlequin RIP version 7.1. Several OEM partners demonstrated implementations of the latest version of the Harlequin RIP and its Print Production Manager, including ECRM with its WorkMates PDF workflow; Presstek with its Momentum RIP; Xitron with Navigator GPS; Printware with PlateStream RIP PPM; Polkadots Software with PrePage-It; and Compose Systems with Express RIP and Express WorkFlow. The Harlequin RIP interprets PostScript and PDF (including PDF 1.6) natively and offers JDF-enabled workflow functionality. Its feature set includes many prepress processes that normally run on separate applications such as color management, trapping and imposition, delivering "workflow in a box" for the small to mid-sized printer.
GMG showed two very slick new applications, Ink Optimizer and ColorProof Automated. Ink Optimizer allows printers to reduce costs of ink by as much as 25% by substituting black in the CMY layers in a process that also reduces the amount of ink that needs to be used on a press sheet and leads to faster drying time. GMG showed samples of normal and optimized press sheets, with the optimized sheet actually looking crisper than the normal sheet.
The ColorProof Automated bundle was announced in conjunction with HP, and delivers the ability to do remote proofing with central control. Bundled with the HP DesignJet Z2100, an EyeOne spectrophotometer built in to the printer, and a freeware calibration wizard, ColorProof Automated allows centralized control of the proofing parameters with users at the site merely needing to load paper and ink and pull proofs from the output bin. Innovative solutions like this are truly bringing remote proofing mainstream and will cut both cycle time and costs out of the process, increasingly important as turn times continue to compress.
Gradual Software has delivered a new version of its CaslonFlow workflow automation and has renamed the product family to Switch—Light Switch, Full Switch and Power Switch, designating three different levels of capability. Pricing starts at $800 for Light Switch, a hot-folder-based automation solution that can link islands of automation within the shop with pre-designed workflows. Light Switch is packaged software that does not include any third party integration, but offers an upgrade path as needed when more automation arises. At the high end, Power Switch supports configurators that support streamlined integration with third party solutions from Enfocus, Callas, Adobe and more, and is priced at $3,000. This slick—and cost effective—solution is well worth looking at.