This year at the AIIM ON DEMAND 2006 Conference, the focus continues on business development. Manufacturers understand the need to offer customers more than technical support for their products. What's needed is business expertise and access to the best practices that will enable printers to move quickly and on-target toward success. There just isn't much time for trial-and-error. Vendors are helping with everything from segmenting the market to writing marketing plans to digital selling skills.
Infotrends announced a new Business Development Strategies service managed by Barb Pellow of Pellow and Partners LLC. Says Pellow, "The measure of success is not whether the problem is tough, but whether it's the same problem you had last year." She mentioned the need to target the right customer, position properly and fine tune "the four P's—product, price, place, promotion." Business development can help change the way you go to market-- including a horizontal or vertical approach, or sometimes knowing what target markets NOT to serve.
Meanwhile, Kodak announced the launch of expanded business development services called MARKETMOVER (www.marketmover.Kodak.com). These Premier Packages have been developed to support owners of the KODAK NEXPRESS digital production color presses, KODAK DIGIMASTER black and white print systems, and the KODAK DIRECTPRESS DI digital offset systems. I had an opportunity to interview Bob Barbera, Director, Business Development & Professional Services.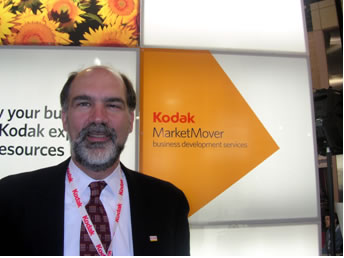 Bob, please explain how you see your role regarding MARKETMOVER.
A big part of digital printing is helping customers get into the opportunities. That's the job of my team in the US and Canada. We have historical roots that started with Heidelberg to do that. Kodak is continuing to develop and expand the program. MARKETMOVER is our brand for business development that will cover all of our services. For instance, my group has dedicated people out there working with customers all the time whose sole role is to provide workshops, training, tools and marketing materials to help them grow into new markets. Our MARKETMOVER customer website will deploy all the tools and resources, such as Open House Guides, application samples and ROI tools to name a few, so they are available to our customers 24x7. It is password protected.
How do you assist customers with special areas such as web-to-print and variable data?
In addition to business development, we provide what we call solutions and services. Kodak will provide customized solutions and recommend any third party products that are necessary to meet the goals of the customer. It is not theoretical. We walk the talk.
Are there one or two business development issues or obstacles that you are seeing frequently?
We have two sets of customers. In one group are those who are just getting into digital and want to know how they can get off to a fast start, build their digital printing business and lead with the right applications. In the second group are those who have been in digital printing successfully for a few years and are looking for more advanced programs and strategies to grow. They want ideas to increase their revenue. This is quite different from the way it was 4-5 years ago.
With regard to the new user, the hardest thing is for the sales force to look at their customer's problems and problem solve. It may take some reengineering of the sales force to bring in the consultative approach. The good news is that we do see more and more salespeople "getting it" and having greater awareness with their customers. The digital vocabulary and knowledge level is higher than years ago.
A second obstacle faced by new users is fully integrating their capability. This may mean getting the back office straightened out or doing a better job of data cleansing and prep. It is just synchronizing their capabilities with their resources. We try to take a crawl, walk, and run approach in addressing customers where they are and helping them to the next step.
What about obstacles for your more advanced customers?
The more advanced customers want program-based sales. They are looking for repetition and, if possible, an annuity. We focus on where they are already successful and coach them in ways to replicate their success. If they have a couple of good solutions, we caution against branching out and becoming too diverse.
Another issue is image--becoming less a printer and more a communications provider. My group emphasizes that customers are really offering a bigger picture and the right solution at the right time. This can mean blending offset and digital. Most customers do see an increase in their offset sales since they are approaching different areas of their client's company and new prospects. In one case, a prospect was already having a job printed digitally but their vendor was not hitting the logo color they required with only 4 colors. So, they switched the NexPress for the 5 th color. And then the offset business followed along!
Do you see a change in the receptivity of the printer's customers to digital these days?
Most definitely. End customers are realizing some of the savings in POD and know about improved response rates. Many are now looking for a print on demand solution and awareness is growing. Agencies are interested in VDP and many printers deal with them directly. But the challenge to capture the business is still there.
To show the importance of MARKETMOVER, I would highlight two Kodak customers. Kennickell Print and Global Marketing, a $13 million family owned commercial printing company founded in 1892, installed a KODAK NEXPRESS 2100 plus press in January. Working with KODAK MARKETMOVER service professions, the Savannah, GA, business saw digital printing revenue soar 2.5 times greater than their business plan by the third month of operation. The other customer, Direct Response Imaging, is a former digital service bureau that has transformed into a fast growing digital printing company. They expect to double their revenue in 2006. Both of these customers attribute their success to the business development team that helped them asses the marketplace, find the big opportunities and generally give advice and solve problems as needed.