Imagine my surprise, after probably the worst travel day of my life, arriving at the AIIM/On Demand show in Philadelphia and seeing a Google booth! It made the travel woes almost worth it, though I have to say, I wondered why they were there.
The mystery was solved with the Wednesday morning keynote by David Girouard, General Manager, Google Enterprise. Fascinating! David has a strong background in management consulting as well as a stint in product management with Apple—though he is quick to tell you it was in the pre-iPOD days. His charter is to bring Google technology and innovation—technology and innovation that is driven by consumer demands—into the enterprise. So Google is, indeed, trying to take over the world! David used the iPOD as an example of the Darwinistic situation in the consumer space—if you stay around and are successful, it is because you are placing incredible focus on the needs of the customer and changing rapidly to meet those needs. He points out that enterprise applications don't always follow that model. He says, "Where is the passion and excitement in filling out forms?"
In the consumer world, as Girouard points out, there is nothing between the manufacturer and the consumer—the consumer chooses how to spend his or her dollars. But on the enterprise side, user—or consumer—needs are often determined by the IT Department, and those user requirements are often interpreted with mixed results. The outcome is that enterprise applications are not always as user friendly, or even as productive, as one might like. But Google wants to change all that.
He points out, "[changing this model] is about more than search, but search is at the heart of it. Search is the starting point to the world's information. It is kind of an über command line interface to the whole world. You don't need to know syntax or commands; it just works."
I use Google a lot, as I am sure you do. But did you know that you can enter a FedEx tracking number on the Google command line and go right to the tracking information? Or perhaps, "Weather New York," and instantly display a four-day graphical forecast? Or a UPC code to find out specific product information? Many of us have probably been underutilizing the interface of this simple, but elegant, tool. He shared a story about a customer focus group in the early days of Google. A group of individuals was brought in to provide feedback on the Google interface. They sat down in front of the computer with what is now a familiar screen, but no one did anything. When they were asked what they were waiting for, they said, "We are waiting for the screen to finish loading!" That's why Google ultimately put the copyright line at the bottom of the page—as a signal that that is all there is!
In the world of business, according to Girouard, "Having efficient business processes, which used to be a differentiator, is now only the cost of entry to the game. Innovation is today's differentiator." Not much different than the printing industry—quality is no longer a differentiator. We too must innovate. And he submits that the office workers of the '50s through '70s migrated to the knowledge workers of the '80s and '90s; and the 21 st Century reflects a migration to self-directed innovators who are drivers of today's business success. What is a self-directed innovator? These are workers that:
are not process driven
collaborate with a broad network of friends and colleagues
have intermingled their personal and work lives
need information even when not at their desks
do not spend the majority of their time in a single application
tend not to be patient
Sound like anyone you know?
Girouard's premise is that not only are these self-directed innovators a competitive differentiator for companies, but they are driving a convergence between consumer and enterprise applications, and Google has positioned itself squarely in the midst of this convergence, with a realization that employees and consumers are actually the same people and that overly complex applications in the workplace will ultimately fail. So to counteract that, Google wants to provide a command line interface to the enterprise, blending personal knowledge (of the worker—read "Google Desktop Search"), the enterprise's collective wisdom and the world's information into a single access point that can translate the intent in the user's mind into the information he or she needs in the most efficient manner possible. And, of course, incorporating the appropriate level of security and access control.
So the familiar and simple Google interface below adds one more link at the top—"Enter Your Company Name Here."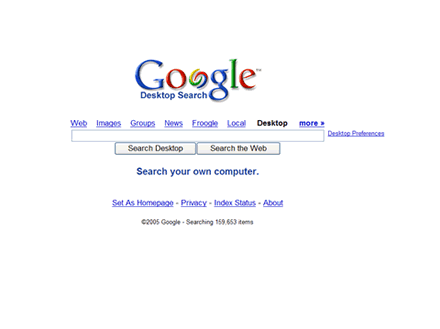 He says, "Simple is good, simpler is better and fast is mandatory."
Watch out, Oracle and SAP. Google is indeed positioning itself to take over the world. But it sounds like it might just be a more interesting, simpler and more user friendly world than that many of us are dealing with today that could profoundly change the way we work.