At Print and Graph Expo, pride of place traditionally has belonged to sheetfed presses, but it no longer makes sense to refer to the events as "sheetfed shows." Although sheetfed presses probably always will outnumber web presses at the Chicago printing fairs, it's likely that Print 05 witnessed the end of many of the differences in how the two categories of commercial equipment are perceived.
Cheaper copies at higher volumes in return for a compromise in quality: that used to be the truism about web printing, and, like any truism, it had a solid if not unbreakable basis in fact. But, that was before commercial web presses began to challenge sheetfed machines not only for cost efficiency in smaller runs, but also for appearance and consistency of output. The ability of modern web equipment to blur the distinctions, as seen in the capabilities of the two exhibitors profiled below, was a keynote of Print 05 and will be a trend to follow closely at all future shows.
Have all of the differences been eradicated? Of course not. Sheetfed presses still can handle a much broader range of substrates than web presses, and they offer more options for specialized color and coating. Webs still run faster than sheetfeds, and they can cut and fold signatures inline—something that no sheetfed press has yet figured out how to do. Nobody, probably, will ever want to print big-city telephone directories on sheetfed equipment, and it's equally difficult to imagine a good reason for migrating a run of a few hundred copies of anything to even the most efficient web press.
Nevertheless, picking one process over the other is a tougher call for print buyers and production managers than it used to be. Should manufacturers of sheetfed presses—at least, those who don't also manufacture web presses—be a tad nervous about a shift in market share?
Graham Trevett, a vice president-sales for web press maker Goss, answered that question at the show when he pointed out that most of the interest in his company's wares was being shown by—you guessed it—sheetfed printers.
Goss International Americas Inc.
Goss came to Print in fine fettle, projecting sales of more than $1 billion and the delivery of about 400 commercial web printing units in 2005. The company claims to hold a 70 percent to 80 percent share of the commercial web market in North America, and it bolstered that assertion by announcing a number of major press sales or installations at the show. Also a major provider of newspaper presses and of postpress and auxiliary equipment, Goss was able to report sales increases in these areas as well.
All of the above good news could likewise be relished by Heidelberg, which retains a 15 percent interest the web press business that it sold to Goss as a part of its restructuring last year. Goss's U.S. manufacturing facilities remain in place where Heidelberg formerly operated them in Dover and Durham, NH.
Goss makes 16- to 64-page commercial web presses that use gapless blankets, shaftless servomotor drives, pinless folders, digital ink control systems, and other advanced technologies to maximize production efficiency. Efficiencies are such that some Goss customers are said to operate in unheard-of run lengths for commercial web work: as few as 1,000 and even 500 copies, according to Christopher Clement, senior product manager.
Goss's display at Print included examples of each press in its Sunday family: the 24-page Sunday 2000; the 2 x 8 (32-page) Sunday 3000/32; and double-circumference Sunday 4000, available in long- and short-grain cylinder configurations from 32 to 64 pages. A Sunday 2000 unit fitted with Goss's Automatic Transfer (AT) technology facilitated discussions of how Sunday presses thus equipped can bring cylinders on and off impression while the rest of the press is running—either for simple black-plate changes or for switching from one entire four-color laydown to another.
A black-plate change, said Clement, could permit versioning within a short run by printing text with one unit while another unit is plated and made ready to print something else—for example, the same text, but in a different language. Through precision control of the press's shaftless drives, and without stopping any other part of the press, the AT feature brings the waiting unit on impression at the same instant that the active unit is taken off.

Goss's Automatic Transfer (AT) for Sunday web presses makes it possible to bring cylinders on and off impression for versioning within print runs.
On an eight-unit Sunday press, the effect could be quadrupled by preparing four dormant units for automatic switchover while the other four are printing. Clement said that AT's "very complex software" enables it to calculate exactly where waste impressions resulting from the changeover, if there are any, will be located. These copies then can be diverted to a waste channel that removes them from the run.
"The press never shuts down," said Clement, adding that the key to efficiency in a web pressroom is to "keep everything warm" for continuous output.
The AT feature, now available on Sunday 2000 presses, also will be offered to Sunday 4000 customers. Goss expects to install an eight-unit, AT-equipped Sunday press at an undisclosed North American location within a year, Clement said.
QuadTech
Eliminating the perceived qualitative differences between web printing and sheetfed printing is the business of QuadTech, a Sussex, WI, company that makes ancillary control systems for web presses. A division of Quad/Graphics—a printing company that does a very high volume of web work—QuadTech bases its product development on the assumption that making allowances for lesser quality in web offset is a luxury that print market conditions no longer permit.
"A lot of convergence in printing technologies is going on," said Sharon Quint, QuadTech's director of marketing, at the company's booth at Print. "Web presses are printing shorter runs. Sheetfed presses are trying to run as fast as webs. Digital printing is competing with offset lithography." What's more, she notes, no one these days has time or patience for lengthy press checks, prolonged color approvals, or high percentages of waste—a market reality that puts added pressure on web printers to exceed expectations.
QuadTech tries to help by offering auxiliary systems that control color, monitor registration, and automate workflow for commercial and newspaper web printing. These systems are in worldwide use, and they have, according to Quint, enabled some QuadTech customers to make remarkable improvements in production efficiency: for example, the newspaper printer that went from 3,000 copies of start-up waste to 200; or the coldset web printer that made the transition to heatset production without having to struggle with the learning curve that the leap to heatset's higher quality requirements ordinarily would entail.
At Print, QuadTech exhibited on a "five-star" theme that highlighted its capabilities in color management and control; mark recognition for web and ribbon register; integration across the product range; JDF-enabled workflows; and service and support.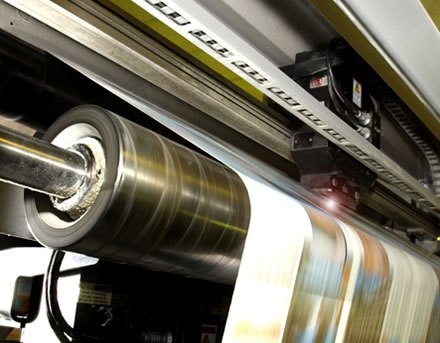 QuadTech's web color control system, incorporating technnlogy by System Brunner, can read and measure 31 color attributes including grey balance at full running speed.
Featured products included a color control system incorporating "Instrument Flight" technology by System Brunner; register guidance and ribbon control systems using QuadTech's "MultiCam" sensors; the ICON integrated press control platform; and Data Central, a software product that overlays other QuadTech press controls to provide automated setup and performance reporting.
Tom Halverson, a QuadTech brand manager, was on hand to explain some of the technical advantages.
He said that the System Brunner technology behind QuadTech's color control system enables the product to inspect and analyze 31 color attributes by reading micro color bars at full press speed. The data from the readings, including values for CMYK ink densities, trap, contrast, and dot gain, are fed back to the ICON control center for closed-loop color control throughout the run.
According to Halverson, QuadTech's color management solution is the only product of its kind to include gray balance control in its repertoire of quality checkpoints. He said that grey balance—the combined percentages of process colors yielding a neutral grey in midtones—increasingly is being recognized as a benchmark for matching press output to proof. For true color management, simple measurements are no longer enough: "You can't print by numbers just by looking at solid ink densities," Halverson observed.
QuadTech's register control systems for webs and ribbons cut from webs use MultiCam digital cameras to capture register marks at full press speed (up to 3,500 fpm). Halverson explained that because the specially designed camera scans the entire repeat length (circumference) of the impression as it searches for the marks, it can find them up to 30 faster than competitive systems that use off-the-shelf cameras. He added that the register marks are small enough to be placed in white space only 0.2" wide—a characteristic that increases the printable area of the web and thus reduces trim waste.
Information captured by MultiCam drives QuadTech process control algorithms that automatically adjust to changing press conditions. Halverson said that the result is less running waste and minimal disturbance in register from web splices changes in paper humidity.