There are a lot of flavors of inkjet these days and it's interesting to watch the market develop as vendors vie for share. Some IJ technologies are well accepted, while others are still looking for broad adoption. But make no mistake, ink jet printing is a growing technology and already dominates some areas of printing.
HP
Some of these are well-established, such as addressing, and Domino, H-P, Kodak Versamark and others all have a wide range of addressing products. H-P announced its new HP 4000M imager that can be integrated into specialized printing systems such as mail tables and inserters as well as with offset presses and finishing equipment.
H-P has been supplying its thermal ink jet technology to companies for years, where it shows up in relatively inexpensive devices for addressing and other basic print and mail functions. The HP 4000M relies on the same thermal ink jet technology used in H-P's other inkjet products but is supposedly more robust and better able to meet the speed demands of higher volume service providers.
The alliance between Muller Martini and Kodak Versamark makes a lot of sense and I think we are only seeing the beginning of what's to come.
Using tried and true thermal technology makes for attractive acquisition prices, but thermal tends to be expensive to operate, as H-P is not bashful about charging for ink, having clearly figured out the razor-and-razor blade business model. Thermal also tends to need more care to ensure the heads remain clean, adding labor costs. This latter issue has supposedly been addressed to some extent in the new device. Still, it squares off against competitors like Kodak Versamark whose continuous ink jet or drop-on-demand technologies have higher initial price tags but typically provide a much lower TCO. In addition, CIJ and DOD have typically had an edge in speed, but the new H-P system has turned up the wick and runs at 600 feet per minute and offers a 4.25-inch print width and 1200 dpi. This is still not as fast as some competing devices, but will surely be compelling for some print providers. The jury is out on whether the higher resolution will be important. You'll know it is if the competition follows suit.
Domino
There were also new CIJ and DOD options shown in Chicago offering plenty of flexibility, especially for print and mail operations that need to be able to say "Yes!' to any job that comes in the door. Domino, for example, rolled out its new K-Series K-200 printer with triple the number of ink nozzles used in its predecessor. As with most ink jet systems, the heads can be ganged to expand the area printed, and Domino's heads can also be angled to create the exact image required for a particular job. The K200 also handles spot color printing and can use Domino's CMYK UV-curable inks on a wide variety of substrates. Domino also introduced the Bitjet+ binary printer that uses a variety of MEK ink variants including fast-drying low-VOC acetone options. It features a more robust ceramic charge electrode for longer life and less wear.
Company president Gilles Buisson explained that Domino's products for the U.S. market focus on market segments, and that the same Domino device can be configured for specific applications and with equipment from multiple vendors. At the show they were showing a variety of applications for addressing and ID cards running post-processing equipment from Heidelberg and others. The company is targeting printers with $7–10 million in revenue with a goal of helping them configure solutions that will help their businesses grow by offering more and better services.
Kodak Versamark
Pat McGrew at Kodak Versamark told me the ink jet pioneer is continuing to roll out new products and is seeing increased acceptance in the market. The small format ink jet heads--primarily used for addressing--continue to be very successful and the company is focusing more of its efforts on educating the market on the virtues of full-color ink jet for direct mail and transactional applications. Part of this is to help businesses understand that value is measured in cost per response, rather than the expense of cost per piece. Another element, says McGrew, is educating designers to create documents with ink jet in mind. Just as designers have learned to keep toner away from areas where there will be a hard fold on a heavy stock, they need to understand the limitations of ink jet, such as preparing images to print well and the effects of liquid ink hitting paper at high speed.
Among the options KV offered in Chicago was its new alliance with Muller Martini and the hybrid technology of ink jet print heads on Muller Martini's Concepta press. This is really not a new idea, but it's one that is gaining newfound credibility. While I know some direct mail printers and with well-amortized offset presses and high-speed laser printers who scoff at the hybrid concept, I have seen the interest these systems generate at every print show for the past few years. The new presses get up to color fast which reduces labor and the cost of the "preprinted" shells, they can economically accommodate shorter run lengths than older machines, and handle more substrates than purely digital devices. The processes relative to the variable data delivered by the ink jet heads can be learned, and the solvent-based inks delivered by those heads can print on all the substrates the press can use. Watch for hybrids to continue to evolve and be an important part of variable data printing--especially direct mail. The alliance between Muller Martini and Kodak Versamark makes a lot of sense and I think we are only seeing the beginning of what's to come.
Screen
While it wasn't running when I visited the stand--technology demos can be frustrating that way--I liked Screen's Truepress Jet520. I have long been a fan of Epson's piezo print head technology and have wondered how long it would be before it showed up on a high-speed device. We still have a while to wait--this box won't hit the U.S. market until October 2006--but this is one to watch. Its piezo DOD (Drop-On-Demand) inkjet print heads are manufactured by Seiko Epson (an exclusive deal) and deliver multi-tone printing, with a color depth of four tones per drop (2-bit imaging) for each color. Droplet size is still classified, but judging from the output on the rewinder "very small" is a good guess.
Capable of running at over 60 meters (over 200 feet) per minute, the roll-fed machine will come with an unwinder and rewinder and various finishing options will be available for inline connection. Print width is 20.5" so I actually began thinking about applications such as technical manuals printed 3-up, where color can enhance readability and communicate more effectively.
As you'd expect, Screen is targeting personalized catalogs, direct mail pieces, full-color account statements, and other high-quality printed materials based on customer databases. Screen says the Jet520 will have the color management and fast processing speeds needed to produce these documents with the quality and speed required on standard and coated stocks. Mark Crawford, product manager for the new box, says we'll be able to see it running at the On Demand Show next May in Philadelphia.
Vutek
Going a little wider--OK, a lot wider, but still with piezo technology, I checked in on Vutek. I hadn't looked at them in some time and was pleasantly surprised to find the print quality coming off these big printers is simply terrific. Whether you want to print on a solid surface, fabric, wrap a VW Beetle, or simply do some high quality billboards or other signage, Vutek (recently acquired by EFI) has some fine tools to deliver results. Depending on model, Vutek machines print four, six and eight colors and range up to 196 inches wide, with resolutions ranging from 300 dpi to an apparent 720 dpi.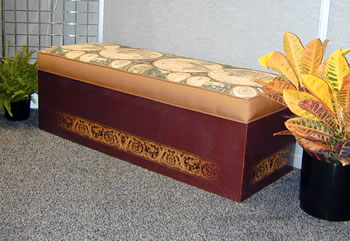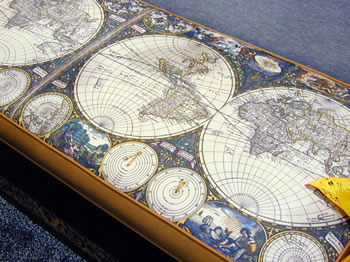 Both the design on the wooden sides of this bench and the fabric top were produced on Vutek wide format printers.
New at the show was the 3.2 meter PressVu UV 320/400 UV curing flatbed printer. The 400 dpi machine can print on rigid substrates up to 126" wide and 1.75 " thick at a rate of 1,000 square feet per hour. But it's not limited to hard substrates, and incorporates roll-to-roll capabilities so owners can use it to deliver a full range of wide format services.
Vutek's U.S. headquarters is about an hour from my base in southern New Hampshire, so you can expect a closer look at their operation and their products coming in On Demand Journal, probably later this year.
More still to come!
This was a big show, and we still have another week of coverage to come, so stay tuned for more from WTT at PRINT 05.