Sun Chemical quietly dropped two bombshells on the marketplace at Print 05. The first was Liberty sheetfed inks, released through Kohl & Madden, which stay open indefinitely on press, but dry and can be put through finishing within minutes. All with no VOCs.
The second is that Sun Chemical is now in the digital press business, launching a 300-dpi inkjet press, the FastJet, for the POP and corrugated packaging markets.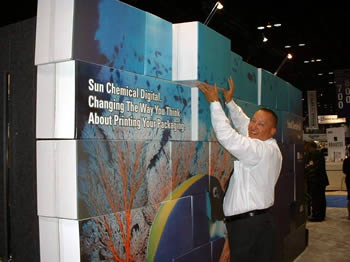 John Kalkowski, marketing manager for Sun Chemical, stands before a display of corrugated boxes printed with the Sun Chemical's FastJet inkjet digital press. The press prints on cardboard from A flute to E flute.
Up to Color in 5 Sheets or Less
But it's the Liberty inks that everyone was anxious to talk about. With these inks, no press wash-ups are needed unless contaminants have dropped into the press. Test sites have even kept the ink on press for 32 days, with no drying. Not even in the rollers.
And yet, sheets dry in a matter of minutes and can be put into finishing almost immediately. While Sun Chemical says publicly that the inks dry in less than an hour, on-site tests consistently show an average dry time of between 10-15 minutes. Even a 5/5 perfecting jobs was put into finishing within 40 minutes.
All without emitting a single VOC.
These inks are also extremely stable, so even when the press is shut down, it comes up to color extremely quickly. "In our tests, in all cases, when printers shut down the presses for short periods, such as for lunch, when they came back, the press was back up to color in five sheets or less," says John Kalkowski, marketing manager for Sun Chemical.
While many printers — and, frankly, many industry reporters and analysts — dismiss these claims as somewhat exaggerated, on Monday and Tuesday, Sun Chemical held special events with contingents of customers who have run the inks and confirm that they perform as promised.
"It's natural that people are skeptical about this," says Kalkowski. "But everyone who has tried it has been knocked out."
Radical Reformulation
These feats are accomplished by a radical reformulation of ink that looks nothing like traditional ink. "To give you an idea," says Mark Levin, Sun Chemical corporate vice president, North American publication inks, "traditional stacks of sheets dry from the top down. But Liberty inks actually dry better in environments without oxygen, so the stacks dry from the middle of the stack out."
Although these are premium inks, costing about 30–40% more than traditional inks, for Sun Chemical, the cost justification is all in the numbers. Assuming very conservative paper waste of 2%, it has calculated that, for 40" presses running $2–$2.6 million in paper per year, in a two-shift operation, printers can save $40,000 per year per press.
These are just beginning of the savings. Liberty inks print equally well on uncoated and poorer grade substrates as higher grades, for example, so printers can help customers save money on paper costs. This could promise to be a huge competitive advantage if the U.S. Post Office levies a hefty postal rate increase next year.
"Liberty inks take substrates completely out of the equation," says Levin. "They actually dry better on uncoated paper than coated."
In the Digital Press Business?
The second bombshell was that Sun Chemical, which is one of the largest suppliers of digital ink to OEMs, is now in the digital press business. Working with Inca Digital Printers in the U.K., which is OEMing the press, Sun Chemical has introduced the 300 dpi, four-color FastJet, an inkjet press that prints on all flutes of cardboard — from E to A flute, even paper.
Unlike traditional inkjet presses, the FastJet uses a fixed array, with the substrate passing beneath it. The press is designed for POP displays and secondary packaging that can be used to create attractive displays in warehouse stores and similar locations.
The press will be huge — 24 x 15 feet — but the company already has approximately 20 "hot prospects" who have shown serious interest in the press once it's on the market in Q4 of 2006.