Print 05 is the public debut of the "new" Kodak Graphic Communications Group, following the apparent conclusion of the company's aggressive acquisition path with the close of the Creo acquisition in mid-June. A unified brand identity was definitely in play in Kodak's show presence.
In a press briefing conducted earlier this summer, Antonio Perez, Kodak's new CEO, speaking about Kodak as a whole, said, "Our digital transformation is going well from my point of view. It is not an easy change, and is actually a drastic change for the company. But we set out a strategy and that strategy is unchanged. Our transformation is built on a set of core competencies, our aim of making technology easy to use, and our brand reputation."
Perez pointed out that because revenues from consumer film are dropping faster than expected, the company has accelerated transformation activities and expects its digital transformation to be complete in 2007. For a company as large and established as Kodak, these are aggressive targets, considering that the transformation strategy was only introduced in September of 2003, a mere two years ago.
Perez stated that the company's X-ray and entertainment businesses are going as planned, with X-ray film declining about 7%, and the entertainment sector still relying heavily on film, a condition Perez expects to continue for a couple more years. He adds, "After 2007, the company will stand on its own as a digital company, and the profits generated from our digital businesses will make the business self sustaining. Our challenge is to manage the cash over the next two years during the final stages of this transformation." Perez projected company revenues in the range of $16 billion by 2006.
The State of the Digital Business
Perez reported that in 2004, Kodak's digital revenue grew by about 42%, 50% of which was organic, and 50% by acquisition. He admits that transferring the brand into the digital world is still somewhat of a challenge. But he cited proof points that indicate that this transition has been even better than planned:
Kodak is the number one digital camera in the U.S and number three in the world. Perez points out that there is not that much differentiation between digital cameras of different brands, and that ease of use and brand are the basic differentiator for Kodak.
In April 2003, the company introduced a small home printer dock for photo printing. The market was skeptical that Kodak could be successful in home printers. But within nine months, Kodak was number one in the U.S., and is now number one in all of the countries in which they sell those products.
Perez says, "By and large, we are number one in cameras and printers because of the brand. When regular people go to store and see 50 digital cameras sitting there, it can be very confusing. They don't want to read the specifications for 50 cameras. They basically look for three brands: Kodak, Sony and Canon, because those are a safe buy. This brand does work well in digital." He adds, "June of 2005 was the first month in the history of Kodak in which digital revenue was larger than analog revenue. Never again will the analog part of our company be bigger than the digital part."
The Graphic Communications Group
The Graphic Communications Group, of course, is a growing contributor to the company's digital revenues, born as a digital group, although it still has some analog content. After all of the acquisitions that have taken place to bring the group to its current state, including Heidelberg's digital businesses, Scitex Versamark, Kodak Polychrome Graphics, and most recently, Creo, company management reports that the integration efforts are going well. Perez asserts, "No matter how experienced the management team is and how important the acquisition is to the business, the only acquisitions that work are those where the integratees want to be integrated. Every company we acquired felt that what we were building here was unique, something that the industry needed. We were not just chasing after revenue; there was a lot of logic behind it. Still, it is a challenge, integrating six different cultures. But we all love the industry and our customers, and we all talk to the same analysts. Systems need to be integrated, and achieving the synergies will be hard. But the integration is going extremely well because each of the companies we acquired wanted to be part of this larger whole. And we are determined to be a top dog in this industry."
While the Graphic Communications Group will not begin to report separate results until 2006, Jim Langley, the group's president, stated, "We generated $794 million in worldwide sales in the second quarter of 2005, which includes two weeks of Creo revenues. We have seen a 22% increase sales from Versamark, and the KPG digital plate business is 13% above plan. Revenue for NexPress color and B&W products increased 91%." Langley indicates that the business has a $3.5 billion run rate.
Langley addressed his group's digital and analog mix by saying, "Most of the GCG business is in an early maturity stage. Mature products include black & white digital, production scanning, analog plates, proofing media, and graphic arts film. DI presses are approaching maturity. We expect to see growth from our "early maturity" portfolio which includes continuous inkjet color, electrophotographic color, workflow, imprinting, digital plates, wide format inkjet, distributed scanning, flexo plates, and DI presses."
Jeff Jacobson, GCG COO, said, "The new GCG is a compilation of 11 to 12 of the best companies that have ever been in this industry. Why do we think Kodak can deliver this vision when no one else has been able to? We were not arrogant enough to believe that we could do it ourselves. We will achieve our success through acquisition and partnerships. We want to be the General Contractor for the graphic communications industry. Some things we will do ourselves, and for some we will bring in best-of-breed partners." Jacobson added that Kodak is the only company in the market that has the ability to deliver continuous inkjet, electrophotography, digital imaging (DI) offset and conventional offset. The company has a base of over 90,000 customers and is rapidly putting in place a unified sales force, developing all-encompassing customer relationships with a focus on partnering with the customer. "Our primary goal," he says, "is to make it easy for customers to do business with Kodak. We are a digital leader, an innovator, a trusted partner. Now it comes down to integration and execution. And we have a seasoned management team that knows how to do that."
Kodak at Print 05
Print 05 was the first public debut of the new integrated Kodak, and the Kodak booth reflected a unified brand. All of the product families of the Graphic Communications Group were included, from Encad and Versamark to Creo, KPG and NexPress. The applications being shown mirrored those discussed in WhatTheyThink's On Demand show coverage from last May. New to the booth since that time were the former Creo products and the result of a newly announced joint venture with Muller Martini.
Kodak Magnus 400 with Thermal Direct Processless Plates
An earlier article on WhatTheyThink discussed the rapid emergence of processless plate technology from a variety of suppliers, and the resulting improved affordability of CTP. The Kodak Magnus 400, updated with all new electronics and rebranded from the Creo Lotem, produces up to 28 plates per hour with conventional plates and up to 21 plates per hour with Thermal Direct processless plates. Kodak is bundling the Magnus 400 with Prinergy Evo and Thermal Direct plates as an entry-level CTP solution.
Kodak and Muller Martini
Kodak and Muller Martini showcased the marriage of traditional offset and digital high-speed variable printing with a new hybrid printing system in the Kodak booth. The new hybrid printing system uses two high-speed Kodak Versamark D-series printing systems, the DS9100 and DS6240, to print variable data information in-line with a 4-color Muller Martini Concepta web offset press to create high-value, highly personalized printed documents at speeds of up to 1,000 feet per minute. This hybrid printing system drew a great deal of attention from show attendees. The companies showed a preliminary version of this product at drupa 2004, and since that time have productized it by adding a 5 th tower to accommodate the continuous inkjet heads, shown in the photo below.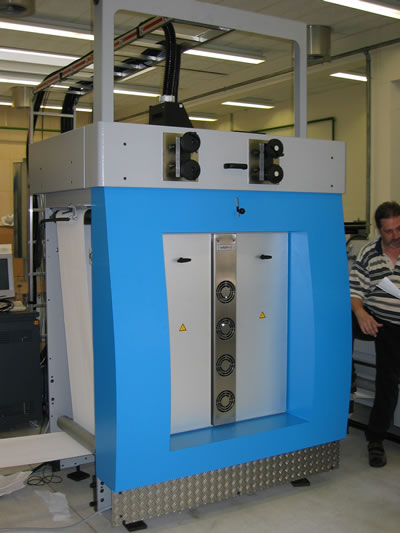 New NexPress Models
Kodak also unveiled two new NexPress models, the NexPress 2100 Plus (2100 sheets per hour) and the NexPress 2500 (2500 sheets per hour). This new family of digital color presses features a highly modular platform that allows customers to upgrade presses with options to select increased paper capacity, increase processing capability, and adding a fifth imaging unit to expand printing services. The company also showed inline or offline finishing with a Watkiss booklet maker available with either of the new systems. The system is a multi-purpose booklet finishing device that takes collated sheets directly from the Kodak NexPress press and automatically processes them into booklets of up to 100 pages.
Kodak Enterprise Management Solution ( EMS)
The KODAK Enterprise Management Solution (EMS), a business workflow solution for the graphic communications industry, also drew a lot of attention from attendees. KODAK EMS software is customized to meet the unique needs of the print industry, and is able to deal with complex environments such as digital print workflows, fulfillment and mailing operations, among many other functions. For a complete discussion, take a look at the previous WhatTheyThink article reviewing this innovative solution.
Kodak Earns Must See 'ems
Kodak was awarded seven "Must See 'em" awards at Print 05, including:
The Hybrid Digital/Offset Press, combining a Muller Martini Concepta press and Kodak Versamark continuous inkjet technology;
Kodak NexPress 2500 digital production color press, adding new modularity, capacity, flexibility and speed to this popular digital printing platform;
Kodak NexGlosser glossing unit for the NexPress presses, adding high-impact gloss to enhance the value of digital print;
Kodak Thermal Direct Non Process Plates – new plates that remove the processing step from the printing process;
Prinergy 3 Layered PDF Versioning System, which helps customers manage the versioning process for complex print production jobs;
PDF Merge and PDF Compare Plugins, which automate correction cycles management in a prepress workflow;
The Kodak Versamark 5000e printing system received an "Encore Must See 'em" recognizing a 2004 winner that again should be seen by 2005 visitors. The VX5000e offers sharp color and black-and-white output in a high-speed, high-volume continuous inkjet printing system.
Business Development Services
In another demonstration area of the Kodak booth, the company touted its expanded Business Development Services, which deliver tools, services and personal consulting to help customers achieve better results. This service, originally designed for NexPress owners, now encompasses a wide range of product lines across the Graphic Communications Group portfolio and is supported by business development specialists in the field and includes tools such as business planning resources, sales support training, industry and vertical market resources, open house support, application guides and samples, owners' guides, and marketing templates. In addition, customers now have 24-hour-a-day access to the tools and support through a new web-based customer portal at http://bds.kodak.com. These types of services are critical in ensuring that printers can effectively take advantage of digital investments and generate the return on investment required in these extremely competitive times.
Unified Color Management
In a very interesting display, Kodak highlighted the results of the IPA Proofing Shootout held earlier this year. In that event, Kodak devices took the top seven spots. The display compared a variety of proofing outputs to the GRACoL test sheet, including: Approval NX, Matchprint Digital Halftone Proofing System, Veris Proof, DirectPress (DI press), Matchprint inkjet, NexPress 2100, and even Matchprint Virtual Proofing LCD. The various outputs were amazingly close, demonstrating an important capability to generate consistent color across multiple platforms and technologies.
What's Next for Kodak?
Pulling off an integrated trade show presence of this magnitude was no easy task, I am sure, especially considering that the most recent acquisition (Creo) was completed only about 75 days prior to the show. But the real challenge for the Graphic Communications Group going forward will be the successful rationalization of its operations and product portfolio, a process which we understand is already well underway. With the Graphic Communications Group beginning to report separate financial results in 2006, industry watchers will be paying close attention to the numbers as a gauge of how successful its execution is, against the strategies Kodak has articulated to the market.