Drent Goebel and RDP Marathon won't have any equipment to flaunt in their joint exhibit at Print 05. But, they're coming to Chicago with something that's getting harder and harder for press manufacturers to lay claim to: a tightly focused approach to a marketplace awash in all-things-to-all-printers solutions from the top-tier vendors.
Other manufacturers offer the same kinds of technology as Drent Goebel and RDP Marathon, which have been operating as one company since the former announced the acquisition of the latter on August 1. However, none has the same concentration of expertise in the two specialties—variable-cutoff web presses and hybrid press equipment—that the partners hope to leverage by transplanting some of Drent Goebel's European manufacturing activity to RDP Marathon's home base in North America.
Synergizing production and synchronizing the sales effort will make the combined operation a force to be reckoned with on this side of the Atlantic in packaging, forms, direct mail, and other kinds of printing that are natural applications for highly flexible printing equipment, say Rob Teunissen, CEO, Drent Goebel, and Eric Short, president, RDP Marathon. Both executives will be on hand in booth #4853 to tell the story of their joint venture, some details of which they shared in a pre-show interview with WhatTheyThink.com.
Engineering the outcome
Teunissen and Short are well matched as the leaders of recently formed enterprises that see customized engineering as their best competitive advantage against bigger, longer established players in the much-fought-over markets they serve.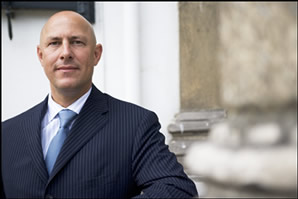 Rob Teunissen, Drent Goebel
Drent Goebel is both a young and an old company. Drent Graphic Machines, founded in 1938 in Eerbeek, The Netherlands, and Goebel, a manufacturer of presses in Darmstadt, Germany, for more than 150 years, merged in 2001 and acquired Giebeler, another German press maker, in 2003. The sum of the parts is an R&D-intensive operation offering variable and fixed-repeat web offset presses for medium- to high-volume output and security printing. Depending on the model, the machines may feature gearless servo drives, quick-change cylinder inserts, or hybridized printing units.
Incorporated in 1989, RDP Marathon manufactures fixed and variable-cutoff web equipment for commercial, forms, label, direct mail, and package printing. Like Drent Goebel, it can custom-build hybrid presses for applications requiring more than one printing process. Based in Montreal, Quebec, RDP Marathon will spearhead sales for the combined operation in North America.
Teunissen notes that the with the addition of RDP Marathon, the Drent Goebel group has an aggregate turnover of €75 million, a work force of about 300, and a worldwide base of customers. He says that because Drent Goebel's predecessor companies "lived by exporting graphic equipment" to almost everywhere on earth where graphic equipment is used, there are few countries in which the combined entity does not sell and place equipment today.
Since August 1, Short has been in charge of sales for both product lines in North America, directing an in-house sales force supplemented by independent representatives. Although the sales components have joined forces, American and Canadian customers will see little immediate change in the way the products are brought to market.
According to Teunissen, RDP Marathon equipment will continue to carry its familiar brand, albeit under a new corporate logo that sports the names of both entities. "There is no timetable to change branding in North America," he says.
Locally produced VSOP
A more fundamental change will be a transoceanic shift of some of the production of Drent Goebel's most technologically advanced printing machine: the Variable Sleeve Offset Printing (VSOP) press.
In a web press, the cutoff (length) of the printed form is dictated by the by the circumference of the printing cylinders. Most web presses have fixed cutoffs and, as a result, equally static printing lengths. Variability comes to a few in the form of replaceable cylinder inserts or, in the case of the VSOP, a pair of lightweight, removable sleeves that do away with the need to change entire cylinder units. Changing the inserts or the sleeves enables a variable press to alter printing length and thereby the arrangement and/or the number of impressions it can print on a form in a single rotation.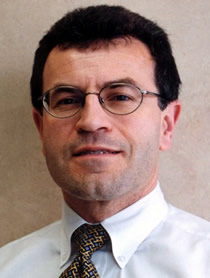 Eric Short, RDP Marathon
Because variability lets printers use the most efficient impositions in the cutoff best suited for each job, the feature minimizes paper waste as it maximizes the area of the form that can be printed. In presses with replaceable cylinder inserts, variability is limited to a set of standard increments. The quick-change sleeves of VSOP presses, on the other hand, have infinite variability—providing any desired cutoff—within their printing length ranges (15" to 30" or 22.4" to 44.9", depending on model). Drent Goebel offers the VSOP in four web widths from label-narrow to wide enough for paperboard and flexible package printing.
According to Teunissen, Drent Goebel sees the highly flexible VSOP not only as attractive to North American printers in the machine's target markets, but also as a natural complement to the web equipment that the company has taken on in its acquisition of RDP Marathon. But, says Teunissen, Drent Goebel also knew that if wanted to be more aggressive in its pursuit of the North American market, it would have to beef up its infrastructure on the continent—including the establishment a regional manufacturing capability.
Hence the decision to build VSOP presses at RDP Marathon's plant in a suburb of Montreal, where production is expected to be under way within the next 12 months. How much VSOP production ultimately will migrate there depends upon how many of the presses Short and his team can sell, notes Teunissen.
With their complements
Short is confident that the fit of the various product lines will help him sell more equipment all across the board. "We've studied our complementary opportunities closely so that we can help our customers derive maximum benefit from the combination of everything we have to offer them," he says.
For instance, the Drent Goebel portfolio does not have a machine that corresponds to one of RDP Marathon's flagship products: the 380V, a 38" wide, 1,800 fpm web press for forms, direct mail, and promotional graphics. Hand-in-glove product synergies like this will make it possible to bring customers of both companies a range of solutions that didn't exist before the acquisition, says Short.
What RDP Marathon brings to the merger is a concise selection of variable- and fixed-cutoff, perfecting and non-perfecting web presses in blanket-to-blanket and blanket-to-steel configurations. (In the printing unit of a blanket-to-blanket press, two blanket cylinders act as impression cylinders for each other as each prints one side of the web running between them. Blanket-to-steel presses, which have dedicated impression cylinders in each unit, achieve two-sided printing by turning the web and sending it through another set of units that print the other side.) The Canadian company also amplifies Drent Goebel's capability in hybrid presses with its own long experience in the field.
According to Short, RDP Marathon staked its claim to expertise in hybrids 12 years ago with a packaging press that combined flexo, gravure, and offset units. "This is a technology and a market that we know well," he declares, adding that printers are showing real interest in the kind of high-quality, low cost graphics that hybrid web presses can deliver.
"With a hybrid machine, which can combine offset, flexo, gravure, and screen printing units, you get all of the benefits of offset production and the many added options for inking, coating, and gluing that the other processes provide," he explains. Hybrid web presses, moreover, let package printers and others enjoy the economies of web production by giving them an alternative to sheetfed output.
A goal not met but moot
Getting a merger to succeed always requires accommodations and concessions, with most of these adjustments typically taking place on the acquired company's side. RDP Marathon will make one—appropriately, Short says—as it carries out its campaign to popularize variable web printing under the Drent Goebel aegis.
The Dutch-German company, he says, is the "premier provider of variable-cutoff capability," a position RDP Marathon will try to help it sustain by manufacturing and selling VSOP presses in North America. According to Short, RDP Marathon had been in the early stage of launching an infinitely variable sleeve technology of its own—but, with VSOP now in its portfolio, the parallel effort is unnecessary. "We have no further need to push development in this area," he says.
Likewise, a desire to simplify the presentation also underlies the decision against bringing iron to McCormick Place. Short says it wouldn't have been possible to equip the stand with everything it would take to do the combined operation justice. Instead, he and Teunissen will rely on multimedia resources and product samples in one-on-one meetings with customers. In this way, says Short, they hope to demonstrate how Drent Goebel can help printers find exciting alternatives to "the traditional, staid old ways of producing the product."
In Chicago, promises Teunissen, everyone will see that "adding one and one makes more than two. As of Print 05, our intentions for the North American market will be clear."