In December, I had the pleasure of visiting Quad/Graphics and its subsidiary QuadTech in chilly Sussex, Wisconsin, corporate headquarters for the thriving company. I wanted to learn how the world's third largest privately held printing company was faring two years after the tragic death of its founder, Harry V. Quadracci. I also wanted to get a first-hand look at the QuadTech operation and see how the subsidiary is helping to automate and improve operations not only at its parent, Quad/Graphics, but also in the operations of its expanding customer base.
I was struck by the degree to which Harry is still such a part of the everyday operations at Quad. His influence and the results of his hard work, creativity and strong sense of business ethics can be seen around every corner, and the Quad team fondly reflects on the impact Harry had—and still has—on the business and the industry, as well as the steps he took to make sure that the company thrives into the future.
In an interview with local newspaper The Waukesha Freeman, Joel Quadracci, Harry's son and recently appointed President and Chief Operating Officer for Quad, said, " You have to remember when you have the original entrepreneur that comes in and builds a company like this, he's involved in everything. Micromanaging. He lets the team do their thing, but he's like the proud parent that wants to keep a hand there. But one of the things that's pretty magical about what he did here is recognize it's about the team. At the end of the day he really did operate that way, and had transitioned the team for the next generation."
This image reflects Harry's legacy—the talented team he assembled to carry on the work at Quad Graphics. While you can't see the detail here, Harry's image is made up of hundreds of tiny photos of Quad employees.
QuadTech: 25 Years of Innovation
During my visit, QuadTech was celebrating its 25th anniversary. Very early in the age of microprocessors—in 1979, in fact—Tom Quadracci, Harry's brother and a Quad/Graphics co-founder, saw the potential role microprocessors could play in the process control of web printing, which had historically been almost entirely craft-based. This was the birth of QuadTech, and some could argue, the birth of computer integrated manufacturing for the printing industry. The QuadTech lobby is adorned with a mural depicting the migration from Gutenberg to the technology of today. Also in the photo is an image of Karl Fritchen, QuadTech's President, wearing a QuadTech coverall.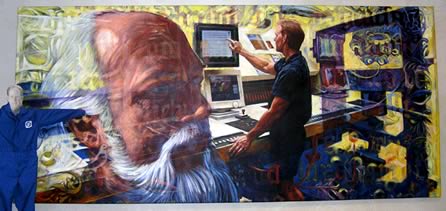 Initially established as Quad/Graphics' in-house research and development team, QuadTech now offers many of its innovative products to printers across the globe. In fact, two-thirds of its external sales are generated outside of North America, and the company has deployed sales, service and support resources worldwide, including 35 sales people in Japan , India , Europe and North America . Quad/Graphics still remains its largest customer.
Much of the innovation emanating from QuadTech was developed as a result of specialized needs in the various Quad/Graphics plants. As particular customer requirements or opportunities to improve operational productivity arise, a QuadTech team is assigned to come up with a solution. Sometimes these solutions are considered a proprietary Quad/Graphics advantage and remain in-house. But often these innovations are taken to the market at large after having been tested in what could be described as the world's largest innovation incubator—its parent, $2 billion Quad/Graphics.
Offerings include in-line color control and register control that operate with almost any web press manufactured today, and which can be retrofitted to many older presses in the field. QuadTech also undertakes significant research and development efforts in the finishing arena, with 30 developers working on mechanical innovation, while another 25 software engineers focus on the software required to drive these devices. The company has solutions specific to the Gravure, Newspaper and Commercial segments, ranging from register and color controllers and pinless folders to special purpose scanning heads, mini-cams, ink control systems, automated set-up modules and material handling solutions, all with one objective in mind: reducing both makeready time and waste in the high-speed world of web presses, through real-time inspection and data gathering that allow operators to view and respond to performance data throughout the run.
Quad Graphics: A Printing Giant
Quad Graphics is the third largest printing company in the U.S. and the largest privately owned printer in the world. With estimated 2004 revenues at $1.9 billion and year-over-year growth of an estimated 11%, the company has 12,000 employees dispersed among 38 plants across the United States. The company has 961 web offset press units, and another 227 sheetfed and other units across its plants, and its Sussex, WI plant is spread out over 1.5 million square feet. On a weekly basis, Quad/Graphics' Sussex plant ships an average of 15 million pounds of printed product, which equates to approximately 350 truckloads.
I started my tour of the plant in the pressroom where Quad is installing 2x8 wide web presses from both Goss (formerly Heidelberg—Sunday 3000/32 presses) and MAN Roland (LITHOMAN double web presses), all featuring a 64-page format. Two Goss presses have already been installed. These wide web presses are single-circumference web presses with an eight-pages-across cylinder configuration. Previously, the largest presses were two-by-six.
According to Joel Quadracci, Quad is in the process of installing 12 new wide format presses across its network, replacing 28 existing smaller format presses. This is made possible due to the improved speed and productivity of the new presses, allowing for increased capacity with a smaller overall footprint and is in line with the trend—reported by press manufacturers—of frequently replacing two to three presses when a new, more highly automated press is installed.
Press Manager Dave Davidson did an excellent job of explaining the complexities of the Sussex Pressroom operation, which produces magazines (including Architectural Digest, Lucky, Advertising Age, Black Enterprise and more), a wide range of catalogs, and direct mail for its publisher customers. Quad's business is comprised of 53% catalogs and 38% magazines (the fastest growing segment), with the rest being comprised of retail inserts and direct mail.
Davidson, who has been with Quad for 29 years, proudly displayed a patch on his uniform that represents certification from the National Council of Skills Standards in Graphic Communications (www.ncssgc.org). The industry "pass rate" for these exams is 60-65%. Quad/Graphics has had 97 pressmen test with 91% passing—and 100% of those from the Sussex Pressroom have passed. This is a testament to the level of training and the quality of personnel in the Quad organization.
QuadTech technology was in evidence throughout the plant, from the control systems, to the vertical conveyer systems that transport signatures off the press and conserve significant floor space, to the pinless form folders and material handling equipment. Currently, output exits the presses after being assembled into signatures, and is automatically stacked into what are called "logs." These logs are compressed and bound with strapping and automatically moved to pallets. Once a pallet is full, a forklift operator moves the pallets to a very narrow aisle storage system. With the installation of a total of five 2x8 wide web presses in this plant over the next several months, Quad is also completing the automation of the process so that palletized logs will be moved by conveyor directly to the storage system without the need for a human-operated forklift. This means that the process of producing signatures and migrating them to storage will be completely automated from start to finish, overseen by highly skilled pressmen and finishing professionals, but resulting in faster time to market with a significantly decreased cost to manufacture.
Currently, Quad's Automated Storage and Retrieval system (ASRS) facility has the capacity to store 16,000 pallets of finished product awaiting shipment which is stored and retrieved using an automated forklift system that reads complex bar-coded information to determine where pallets should be stored, and how to find them once an instruction has been issued to retrieve specific pallets. The company is currently in the process of constructing a High Density Sequencing System (HDSS) that is designed to store work-in-process materials more efficiently. An overhead conveying system will transport printed signatures to QuadTech-manufactured stackers, which will create the "logs." Once a log is created, a six-axis robot will load it onto a pallet. When full, the pallet will eject onto a motorized "shuttle" or transfer car. Running on a rail, the transfer car will deliver the pallet to a conveyor system that, in turn, will distribute it to one of six cranes housed deep inside the HDSS. The transfer car also replenishes empty pallets at each robot station. When the HDSS is completed in the spring of 2006, Quad will be able to store nearly 40,000 pallets of product. The system will be approximately 120 feet high and measure 360 feet by 150 feet. The HDSS will save time, reduce manual effort and increase safety by being directly integrated with the delivery end of the new 2x8 wide web presses.
Once signatures are delivered to the finishing department for final assembly, the real magic begins. According to Jeff Newhouse from the Finishing Department, Quad has three times the selective binding capacity of anyone else in the industry. Using ink jet heads, addressing and personalized messaging are added in both color and black and white as books are assembled in exact carrier route order. According to Claire Ho, Marketing Communications Manager, "Using our multi-mailing or co-mailing capability and selective binding equipment with up to 72 pockets, we are able to deliver to the Post Office bundles consisting of multiple titles from multiple publishers banded or polybagged by carrier route. This means that no further sorting is required on the part of the postal carrier, who can just pull them out of his or her bag exactly in the order they need to be delivered. This results in significant postal savings which we can pass along to our customers."
Throughout the entire production process, frequent automated inspections deflect any product that is deemed to be defective, and Quad has a process in place to ensure that carrier-route order is not compromised by virtue of any defects that are ejected.
Finished, sorted and ready-to-mail product is delivered in Quad/Graphics trucks to postal processing centers around the country near point of delivery to minimize the time the materials actually need to spend in the mail stream.
As you walk through the Quad/Graphics Sussex plant, you see a clean and efficient workplace enhanced by artwork and murals, not only in the executive office suites but on the manufacturing floor itself. According to Claire Ho, "It was Harry's philosophy that an excellent environment breeds excellence. He placed the artwork up high on the walls so that employees would 'look at the stars and not at their shoes.' He always told us that at Quad/Graphics, you can be anything you want to be, based on performance. He was big on values and sought customer-service-oriented people who want to excel. That tradition lives on today."
With the convergence of innovation, technology and highly skilled and dedicated employees, it is no wonder that Quad/Graphics continues to be a vital, growing and profitable company, despite the economic downturn and the impact of alternative communications media that have dealt a significant blow to the printing industry as a whole. Watch for Part Two of this Special Report, an exclusive interview with Quad Graphics' new President and COO, Joel Quadracci, who will share the company's business philosophy and his vision of the future, both for Quad/Graphics and the industry.
Our special thanks go to Claire Ho of Quad/Graphics, Sharon Quint of QuadTech, and the rest of the Quad team for their gracious hospitality in inviting WhatTheyThink to view their impressive operation.