Begun in 1949 with flatbed letterpresses, Brown Printing quickly grew with the addition of four-color and heatset web presses, and was bought by Bemis Corporation in Minneapolis, Minnesota in 1969. The Waseca facility has grown to a 650,000 square foot facility with 1,300 employees. An offset plant was opened in East Greenville, Pennsylvania, in 1979 to better serve East Coast clients.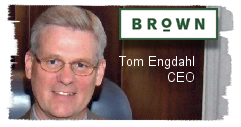 In addition, in 1979, Brown Printing Company was purchased by Gruner + Jahr of Hamburg, Germany, one of Europe's largest media companies, and a major printer, with over $4 billion in annual sales. G + J is a subsidiary of almost $20 billion a year Bertelsmann AG. G + J is also a major US publisher with titles such as Parents, YM and Family Circle. In 1997, the gravure facility in Kentucky was sold and Graftek Press outside of Chicago was purchased. It is now the Woodstock Division.
Today, Brown Printing Company is the fourth largest publication printer in the US, printing over 500 magazine titles for more than 380 clients. With annual sales of almost $400 million, Brown also produces catalogs, inserts, and is nationally recognized as a high-quality, high-volume printer.
WTT: What are the advantages and disadvantages of being owned by a large international corporation?
TE: It's important for us that we are owned by an international corporation that is large and successful. It's even more important because as a printing company, we need access to large amounts of capital to keep up with state-of-the-art technologies. Bertelsmann has been an excellent parent because they have been so successful and as a result, we get the capital we need to grow and prosper. Bertelsmann has owned us since 1979 and proved themselves a buyer and builder of companies. Consequently, we have not had the pains of different owners over the years.
Another advantage is that we can share ideas and resources around the world. For example, one of our Brown printing clients in the US wanted to expand their book operation in Europe. Working with Bertelsmann, we suggested five of our plants in Europe. In the opposite direction, one of Bertelsmann's customers, a large German chemical company, owned several scientific catalogs in the US. Brown made a joint proposal with Bertelsmann and increased our print share of their catalogs in the US.
We take advantage of how our parent company applies technology to the print process in Europe where they have plants in five countries. We don't have to reinvent the wheel. We are able to take advantage of their experience and how they apply technology, not just to printing, but business information systems as well.
WTT: You are a publication printer but also print catalogs and advertising materials. Are these segments growing?
TE: We are in the publications and catalog market, and within the publications market, we focus on business-to-business, trade publications, and consumer special interest magazines. We serve all segments of the catalog market, including business-to-consumer, but consumer special interest catalogs are the fastest growing for us. Business-to-business has been the weakest segment over the last couple of years.
Our catalog and commercial category has expanded over the last several years. We began a strategic initiative to increase our share in those markets because of shrinkage in the other markets, particularly the business-to-business magazine market. At this point, we are the eighth largest catalog printer in the country although it makes up only 20 to 25 percent of our total volume.
WTT: Who are your biggest competitors and how do you differ?
TE: Our largest competitors are the usual suspects, Donnelley, Quebecor, Quad Graphics and mid-sized printers like Perry Judd. We differentiate ourselves from our largest competitors by emphasizing our strengths of being responsive and quick on our feet. We are very responsive, very service oriented with easy access to top management, and minimal bureaucracy to get decisions made. Yet we strategically employ state-of-the-art technology and are heavily investing in these areas to increase our capacity and capability compared to other large or mid-size printers. We may best be described as large enough to be state-of-the-art, but small enough to be flexible and responsive to a changing market.
WTT: How do you market your company's services and why should customers recognize you as a source of printing?
TE: Brown has been in business for over 50 years and certainly has a long track record of success and a well-established reputation within the markets we serve. Our top ten customers have been with us for an average of 20 years, so we don't have to look for references or referrals. We have very distinguished long-term clients who will easily vouch for our abilities. We do work for the market leaders in both consumer and business publishing. Secondly, from a marketing standpoint, we believe in personal selling on a one-to-one basis. We work to develop relationships with all customers both large and small, and do it on a personal relationship basis. This is a complicated business and we work to understand our clients' needs and issues and how to meet them. There's no substitute for being face to face in doing that.
WTT: Do you see any future development in sales that are important?
TE: We still see one-to-one personal selling important in the future, although the sales representative needs a much broader understanding of all aspect of business from pre-media through manufacturing to logistics to successfully discuss and field questions from customers and prospects. This is challenging because technology has changed so much and has become so demanding. There is a lot to understand. We don't have any order takers out there. Our salespeople need to be knowledgeable and need to know more technology than they did five or ten years ago. We have ongoing instruction for them so they can better serve our customers.
WTT: Are there any changes, additions or deletions to your manufacturing processes and if so why?
TE: We have a great deal of activity on the manufacturing front. Over a few years, we are investing $150 million. For a $400 million a year company, from a relative standpoint, that is a significant amount of investment. We are investing from one end to the other. In pre-media or on the prepress side of the business we installed Dalim workflows, which makes us increasingly automated. It provides a much quicker workflow than in the past. We have invested in a number of new presses, most recently in Woodstock, Illinois and we installed a new press in East Greenville, Pennsylvania.
We have a mix of presses primarily Harris Heidelberg, 2x6 or 48-page format presses for standard size products. In addition, we added new 2x4 Harris Heidelberg 32-page format presses for shorter run lengths. In our Woodstock, Illinois facility, we have six presses, five are new in the last four years, which gives you a sense of the high level of our investment. In Waseca, Minnesota, we have 11 presses.

To accompany those press installations, we added bindery capacity and implemented automation with closed-loop color control systems on both our new and existing presses in addition to Dalim systems on the prepress side. We reorganized distribution services into Brown Logistics Services, and have taken advantage of advances in computerization to install warehouse management systems that interface with distribution systems. These allow us to provide the least expensive and quickest delivery of products for our customers through the postal system or other delivery systems.
We didn't stop with manufacturing automation. From estimating to invoicing, we are also automating all of our business information systems and integrating with manufacturing.
WTT: Do you see a need for further improvement in your operations?
TE: In addition to what I already mentioned, we retired a number of older presses; it was a combination of replacing old existing capacity and increasing total capacity. Certainly, the new presses are faster, are more automated, more consistent in the quality of the printing, and more reliable. In terms of meeting customer schedules and providing a consistently high-quality product, the new presses far out distance the old equipment.
We automated the delivery ends of our new presses with robotics and automated the stacking of signatures on the skids. This gives a productivity improvement and also improves the handling of the signatures to reduce waste. Paper waste is obviously a key cost component for our customers and for us. Implementation of new technologies and equipment such as color control and closed loop ribbon control reduce the number of make readies and helps achieve a quality product. Combined, these systems reduce paper waste significantly.
WTT: What are your average run lengths?
TE: Our runs range from 20,000 up to 7 million. Our average run length is probably about 140,000. Making up that average are many smaller orders in the 50,000 to 80,000 range. We target products that will be run most efficiently on our presses, not just run length but the number and size of the pages.
WTT: How do you find business today?
TE: We find magazines are thinner due to less advertising; we are no different than anyone else in this marketplace. We began seeing the economy decline in March 2001. The business-to-business market in particular has seen the deepest loss of advertising pages, resulting in page counts in our titles being way off. The consumer special interest magazine market is healthier now, and we have actually been up slightly for the past several months. We have seen some encouraging signs of life in this consumer special interest category. In general, it's a challenge to fill our capacity.
We deal with this business decline every day and work hard to retain and satisfy existing clients in a tough pricing market. We are working extremely hard to accelerate our efficiency and productivity improvements to keep up with the pricing reductions which we are absorbing.
WTT: What is the value proposition you bring your largest customers?
TE: For large and small customers, we work hard not just to provide printing and distribution services, but also provide good ideas to improve their business. It's important for our clients to have us look for ways to help reduce their cost or cycle time or improve their products. To the extent we do that, we endear ourselves to them over the long haul. I view this as a competitive advantage for us.
WTT: What types of new services are customers requiring or will require in the future?
TE: At this point, with the economy where it is, customers are fighting hard to reduce their cost. In addition, they are trying to find ways to differentiate their products in the marketplace. We deal with requests all the time from customers to find ways to improve their cycle times or make product changes to differentiate them in the marketplace. Depending on the publication category, we do many inserts, gimmicks, or special features to magazine products that help them either sell better on the newsstand or get noticed in the mailbox.
WTT: Do you collaborate with other companies and if so what are each of the roles?
TE: For example, we do our own distribution but collaborate with freight consolidators and have for over 20 years because it helps us deliver competitively at lower cost. This relationship has enabled us to offer a 19-day newsstand cycle versus the industry standard of 21 days. We don't partner in a legal sense of sharing profit and loss, but in a practical business sense.
WTT: Do you place requirements on customers in order to maintain a streamlined publishing process?
TE: We are a little more the other way and design our interfaces to be flexible and work with whatever material our customers provide on the front end. All but a few of our customers are providing digital media, and we are 100 percent computer to plate across the company. The industry has completed this transition. The advertising material is a mix. Some customers will digitize the advertising material before they send it to us or we will scan and digitize it ourselves; it works in different ways.
WTT: Do you have a closing message for printers?
TE: Highly advanced technology and personal service are a winning combination. Making wise choices in how to apply available technology to drive improvements in productivity, cost, cycle times, product and service quality, and logistics are very complex. Those who have the vision for integrating systems effectively and leveraging both the available and emerging technologies will be in a stronger position in the future.