Xerox Corporation hosted its annual Corporate Consultant Briefing in New York City during the first week of June. Held in the new Westin Hotel at Times Square, the event was attended by 60 members of the international consultant community. Chairman and CEO Anne Mulcahy kicked off the event, reviewing the company's progress from a financial and organizational perspective, reiterating that now that Xerox has returned to profitability, the company is focused on growth, strengthening its governance and staying the course on key investments.
Throughout the two-day event, presentations were consistently architected around the theme of "A New Way to Work: Helping People Find Better Ways to Do Great Work." As an industry-watcher who has observed Xerox from both inside and outside for many years, this presentation was the first time I have seen a crisp articulation of strategy that is consistent across organizational boundaries. The company has identified five core competencies that are relevant to the three elements of its business: Production, Office and Services. The chart below was used throughout the session to demonstrate the linkages: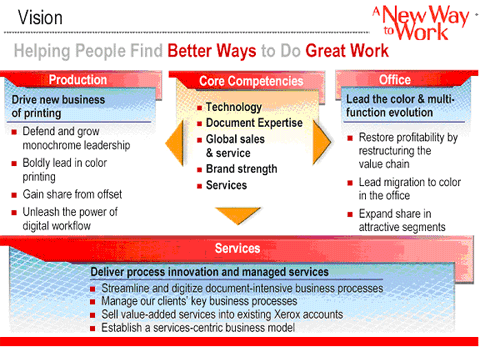 Xerox also claims to be leading with a services strategy, which it sees as a 5% growth opportunity, a growth rate that would have looked meager just a few years ago, but which looks pretty good in today's market. While a services strategy is important-and clearly what customers are increasingly demanding-it is a tough balancing act for an equipment manufacturer. Execution, and "staying the course", will be key for Xerox' future success; sliding "back to boxes" if equipment revenues suffer a decline will be the temptation.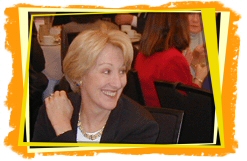 Meanwhile, Xerox had a $3 billion cash balance at the end of the first quarter of 2003 after ten straight quarters of good cash generation, and continues, as Mulcahy put it, "a relentless pursuit of cost management". Following the model that enabled its turnaround after its near extinction in the late 1970s, Xerox has now thrown its organization self into Six Sigma with a vengeance-taking it even a step further with what the company calls Lean Six Sigma. Much airtime at the conference was devoted to this subject.
Lean Six Sigma
According to www.isixsigma.com, an information portal for Six Sigma, Total Quality Management and other strategies:
Six Sigma is a rigorous and disciplined methodology that uses data and statistical analysis to measure and improve a company's operational performance by identifying and eliminating "defects" in manufacturing and service-related processes. Commonly defined as 3.4 defects per million opportunities … the goal of Six Sigma is to increase profits by eliminating variability, defects and waste that undermine customer loyalty.
In its implementation, Xerox has gone one step further, building on Six Sigma with Lean Manufacturing concepts. Lean manufacturing is an initiative focused on eliminating all waste in manufacturing processes. Xerox has 200 different Lean Six Sigma projects underway, as it attacks waste and inefficiency at all levels. One-third of these projects are specifically targeted at customer-facing processes and growing revenue, while a full half are aimed at improving productivity. The company also has projects underway at a number of customer sites. Mulcahy indicated that Six Sigma is increasingly a requirement in large bids, stating that the company recently won a contract with Bank of America valued at $50 million for which Lean Six Sigma was the key competitive differentiator.
Based on the results Xerox achieved from its Total Quality Management initiative in the 1980s, one could expect significant long-term annuity results from Lean Six Sigma. Mulcahy claims these efforts have already delivered results, allowing the company to maintain gross margin levels due to the increased efficiencies that have been achieved, even with the price pressure existing in the marketplace.
More on Strategy
Mulcahy said, "We are bullish about the business, but humble about keeping our eyes on the marketplace. We have learned from our mistakes and we are now well positioned for growth."
Jim Firestone, President of the Corporate Operations Group, followed Mulcahy with a discussion of growth dynamics. He pointed out that the 1990s were all about wiring the enterprise to accommodate internal and external resources, and remote workers. He also said, "Technology has been about extending the hours we work, and we have exhausted that avenue. Now we have to change the way work is done."
Firestone also lamented the limited investment in digital occurring within the graphic arts industry, and suggested that this lack of investment could drive enterprises to bring an increased amount of work back in-house at the expense of graphic arts service providers. This poses an interesting conundrum for Xerox: With its channel arrangements with Enovation and Kodak Polychrome Graphics targeted at the graphic arts industry and operating in partnership with the Xerox sales force, there is significant opportunity for channel conflict with Xerox sales representatives working hard to convince enterprises (the customers of the graphic arts service providers!) to bring work in-house, while at the same time working with channel partners to convince graphic arts establishments to make big investments in digital. It will be interesting to observe how this actually unfolds.
Business Group Operations
As further evidence of growing organizational unity within Xerox, the key business operations groups have been rolled into one organization, reporting to Ursula Burns. Burns was interviewed by the New York Times in an article that appeared the Sunday before the event, wherein the Times speculated that Burns was Mulcahy's "heir apparent." Burns is, in effect, Xerox' Chief Operating Officer, and her new organization has only been operational since January 2003.
Burns pointed out that between the Office and Production segments, Xerox launched 38 new products in the last 18 months-a record for the company. She also praised the results of the Flextronics relationship for outsourced of manufacturing, indicating that the companies are jointly working several Lean Six Sigma initiatives to continue to drive increased manufacturing efficiencies. The Production Systems Group, Xerox Office Group and Xerox Global Services report to Burns.
Production Systems Group
Headed by Xerox veteran Gil Hatch, the theme of the Production Systems Group is "Delivering the Promise of the New Business of Printing." This organization is responsible for black & white and color production printing devices, including the company's continuous feed offerings. Hatch indicates that the production color business is not yet profitable due to the heavy investments that have been required.
A key element of the production strategy is a new workflow umbrella, announced at On Demand and branded as FreeFlow digital workflow collection. With this offering, Xerox begins to bring together the various workflow elements within its portfolio in a modular collection, from prepress through finishing. For the first time, Xerox is providing APIs for the DocuSP controller to its partners EFI and Creo to enable, for example, exception page programming from the partner controller. This is a first for Xerox, having operated within a primarily proprietary framework historically.
Xerox plans to leverage Creo solutions and presence in the commercial print and service bureau/data center environments, and EFI in the in-plant print/CRD, quick/franchise printer and creative services arenas, with both partners contributing to Xerox' ability to gain greater market penetration.
Hatch maintains that continued success for Xerox in the production environment still requires significant investment but believes that the investments will pay off, saying, "Market entry barriers are high; you need a big will and a big wallet."
One of the investments Xerox is making is in the building of a digital imaging center in Western New York that will consist of a show floor with both Xerox and competitive equipment, integrated with FreeFlow. The company aims to open this facility within the next year.
In the production environment, Xerox sees the cost of color continuing to decline, projecting the average cost of color in the 41+ ppm segment, including the iGen3, to decline to a nickel by 2006. Xerox is evaluating a number of pricing and bundling strategies in the production environment for increased go-to-market flexibility.
In 2002, Production Systems accounted for 29% of Xerox revenues.
Xerox Office Group
The Xerox Office Group has revitalized its business with a spate of new product announcements, most notably the three families-consisting of 17 individual products-of multifunctional products launched in April 2003. Jim Miller, President of the group, stated, "Customers are not adopting advanced capabilities as rapidly as anticipated, and Xerox had no simple products in its portfolio, which contributed to the market perception of Xerox as the high-cost provider."
To remedy this situation, the company now has a segmented product portfolio in the office space with three branded segments and a clearly-defined upgrade path for each.
At the low end, Copy Centre products offer copying only
The WorkCentre family offers basic multifunction capabilities; and
The WorkCentre Pro family offers advanced multifunctional capability.
Both the WorkCentre and WorkCentre Pro products have a feature board thatgives the device a very modern look and serves to educate the walk-up user onthe full capabilities offered by the system, with the aim of encouraging higher usage-and higher volumes-on the devices.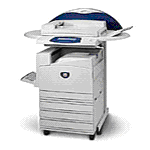 The office environment now employs a common controller across the monochrome and color space-which results in more convenience for the customer as well as a manufacturing efficiency for Xerox.
Miller also asserted that Xerox remains committed to increased investments in solid ink, indicating R&D investments in this area have increased by 25% this year.
The keys to Xerox' success in the office environment, according to Miller, are tiered product offerings that expand the range of potential customers, increased investments in solid ink products and tight linkage with both Xerox' broad portfolio of partners as well as the production side of the business. The company is also diversifying its distribution channels and leveraging its Teleweb centers to better manage cost of sales.
One innovative channel approach for its Phaser line of printers is www.freecolorprinters.com, which offers qualified users a free printer in exchange for a commitment to purchase all ink and maintenance supplies through the FreeColorPrinters channel.
In 2002, the Office Group accounted for 47% of Xerox revenues.
Global Services
This is an area of Xerox' business that has undergone significant organizational and strategic transformation. Accounting for $3.6 billion in revenue in 2002 and headed by Tom Dolan, Xerox Global Services is the result of the consolidation of seven discrete organizations in an attempt to gain operational economies of scale. The focus of the organization is the document, and as Dolan says, "not necessarily the printed document." He admits that the establishment of a services-centric business is a challenge that represents a significant cultural shift from a product-based to a professional services model. The sales compensation model is one driver for cultural change, with hardware representing only about 30% of the compensation for services sales professionals.
The Global Services organization has been distilled down to five discrete practice areas with its go-to-market strategy depicted in the figure below: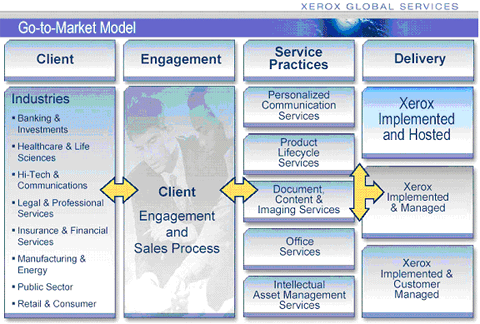 The five Business Innovation Services practices operate in partnership with Xerox Account Managers, and cross-compensation strategies are in place to incent cooperation. Core to the offering is the Office Document Assessment, a Six Sigma tool that delivers a blueprint enabling redesign of office processes. Global Services consists of 185 direct sales professionals, each focused on a specific industry.
Dolan admits that Global Services is behind in its revenue plan year to date due both to the economy and to the impact of organizational change, but he is anticipating growth full-year as billing rates and utilization are beginning to improve. Dolan says, "In Global Services, our people are our product."
Services revenues, which are accounted for within the Office and Production operations, represented 25% of Xerox' 2002 revenues.
Other Interesting Xerox Factoids
In North America, Xerox generates approximately 70% of its business from major account contracts.
Xerox has an Operational Excellence program in place, including site certification for on-site services, employing Lean Six Sigma principles.
The average Lean Six Sigma project at Xerox results in $400,000 in savings.
The North American Solutions Group, Xerox' direct sales channel, employs 23,900 people in the U.S. and 3,300 in Canada. The U.S. accounted for $9.9 billion in revenue in 2002.
In North America, 96% of the sales territories are filled, and sales turnover is at about 15%. Xerox is encouraging stability in sales territories, having learned from the lessons of the past-disruption in sales territories was cited as a key contributor to Xerox' recent financial woes.
Xerox direct sales representatives cover 70% of the establishments in their territories and achieve an average 50% hit rate.
In Europe, Xerox has a presence in 29 countries, including 15 Eastern European countries (Russia and the Ukraine are additive to this), and employs 16,000 people. The European strategies for Production and Services align with those of the U.S., but in the office, Xerox Europe employs a two-tier model supported by Teleweb in order to more cost-effectively serve small and medium businesses across multiple countries. This model heavily leverages accredited resellers, partners and concessionaires for market coverage.
Xerox has a long-term presence in what it terms "developing markets." For example, Xerox has been established in Mexico for 40 years, Egypt for 25 years and Russia since the early 1970s. In-market manufacturing takes place in Mexico, Egypt, Brazil and India. Developing Markets returned to profitability for Xerox in 2002, and represented 11% of Xerox' revenues, making a $90 million profit contribution to the corporation for the year.
Xerox R&D investments are increasingly aligned with market opportunities, with 89% of R&D funds expended on product and platform R&D, and the remaining 11% devoted to new technology and research. This is a significant shift from the past, where an estimated 25% of R&D investments were spent on new technology and pure research.
Xerox is investing heavily in an Automated Image Quality Diagnostic (AIQD) system whose goal is to enable customers to follow a self-help procedure prior to placing a service call. Combined with customer replaceable units (CRUs) increasingly incorporated in Xerox products, the company hopes AIQD will significant reduce the need for on-site technician support, allowing more cost effective delivery of customer support services and less downtime for the customer.
Xerox employs 5,000 engineers; Fuji Xerox employs 3,500.
This year marks the 40th year Xerox has sponsored the Olympics
The Brand
Xerox is placing renewed focus on the state of its brand. After several years of deemphasizing the name Xerox in favor of The Document Company, the company redesigned its logo to place more emphasis on Xerox. In 1999, according to a Harris Interactive survey, Xerox was the seventh most respected brand in the U.S., behind Johnson & Johnson, Coca Cola, Hewlett Packard and others. As its financial woes began to unfold, it dropped to Number 21 in 2000 and Number 31 in 2001. As the turnaround gained momentum, the brand respectability began to climb again, ranking Number 21 in 2002.
Xerox' global brand equity is valued at $6 billion-compared to that of Coca Cola at $60 billion and HP's at $14 billion.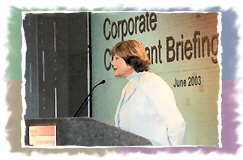 Jan Daley, Xerox
The multimillion dollar U.S. advertising campaign and the process of eliminating extraneous internal logos and widely divergent individual product logos are signs of the investment Xerox is making in reestablishing the brand to its earlier status. The company is also undertaking a number of licensing initiatives to increase the presence of the brand in small offices; for example, in partnership with ProView, Xerox will be marketing a Xerox-branded LCD flat screen monitor.
Summary
The 2003 Corporate Consultant Briefing was marked by consistent cross-organizational messaging, and a high level of enthusiasm and professionalism. The strategic shift to leading with services and the emphasis on an aligned portfolio of workflow offerings, combined with an aggressive product roll-out strategy, position the company for growth. The embedding of Lean Six Sigma into the culture is driving its cost structure down-and the impact of Lean Six Sigma as a unifying force within the corporation cannot be underestimated.
The key to the future of Xerox as a viable, vital, growth company lies in its ability to execute effectively against these strategies; a sentiment that was echoed by almost every presenter during the session.
After stumbling badly for the second time in its history, Xerox is poised to return to a position of strength-and the world is clearly watching to see what the outcome will be.