The Digital Smart Factory (DSF) is more than just Computer Integrated Manufacturing (CIM) and interoperability. It is the application of Information Technology (IT) across the printing enterprise including customer-facing systems, business systems, and manufacturing systems.
The fifth annual Digital Smart Factory Forum, to be held June 23-25 in Philadelphia, will focus on the application of state-of-the-art technology to the print manufacturing process. The forum provides in-depth presentations and discussions through sessions on key technologies and practices; white papers on "cutting edge" technologies and new developments; and case studies from some of the industry's foremost practitioners.
WhatTheyThink asked Chuck Gehman, Chairman of the Digital Smart Factory Forum, and Vice President of the Research and Engineer Council's Digital Smart Factory Committee to fill us in on the Digital Smart Factory and the upcoming forum. Chuck is also Director of Product Marketing at Printcafe Software, Inc. (NASDAQ: PCAF), a provider of enterprise resource planning and collaborative supply chain software solutions for the printing industry.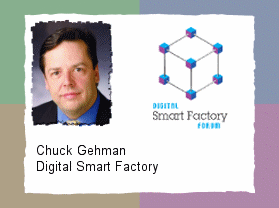 WTT: Not all of our WTT readers may be aware of the Digital Smart Factory. Would you give us a brief history lesson?
CG: The Digital Smart Factory grew out of a prepress group within the NAPL Research and Engineering (R+E) Council.
The late Bob Jones, founder of Prograph, the predecessor of Printcafe Software, was active in the R+E Council throughout his career. He and a handful of others in the industry were enamored with personal computers and microprocessors and their application in the printing industry.
Jones had a clear vision of what a "connected" manufacturing environment should look like, and was frustrated with the apparent lack of cooperation and focus between solution providers to enable interoperability between printing plant systems.
He made an impassioned plea to the industry at the 1996 Research and Engineering Council's Progress in the Pressroom Conference. The concept struck a nerve with other likeminded industry professionals and the R+E Council's Digital Smart Factory was born.
WTT: What was the original impetus for creating the Digital Smart Factory?
CG: The original purpose of the DSF was to create an industry forum to discuss and build a framework for progress so the printing industry could achieve greater understanding of the issues and possible solutions.
The early groundwork is beginning to pay off, as the role of technology in the industry is better understood. The implementation of the Digital Smart Factory helps create new business opportunities not available through conventional systems applied to a traditional print paradigm.
WTT: The Digital Smart Factory has been described as a framework for future factories, how did that process come about?
CG: Early on, DSF identified four major industry participant categories: Printers, Buyers/Publishers, Suppliers, and Consultants/Educators; and four areas of consideration: Content, Control, Commerce, and Architecture.
At the DSF Forum in 1999, we recorded each of the constituent groups' needs, wants, and demands in each subject category using a matrix developed by Bill Lavelle, PointBalance principal. As a result, we gained agreement on what was important to all of the participants and focused our efforts. This really solidified the Digital Smart Factory's role as an "industry user group" focused on leading-edge technologies and their application.
WTT: Computer Integrated Manufacturing (CIM) is becoming increasingly popular. What is the relationship between CIM and the Digital Smart Factory?
CG: CIM is a very important piece of the Digital Smart Factory puzzle, but they are not the same thing. There are many more opportunities to use technology in creating efficiency and eliminating waste, and as a result achieve greater profitability -- those are the shared goals of CIM and the Digital Smart Factory.
In the Digital Smart Factory, we look at production and manufacturing systems, customer-facing systems, and business systems. It's probably safe to say that DSF is the CIM of tomorrow, because it envisions a more "connected" approach to CIM. In many ways, CIM in printing today is focused on "speeds and feeds:" counting and reporting.
WTT: How is the Digital Smart Factory different from a standards organization?
CG: DSF is not a standards organization nor has it ever aspired to fulfill that role. However, the conference is one of the best places to learn which standards are most important, both those in use and emerging. And it's a great place to connect with the people and organizations promoting (and implementing) such standards.
WTT: If you had to break down the definition of the Digital Smart Factory, how would you describe each of the components of the initiative?
CG: There are five components to the Digital Smart Factory:
Smart Content: The incorporation of intelligent capability within content files or applications to create value.
Control: The implementation of Computer Integrated Manufacturing for the purpose of automation, productivity, capability, and predictability.
Commerce: The identification of needed protocols, standards, and practices that will assist the industry in transacting business orders, payments, and specifications?
Architecture: The investigation and recognition of the required hardware and software platforms for creating an optimizing environment for integration and integrity.
Infrastructure: The identification of management principles, training, and skill sets required to create a digital smart factory environment.
WTT: How does the Digital Smart Factory Forum differ from other industry conferences?
CG: The DSF Forum offers a perspective that discusses and debates why the industry needs to move in a number of different directions. And it offers a holistic view of technology that isn't presented at other conferences: it's not just about CIM, or business systems, or Internet systems taken individually. It's about leveraging all of these applications to create an infrastructure that is greater than the sum of its parts.
Presenters typically discuss "why" their efforts are important and "how" they resolve the identified problems. DSF helps attendees to fortify their efforts to identify and implement creative solutions, potentially in advance of the industry mainstream.
WTT: Is the Digital Smart Factory Forum primarily for suppliers, consultants and educators?
CG: Printers and publishers can benefit if they are searching for innovation beyond mainstream capabilities. Honestly, the people who attend must be prepared to think, a lot. The content of the DSF Forum is not fluffy sales presentations. The forum encourages questions and clarifications continuously. It's very interactive -- it's not unusual for people in the audience to become almost part of the presentation or panel, because the input from everyone is valued so highly. It's our "industry user group" idea at work.
WTT: What is different about this year's Digital Smart Factory Forum?
CG: There are several major differences this year. First, we're in Philadelphia instead of Orlando. The Northeast location has already resulted in positive feedback and we're expecting greater attendance, because we're easier to get to.
For the first time, we're hosting the Forum as part of the NAPL and we've made a very conscious effort to incorporate program content for NAPL members.
A great example is the Customer-Facing Systems panel featuring representatives from Moore-Wallace and Quebecor World, as well as Chris Wells from LaVigne, Inc. Chris could be the "poster boy" for the NAPL -- he's a young, successful president of a medium-sized printing company that isn't afraid to implement technology and has found that doing so can positively impact profitability.
This year, we're co-located with Idealliance's Open Publish, and attendees to either conference are automatically registered for the other. Open Publish focuses on publishing IT (Information Technology) types -- a complementary group to our own, which is typically a senior technical stakeholder (i.e., CIO, CTO, Owner, President, Technical Managers) at printing companies.
WTT: What do you believe is the most significant benefit an attendee will gain by attending the Digital Smart Factory Forum?
CG: By attending the Digital Smart Factory Forum, you will have the opportunity to play a role in forming the future of the industry, both from a business and technology standpoint. That may sound grandiose, but it is true.
A lot of "thought leadership" is present at this conference, and that includes people from small printers, large printers, vendors, publishers, corporate document owners, academia, consultants, associations, and standards bodies. Many different points of view are represented and the discussion is open and honest.
An attendee will come away with two important things: a vision of where they can take their own company with initiatives for the Digital Smart Factory in the future, and (perhaps more important) practical ideas that can be put in place to make their company more efficient and profitable starting right when they get back to work.
WTT: Thanks, Chuck, for taking time to tell us more about DSF and the upcoming forum. For more information see these websites:
NAPL (National Association of Printing Leadership)