For the past 10 years the mantra of our industry has been "technological change". At the recent IPA, the Association of Graphic Solutions Providers, annual Technical Seminar held May 13 through 15, almost 300 people, an increase of 45% paid attendance from last year, came to hear and learn about the technological future of our industry. The seminar focused on color technological workflow and the emerging trends surrounding content management. Technology is here and looms large in every successful graphic arts organization. However, how to derive the most of it is the real test. What was abundantly clear to the attendees were lessons on how to improve their business with technology tools already in place, since most companies are not in a position to spend a lot of money for new technology.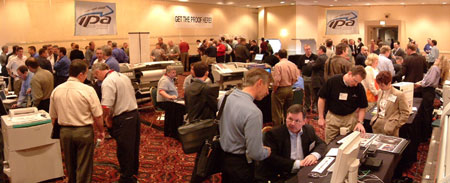 Attendees view Suppliers' Offerings at the IPA Proofing Roundup
Some of the comments made by attendees, "IPA is rocking"; "This program really makes me rethink my company strategy"; and "This is truly a relevant seminar to the future of my business". The overriding message was definitely delivered in a succinct and professional manner well accepted by seminar participants.
Color Proofing Roundup
The Proofing Round-up was the best example of this phenomenon. 20 vendors accepted the challenge to make proofs from a PDFx/3 file utilizing the Altona Test Suite of files. The first set of proofs were prepared using a SWOP TROO1 reference print condition. A second set of proofs was prepared using GRACoL - reference print conditions. The Altona Suites were a true assessment of color output. The Suite was devised by the ECI in Germany and I think they must have had a few too many beers when they created these forms. This material was the most difficult this author has ever seen. As stated, the real challenge here was not to evidence new technology but to present a snapshot of the state of proofing.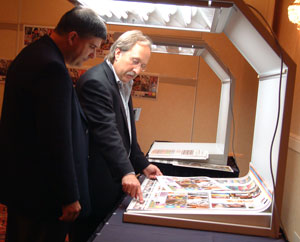 David Zwang, Proofing RoundUp Session Leader, compares various proofs during the Proofing RoundUP
David Zwang of Zwang & Company and Mike Rodriguez of R.R. Donnelly organized the whole program. They stated, "It was never the intent of the roundup to select a winner, it was designed as an educational tool for both participating suppliers and attendees to better understand the new requirements of color management." In that vein the program was an overwhelming success. The issues were clearly defined and while many a proofing supplier went away shaking their heads - they all realized that a new day was dawning, awakening everyone to improvements in workflow efficiency, not just offering new products.
This comprehensive test challenged the RIP's, the color management software and the output devices. The conclusion from this benchmark event was that many issues are looming in the area of color proofing that go way beyond just printing a clean dot or no dot at all. The issues surrounding proofing are subjective and if viewed in the right manner can help graphic arts professionals prevent future problems.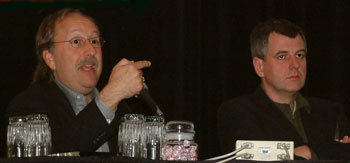 David Zwang (Zwang and Associates) and Olaf Druemmer (Callas Software) present results of the IPA Color Proofing RoundUP
Content and Color
In addition to the roundup there were many forward thinking sessions on digital content and related issues. Tony Federico, Corporate vice president of Xerox, set the mood in his keynote address when he offered a new law based on the old Moore's law called "Digital Color Law". Simply interpreted, digital technology is doubling its output capability every 18 months. This presented an outstanding foundation for all the educational sessions that followed.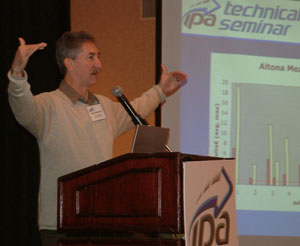 Michael Rodriguez, R.R. Donnelley, presents at IPA event.
After the keynote Michael Moon, of GISTICS, painted a colorful picture on the multi-channel business processes relative to managing enterprise content. Other noteworthy topics were sessions on dynamic publishing, OS X migration and color management both CMYK and RGB varieties. Another significant program introduced the new Adobe Acrobat 6.0 release. With over 500 million free Acrobat Readers in the marketplace, anyone who doesn't pay attention to this critical advance is putting their head in the sand.
The new 6.0 will have three offerings - Elements, a utility for MS Windows; Standard, a basic edition; and the very robust Professional, that includes pre-flighting, forms creation and PDF/x distilling. Naturally, the Professional is geared for the graphic arts company aggressively staking a claim in the content workflow environment.. Some of the highlights of 6.0 Professional are layering for document versioning, high powered zoom magnification, comments for already created PDF files that can be exported and imported from MS Office and of course the capability to easily distill PDFx/1a and PDFx/3 files.
The Technical seminar is always a stimulating and thought provoking event. It illustrates methods of making the promise of technology a functioning economic reality. For those who couldn't attend, you really did miss an outstanding program. The good thing is that next May the IPA will present another dynamic program worth spending those coveted dollars. Until then you may want to sign up for one of their many on-line education webinars at www.ipa.org/webinars. These on-line programs don't replace the face-to-face interactions of a live conference, but they do bring knowledgeable experts to your company in an economical high quality fashion.